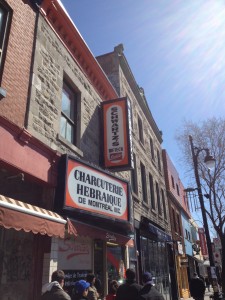 After spending two nights in Quebec City, we headed to Montreal to finish up our little Canadian adventure. We didn't leave quite as early in morning as we would have liked, plus we ended up hitting some traffic on the highway, so we got to the city a bit later than we intended, around 1 pm. Since we had a 5 pm reservation at Au Pied de Cochon later that day, we were hungry but didn't want to fill up too much before our highly anticipated dinner. Instead of going to our hotel first, we headed straight for Schwartz's, a famed Montreal deli, and picked up some smoked meat sandwiches to go.
There was a line of people waiting to be seated in the restaurant, but we found a parking spot and Josh was able to run in to the takeout counter and get two sandwiches right away. They were already prepared and wrapped up in wax paper, so I hoped they were still fresh. We took them to our hotel and ate them immediately after we got to our room.
The sandwiches were a decent size – not overstuffed like the crazy big sandwiches at Carnegie Deli, but still piled high with a good amount of meat. There was mustard on the bread already, so I guess it comes standard, since no one asked Josh if he wanted any. That suited us fine, as we both like mustard on our deli sandwiches, but I'm not sure what happens if you don't want mustard. The bread was still soft but not soggy, which is a good sign that the sandwiches were recently made at least. However, the small size of the bread was pretty laughable compared to the amount of meat. It did a pretty bad job containing the sandwich, and I ended up with basically a fistful of meat with no bread about halfway through.
It didn't really matter in the end, as the smoked meat was the star of the sandwich anyway. It was tender and had a good amount of fattiness to it, which prevented it from getting too dry. It tasted like a cross between pastrami and corned beef, with lots of spices crusted on the outside and a subtle smokey/cured flavor on the inside. It wasn't overly salty, as I sometimes find deli meats to be, and I especially enjoyed the pop of the crushed peppercorns in the seasoning.
Overall Josh and I both liked the smoked meat sandwich from Schwartz's, although I do wish that the bread to meat ratio was a bit better. Maybe if we get take out next time, we should order the meat by the pound and get bread separately, so that we could construct our own sandwiches. That would also allow us to tailor the amount of mustard to our preferences. Nevertheless, the sandwich was satisfying and the smoked meat itself was a treat. At about $7 per sandwich, it wasn't a bad deal either. I'd definitely recommend stopping by to taste one of Montreal's most famous smoked meat destinations.
Schwartz's
3895 St Laurent Blvd
Montreal, Canada