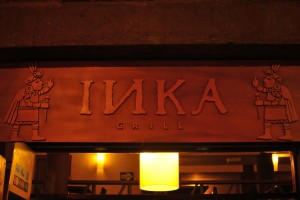 We arrived in Cusco relatively late in the evening, and although they gave us a snack on the train, we found most of it to be pretty bad so we decided to go out for a late dinner when we got into the city. We asked the front desk at our hotel for some restaurant recommendations, specifically saying that we were in the mood for some Peruvian style chicken. One of the restaurants they sent us to was the Inka Grill, which was right on the main square. As soon as we saw it, we knew they didn't serve the Peruvian chicken we were looking for, but it was late and the menu looked ok so we decided to go in anyway.
The restaurant was definitely more upscale than what we were looking for, though the decor was pretty nice. It wasn't crowded because of the late dinner hour so it was pretty quiet, giving us the opportunity relax and chat. We started with a nice bottle of red wine and they brought us some homemade potato chips to start. The chips were made from yellow starchy potatoes, and even though they were fresh, they weren't nearly as tasty as the chips we had at the Lobby Bar at Tambo del Inka. The chips came with a green sauce on the side for dipping, which I thought would be a garlicky ajo sauce, but turned out to a mint sauce made from my dreaded Andean mint. Yikes! I still don't know what it is about Andean mint, but I had to force myself to swallow that bite rather than spit it out. Josh liked it though.
We weren't starving at this point so we couldn't stomach the idea of an elaborate dinner. There was a small section of the menu that featured sampler platters, which we thought would be the perfect way to try different things without having to order tons of food. The samplers were portioned for two people so we picked out the one that seemed to be the most Peruvian, the Novo Andean Sampler, figuring that would be enough food to make up a light meal. We turned out to be right, as the platter was pretty huge.
The platter came with stuffed chili peppers, kiwicha chicken fingers, alpaca brochettes, and quinoa croquettes. The chili peppers were stuffed with meat and weren't spicy. They were smothered in a gooey, stringy cheese that was similar to mozzarella. I was a bit nervous when I saw all the cheese, since I'm usually not a fan, but when it was melted over the chili pepper it worked well and added a nice richness and saltiness.
The kiwicha chicken fingers were strips of chicken coated in kiwicha, or amaranth seeds. The seeds have a similar flavor and texture to sesame seeds and provided a good crunch. The chicken strips were kind of thin so they were a little dry but we remedied that by dipping them into the accompanying sauces.
This wasn't the first time that we had eaten alpaca on our trip, and this version was pretty good. We knew from experience that alpaca can get dry very easily, but these brochettes were well seasoned and perfectly cooked so that they were still tender and juicy. The meat also tasted a bit beefier than usual, which was a pleasant surprise, as we had previously found alpaca to be more similar to veal or pork. This was one of our favorite components of the platter.
The quinoa croquettes were another of our favorites. They were nicely fried to a golden brown crisp on the outside and warm and creamy on the inside. It tasted like the quinoa had been mixed with cheese, which made it extremely rich and decadent. Quinoa normally has a lovely texture that rolls along on your tongue, and in this creamy format it was similar to cheese grits – we enjoyed it immensely.
Overall we liked the atmosphere of the Inka Grill, but we probably didn't taste enough of their food to know whether or not it's a good place to have dinner. The sampler platter was generously portioned but the chicken fingers were just ok, and the croquettes were good because they were fried well. The brochettes were pretty impressive though, so I guess my recommendation would be to stick with the "grill" part of the Inka Grill. The menu was pretty eclectic, with items like pizza and pasta, french onion soup, and oriental chicken salad. I guess it caters to every taste, but we tried to stick with choosing a platter that seemed the most Peruvian to us, or at least used Peruvian ingredients. I remember thinking that the restaurant was pretty pricey though, we didn't look too in depth at the menu since we weren't so hungry at the time.  Location might have been a factor, as it's right on the Plaza de Armas, but we kind of got the feeling that this place caters mostly to tourists. It had an upscale vibe to it and was a nice place for a drink and a snack, but I think we had better and cheaper meals elsewhere.
Inka Grill
Portal de Panes 115 Plaza de Armas
Cusco, Peru