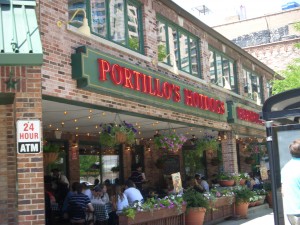 We had some time to kill before our early evening flight back to NY so we decided to drop our bags off at the airport and take the train into downtown Chicago. My original plan was to find Hot Doug's but unfortunately they're closed on Sundays. No duck fat fries for me, sadly, but I still wanted to try a Chicago style hot dog. The train ride from the airport into the city takes a while, so we had time to do some internet research on Josh's iphone (seriously, what did people do before iphones?). We found Portillo's, which is a chain restaurant but had good reviews and a branch that was conveniently located near a stop on the airport train.
We've been to Chicago once before and luckily the area where we got off the train was near the hotel we stayed in the last time; we were able to find the restaurant without any trouble. This particular branch of Portillo's was an homage to Maxwell Street. There were fake building facades and mannequins hanging about. There was also lively jazz music playing over the speakers, giving the place a festive atmosphere. It was kind of like dining at Disney World.
The restaurant is set up cafeteria-style, with different stations for hot dogs and sandwiches, pasta and pizza, and alcoholic drinks. We were after the hot dogs and Italian beef sandwiches so we only had to go through one line. After you order, you can watch the workers assembling your sandwiches through glass partitions.
Josh and I each got a Chicago style hot dog with everything, which includes mustard, relish, chopped onions, tomato slices, sport peppers, and a pickle spear, all served together on a poppy seed bun. The bun got a little soggy from all the toppings, but everything tasted really good together. Usually I like ketchup, mustard, and a little bit of sauerkraut on my hot dogs, but I liked the fresh ingredients on the Chicago style, and the pickled vegetables added a nice zing. We couldn't taste the difference between a vienna sausage (which Chicago style hot dogs are made of) and a regular hot dog though.
We also shared an Italian beef sandwich with hot peppers. It's like a Philly cheesesteak, minus the cheese. The thin slices of beef were topped with a mix of pickled vegetables, and the hot peppers were really quite spicy. I didn't enjoy this as much as the hot dog because it was really heavy and greasy. I'm glad that we had decided to split a sandwich, as I could never have finished one by myself. It was really a gut bomb!
We also got an order of large fries, which were the frozen crinkle cut variety but freshly fried and tasty. They were so hot that I actually burned my tongue on the first one I tried.
Overall I really liked the Chicago style hot dog, despite the soggy bun. It's definitely something that I would put together here. I might still add ketchup though. I'm not sure if Chicagoans would find that blasphemous but I missed the sweetness of the ketchup. I wasn't a fan of the Italian beef, however, as it was just way too greasy and the meat was too bland. The pickled vegetables helped a bit but not enough. I don't know how Portillo's version rates against other places but it seems to me that most Chicago style dogs would be similar, as it's just the ingredients that make it what it is. I'll have to try the Shake Shack's version and see how it compares.
Portillo's (multiple locations)
100 W Ontario St.
Chicago, IL
After our lunch, we took a walk around the city. We only had about two hours before we had to head back to the airport but I think we covered a lot of ground in such a short time!