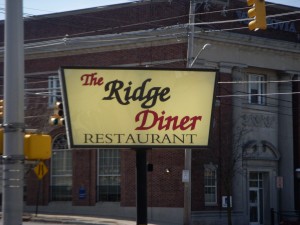 Josh and I were in NJ running some errands and had lunch with Alice at The Ridge, a diner in, appropriately enough, Park Ridge. It's fairly standard in terms of diner decor, understated and not kitschy, but I was pleasantly surprised by the extensive menu. There were tons of breakfast-type options, assorted sandwiches, and all different kinds of wraps, burgers, entrees, etc.
There were quite a few things that looked appealing to me but ultimately I settled on a grilled chicken panini with fresh mozzarella, roasted peppers, and pesto sauce. The panini was pressed to a nice crisp, though I wish the cheese had been a little bit more melty. Flavor-wise it was pretty good, especially with the fresh tasting pesto sauce slathered on the flatbread. I also opted for seasoned fries, which turned out to be curly fries – score! Who doesn't love curly fries? They were freshly fried, nicely seasoned, and very yummy.
Josh ordered the shrimp po' boy, which was more like a shrimp cutlet sandwich. Instead of small, bite-sized pieces of fried shrimp, they used large, butterflied, breaded pieces of shrimp. It was served on a decent french roll with lettuce, tomato, and tartar sauce, and despite the unusual preparation, it was still a tasty sandwich. Josh opted for regular fries with his sandwich, which were sadly limp and disappointing. Curly is definitely the way to go!
Alice got a BLT on rye toast with avocado. It was a huge sandwich (she only ended up eating half) and the bacon was extra crispy, just as she asked for. The avocado, which she added on extra, was actually a clever touch. It added a nice creaminess to the sandwich and rendered mayo completely unnecessary. That's something I'll have to try the next time I get a BLT or a club sandwich, since I'm addicted to mayo. Avocado is a much more healthful choice.
We also got a plate of onion rings, which were big slices of real onion that were lightly breaded. They were pretty crispy, just slightly greasy, and very tasty.
As far as diners go, The Ridge would be a great one to have in the neighborhood. There are lots of options available, portions are large, and prices are pretty reasonable. Service was quick and attentive but they didn't rush us at all. Too bad it's a bit far from our hometown but I would definitely go back if I was in the area. There were still other things on the menu that I wanted to try!
The Ridge Diner
125 Kinderkamack Rd.
Park Ridge, NJ