We left the Galapagos early on a Saturday morning and flew back to Guayaquil so we were able to spend the whole day in the city before our flight back to New York the next afternoon. Overall we had such an amazing time in the Galapagos, and I highly recommend taking a tour with Lindblad Expeditions. The entire staff was friendly and helpful, and they really take care of you the whole way through.
They had arranged for someone from the hotel to pick us up from the airport when we first arrived in Guayaquil, someone was at the check-in desk to greet us, and they took care of arranging our flights to the Galapagos and back, even picking up our boarding passes for us so we never had to wait in line to check in. Our luggage magically made its way to the ship and back, and even though our AeroGal seats were coach, we always had access to the VIP waiting lounge.
I've already raved about the naturalists on board that led all of our hikes and snorkeling adventures, but the crew members on the National Geographic Endeavour were also tremendous. The ship is small enough that we got to know a lot of the staff, like the crew that drove the zodiac boats back and forth from the landing sites. One person on our tour left his camera battery in his room on the ship and one of the crew members immediately retrieved it and brought it to him on the island. It's little things like that act of kindness that made the trip such a great experience. Every time we entered the dining room someone greeted us by name – try to imagine that happening on one of those giant cruise ships like the one we took to Alaska.
Several people on our tour had taken other trips with Lindblad Expeditions and loved every single one. I wish we had taken our trip to Alaska with them, and even though I had the greatest time our honeymoon in Egypt, I can't help but wonder if I might have enjoyed it even more had we gone with Lindblad instead. I sincerely hope that this trip to the Galapagos will not have been our first and last voyage with Lindblad Expeditions.
Back in Guayaquil, we headed to the Malecon again after dropping our stuff off at the hotel. We started on one end, where the artisan market is located.
There we picked up a few souvenirs and gifts then continued along the Malecon looking for a place to eat lunch. During our first visit to the city we had noticed a lot of middle eastern restaurants and food stalls. Josh asked one of our cab drivers about that and he said that middle eastern food was very popular in Guayaquil, so we decided to get lunch from a food stall that offered shawarma and falafel.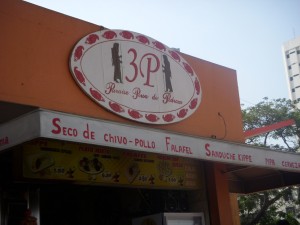 The falafel was shaped in a long log rather than individual balls, which was unusual but kind of smart as it made the sandwich easier to eat. However, it didn't taste anything like falafel to me. There was very little seasoning, and it actually tasted really starchy, like fried green plantains rather than fried chickpeas.
The shawarma also didn't taste like typical middle eastern food to me. The seasonings were very different, and the chicken had a strong lime flavor to it, which I found unusual. Neither of the sandwiches were bad, they just weren't what I was expecting. We did top them off with squeeze bottles of garlic sauce and hot sauce, which helped boost up the flavor a bit.
I of course also wanted salchipapas with our lunch. We made the mistake of ordering them from the stand next to the shawarma stand, which was a pizza stand rather than one serving traditional Ecuadorian food.
The French fries were soggy and oily, and the hot dogs were just gross. I don't think they were spoiled, they just had a bad taste to them. We kind of picked around the fries and left the hot dogs untouched on our plate. Bleh.
After lunch (which cost like $8 even with two beers), we stopped for some 75 cent ice cream cones from McDonalds. The cone itself was weird, kind of mix between a cake cone and a sugar cone, but the vanilla soft serve tastes the same at McDonalds everywhere. It was refreshing in the hot heat of the afternoon.
We walked all the way down the Malecon to the other end and then hiked up Santa Ana Hill to the lighthouse on top. It was quite a climb – 444 steps altogether, but it was worth it. We were able to see the beautiful Las Penas neighborhood with colorful houses, and the view from the top was spectacular, giving us a 360 degree panorama of the entire city.