The puffy taco is a San Antonio specialty that involves a light, flaky, deep fried tortilla as the taco shell. These puffy shells are nothing like the hard, tortilla chip-like taco shells that we're used to back east. We decided to try out three of the most well-known puffy taco places in San Antonio and see what makes these tacos so special.
First up was Ray's Drive Inn, which claims to be the home of the original puffy taco. We stopped there for a quick snack after touring all of the beautiful San Antonio missions.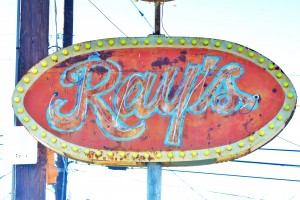 While the outside of the restaurant looks like an old time car hop, you actually order and get your food inside. J was asleep so Josh got our tacos and brought them right outside to the car where we quickly devoured them. We shared a puffy beef taco and a puffy chicken taco.
Our initial thoughts about the puffy shell was that it was surprisingly soft and not as crispy as we would have hoped. It had a strong corn flavor but a slightly gritty texture. Both tacos came topped with chopped iceberg lettuce and tomatoes. The beef filling was slightly spicy and was well seasoned, but the chicken was dry and bland. It could have used some sauce or salsa, though that might have rendered the puffy taco shell even more soggy.
Overall, we weren't overly wowed by the puffy tacos at Ray's Drive Inn, but we continued on our puffy taco crawl at our next destination, La Hacienda de Los Barrios. Our friend James actually recommended it to us, though we had also seen its sister restaurant, Los Barrios, featured on an episode of Throwdown with Bobby Flay. La Hacienda is a bit off the beaten path, in a somewhat rural area well north of downtown San Antonio. It's a huge space though, with lots of adjoining rooms and plenty of seating, including outdoor space.
Since we were there for dinner, rather than just a snack, we did end up ordering more items, though of course we had to get the puffy tacos. We went for the same meats as at Ray's – one beef, one chicken. The tacos were ordered a la carte so each showed up on its own large white plate, which was odd only because the plates were much larger than the tacos. What ended up happening was that each taco had fallen on its side and wound up sitting in a pool of condensation from the heat of its own shell. That rendered half of each taco soggy, which was really a shame because the other half was super puffy and crispy, just what I thought a puffy taco shell should be like. The shell didn't have as much of a pronounced corn flavor, which I preferred because it didn't overpower the flavor of the meat.
Again, we liked the beef better than the chicken, just because beef tends to have more flavor in general. However, the chicken here was shredded more finely and had more seasoning, which gave it more taste. It was also more moist, and we thoroughly enjoyed both puffy tacos.
We also shared a Rio Grande plate, which included an enchilada verde, a chicken flauta, and a stuffed burrito. The enchilada was filled with chicken and covered in a tangy tomatilla sauce. The stuffed burrito was filled with beef picadillo and topped with melted cheese and ranchero sauce. The chicken flauta was in a crispy shell but on the dry side; it tasted better after dipping into the salsa they gave us with chips at the beginning of our meal. It was a large plate of food, rounded out with rice, beans, and guacamole salad. The enchilada verde was the star of the plate, with its nice and bright sauce.
We got a carne asada taco a la carte for J, though she was a bigger fan of the complimentary tortilla chips that graced our table. After had her fill of the beef, which is to say, after she took two bites, we shared the remainder, which was filled with strips of tender and well seasoned steak. The taco came with with guacamole, lettuce, and pico de gallo, and the flour tortilla had a nice chewiness to it.
Overall, we were pretty pleased with the food at La Hacienda de Los Barrios. While the puffy tacos suffered from a slight presentation issue, they were tasty and I could finally see why a puffy taco shell is so appealing. The combination plate that we shared was a huge amount of food and let us try a variety of offerings from the massive menu. Everything we tried was freshly prepared and well seasoned.
Our last puffy taco stop was Henry's Puffy Tacos. It was actually the first stop of a little taco brunch crawl we did on our last day in San Antonio, but more on that separately, as the other joints didn't involve puffy tacos.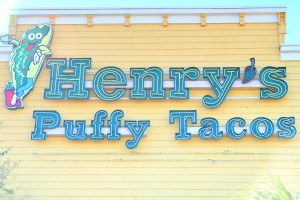 We ordered our usual beef/chicken combo and ate them immediately in our car outside the restaurant. Josh accidentally added guacamole to the tacos, which was different from our previous puffies, and I admit, the guacamole might have given Henry's an edge. It added an extra element of flavor and prevented the meat, especially the chicken, from drying out. The beef was also different here – it was grilled strips rather than the ground beef that we got everywhere else. I don't think Josh specified each time he ordered; he just asked for chicken and beef, and we ate whatever they gave us. But the puffy shell was the real standout at Henry's. It was light, crispy, and had good flavor that complemented the toppings well.
Overall, Ray's had the densest puffy taco shell, which made it our least favorite. It was actually a pretty disappointing introduction to puffy tacos for us, and had us questioning what made a puffy taco so special. Fortunately, our next two tries fared much better. Henry's had the puffiest and lightest shells, which put it at the top of our list, although La Hacienda's puffy taco wasn't too far behind. We would happily eat at either place again, and experiment with various fillings. In our experience, the chicken puffy tacos just tend to be drier and more bland. Both the ground beef at La Hacienda and the grilled beef at Henry's packed a lot of flavor and didn't get lost inside the shell or underneath all the shredded lettuce. I don't know why puffy tacos aren't popular outside of San Antonio, as their light and crispy texture is much better (in my opinion) than the standard hard taco shell. Even if the inside layer of the puffy gets soggy from the toppings, the outside stayed crispier for much longer. It's definitely something that I want to eat again, and I'll be on the lookout for it here at home.
Ray's Drive Inn
822 SW 19th St.
San Antonio, TX
La Hacienda de Los Barrios
18747 Redland Rd.
San Antonio, TX
Henry's Puffy Tacos
6030 Bandera Rd.
San Antonio, TX