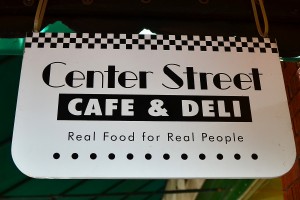 On the morning of our friends' wedding, we couldn't bear the thought of stomaching another breakfast at our hotel (which admittedly was not so terrible, especially considering it was free, plus there was even an automatic pancake machine!) so we headed into downtown Healdsburg to grab some brunch. We walked around the square for a while contemplating our options and came across the Center Street Cafe & Deli, which was perfect for us because some of us wanted breakfast and some of us wanted lunch, and the diner-like menu offered both.
I was firmly in the lunch group while Josh was sort of in between, but we both wound up ordering sandwiches and splitting them. Josh picked the hot corned beef sandwich with swiss cheese on rye toast. The corned beef was surprisingly good – thick cut, flavorful, and appropriately fatty, and the rye toast was appropriately studded with lots of caraway seeds. We both upgraded to french fries, which were thin cut and looked like they were made from real potatoes. They tasted fine but were a tad soggy.
I selected the Thanksgiving sandwich, which featured thick cut turkey, provolone, lettuce, onions, mayo, and cranberry sauce. The turkey was tender and moist, but the cranberry sauce totally overpowered everything. I appreciated that it was made with real cranberries, not stuff that comes out of the can looking like cranberry jello, but it was overwhelmingly sour and completely detracted from the otherwise fine sandwich. Josh and I both agreed that the corned beef sandwich was the better choice.
Overall we thought the Center Street Cafe & Deli was just ok. It served its purpose, in that everyone found something they wanted to eat, and its location on the square couldn't be beat. The food was decent. Not great, not awful, in line with what you would expect from a regular diner. Service was friendly, our glasses were always refilled, and prices were reasonable.
Center Street Cafe & Deli
304 Center St.
Healdsburg, CA