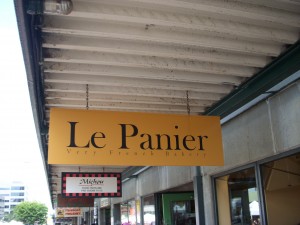 We docked back in Seattle early in the morning after our Alaska cruise was over. We got off the ship as soon as we could to avoid the crowds but we still had a few hours to kill before our flight back home. So what did we do to kill the time? Go back to Pike Place Market of course.
We stopped into Le Panier, a french bakery, for some breakfast. They had delicious looking tarts and pastries but all we could focus on was the bread.
The french baguettes looked and smelled incredible, and we couldn't wait to rip into one. We saw a case of sandwiches made on those beautiful baguettes, and we headed straight for them. Josh and I both wanted a ham and cheese sandwich. We placed our order, and as the bakery worker was handing over the wrapped sandwiches, Josh looked at them and asked if she was sure they were ham and cheese, because the meat looked a bit pale in color and there was lettuce on the sandwich, which wasn't in the ham and cheese description on the menu. The worker looked at them and said yes, they were ham and cheese. So we said ok and left.
While we were eating the sandwiches, I kept looking for cheese but didn't taste any. The meat was also still really pale and kind of stringy in texture. I realized we had received turkey sandwiches, not ham and cheese. Not that the sandwich was bad. It was actually pretty tasty, and the bread was fantasticly crispy and chewy at the same time. But it was not the ham and cheese we were looking forward to having. It was just annoying because Josh specifically asked her if she was sure they were ham and cheese, and she said yes. Arg.
This being Seattle, we also got some coffee for Josh and a iced mochaccino for me. I don't usually drink fancy coffee drinks but I was in the mood for something cold. This was actually really good, not too bitter and not too sweet, with a hint of chocolate.
Despite the sandwich mistake, I really liked Le Panier. I take my bread very seriously and I'm still craving their baguettes. The other bakery offerings also looked really good but I wasn't in the mood for sweets that morning. I would definitely come back here and try some other stuff. The macarons were decently sized and pretty cheap, relative to NYC. And I loved the mochaccino I had. The coffee there was so good that Josh's mom went back and got another iced coffee after she finished her first. I definitely recommend it for anyone who might be going to Seattle.
Le Panier
1902 Pike Place
Seattle, WA
After we filled our bellies with the wrong sandwiches, we walked through the outdoor portion of the market and drooled over all the beautiful produce.
All in all it was a great way to spend a few hours before heading to the airport and taking the long flight back to NJ. We didn't get home to NYC until after midnight but we really had a great trip overall.