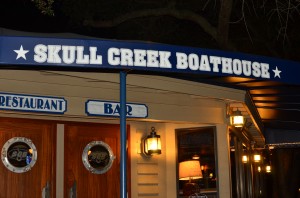 Skull Creek Boathouse was a new Hilton Head restaurant for me and Josh, although we've eaten at other restaurants run by the same group (One Hot Mama's, Giuseppi's Pizza & Pasta). We had to wait a while to be seated due to the large size of our party, and we still ended up splitting up into two tables, though they were side by side.
The menu is pretty huge, but given that the restaurant is right on the water, we decided to stick with mainly seafood. For our table, we shared an order of the Boathouse Sampler, which came with coconut shrimp, deviled crab balls, calamari, and hush puppies. There was a good amount of food in the sampler, which made it easy for us to taste most things. My favorites were the crab balls, which weren't spicy but had a decent amount of crab flavor to it, and the hush puppies, which we liberally dipped into the accompanying honey butter. Everything on the platter is fried though, which is kind of hard to mess up. To their credit, everything was hot, crispy, and not overly greasy.
Josh also wanted an order of fried pickle chips, which were served with a spicy ranch dressing for dipping. These were pretty good – briny, crunchy, and the breading on the outside didn't overwhelm the pickle chip on the inside.
For whatever reason, I really wanted soup that night even though it was 90+ degrees outside. I'll blame pregnancy cravings. Nevertheless, the SCB seafood chowder was worth tasting, so I was glad that I ordered it. It was like New England clam chowder, but with crab, shrimp, fish, scallops, and potatoes. The seafood was chopped up into small pieces so it was a bit hard to discern what was what, but it still had a pleasant seafood flavor. The soup wasn't as thick or heavy as regular clam chowder, but it was still creamy and rich, with a buttery finish.
The chowder and tastes from the sampler platter were more than enough food for me, so I was pretty full by the time our main courses arrived. I ordered the Royal Seafood Sampler, which let me try three different dishes – coco seared sea scallops, a "salt and vinegar" crab cake, and stuffed jumbo shrimp. It was a lot of food, and I barely made a dent in the plate, but I liked being able to taste so many different things. The scallops had a tropical flavor to them, as they were topped with coconut butter and pineapple salsa. They had a nice brown sear on each side but I think they sat for a little while and wound up being a little chewy on the outside rather than crispy. The crab cake didn't have too much salt and vinegar flavor, but there was a good amount of crab and little filler. The stuffed shrimp were my least favorite, as the deviled crab stuffing was too heavy and the shrimp were overcooked. I wound up packing up most of my plate in a doggie bag and eating it for lunch the next day.
Josh ordered the Seafood Extravaganza, which is basically a seafood boil with shrimp, mussels, clams, oysters, snow crab legs, sausage, potatoes, and corn. There was a decent amount of seafood, but it must've been sitting in the pot for a while because it was all slightly overcooked and a bit soggy. The shellfish was chewy, and there wasn't enough spices in the broth to liven up the dish. It's too bad, because the seafood itself seemed relatively fresh, it just wasn't well prepared.
Overall I had a mixed impression of the Skull Creek Boathouse. The food was decent, but nothing earth shattering. I don't think that's what they're aiming for though. It has a bit of a chain restaurant vibe to it, but I liked the casualness of the place. The restaurant was pretty bustling, with lots of families and other big groups dining. The vast menu makes it easy to dine out with lots of people with different tastes – there's something for everyone. Even though the main focus seems to be seafood, they do have steaks and other meats available. Prices go from low to high, depending on what you order. Appetizers are generally just  below the $10 mark (minus the sampler platter), and entrees can range from about $15-$35. They also have some good beers on tap and pretty reasonably priced wines and cocktails. Is it a must-go dining destination? No, I don't think so. But it's good for groups and the food is passable. It's a place I can see coming back to for a few drinks and sharing some snacks.
Skull Creek Boathouse
397 Squire Pope Road
Hilton Head, SC