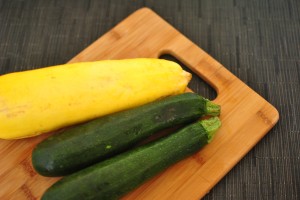 I know I'm still not done with Peru posts yet but I'm mixing things up a bit because I haven't had time to sort through our thousands of photos and pick out the few dozen that end up on our site. Going back to CSA recipes, our vegetable shares typically included some kind of squash every week, mostly zucchini and yellow squash. We ended up making zucchini pancakes a lot for breakfast/brunch because they were quick and easy to prepare.
Basically we would grate 2 or 3 medium sized zucchinis or squash and one small onion into a big mixing bowl. Using a clean dish towel, we would squeeze out as much liquid as we could from the grated mixture. Then we'd mix in a few tablespoons of flour, season the mixture with salt and pepper, and add a slightly beaten egg to help hold everything together. The mixture should be slightly sticky and you should be able to squeeze together a handful to form balls that will eventually be turned into pancakes.
To cook the pancakes, coat the bottom of a pan with some canola or vegetable oil and heat it on medium heat until it is shimmering. Then add in the balls of zucchini mixture, flattening them in the pan with the back of a spatula. Make sure you don't crowd the pan with too many pancakes, otherwise they'll stick together and make it hard to flip them. Once they're browned on one side, flip them over and brown the other side. When they're finished cooking, take them out of the pan and put them on paper towels to absorb any excess grease. Season immediately with more salt and pepper to taste.
Our favorite method of eating the pancakes was to top them with smoked salmon and poached eggs to make a sort of eggs benedict.
The salmon gives the dish a nice smokey saltiness and the poached egg adds a layer of richness. We like our eggs to have super runny yolks.
It's a pretty easy dish to make and we enjoyed lots of champagne brunches at home with this meal over the course of our CSA share. While we're no longer getting weekly vegetable deliveries, zucchinis are still routinely available at the supermarket so we can make it all year round.