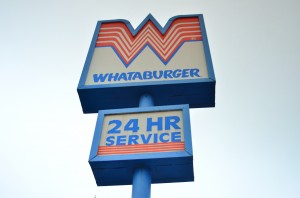 I had figured that for any road trip, there would be a time when we would have to hit up a fast food restaurant for a meal. But my rule for eating "locally" while traveling applies to fast food as well, and so I prefer to go to chains that aren't readily available back home. In Texas, this meant checking out Whataburger, which is primarily in Texas but also has locations in Alabama, Arizona, Arkansas, Florida, Louisiana, Mississippi, New Mexico, and Oklahoma.
We stopped by for a quick lunch before exploring the Johnson Space Center, so we went to the location on NASA Rd. Josh and I both got the original Whataburger with the default toppings – mustard, lettuce, tomato, pickles, and diced onions. Josh opted for double meat though while I stuck with a single patty.
At first glance, the Whataburger looked fairly standard with a squishy, seedless bun and lettuce and tomato poking out. It was a decent size in circumference, though I thought the beef patty was on the thinner side. Josh had the right idea in ordering a double, as the toppings to meat ratio was completely off on my single burger. I usually don't order mustard on my burgers, but did so here because it was part of the standard package. I thought it overwhelmed the meat, which was pretty bland and nondescript. I did like that the bun had been buttered and toasted before assembly, but even that was more flavorful than the meat.
We got an order of six chicken bites for J. She ate a few pieces but then started tossing them on the floor so we wound up eating the rest ourselves. They were heavily breaded but still had lots of meat inside. I thought they were pretty good for fast food nuggets, although the portion seemed small for the price. The bites were pretty tiny compared to the super large containers of dipping sauces they offered.
And of course, our meal wouldn't have been complete without french fries. These were skinny fries, similar to McDonald's, though with more potato flavor. They weren't as crispy as I would have liked, but we enjoyed them nonetheless.
Overall, we thought Whataburger was just ok. Better than McDonalds and Burger King for sure, but no comparison to In N Out. The burger reminded me a bit of Wendy's burger, which isn't a bad thing, but also isn't that impressive. The ingredients did seem fresher though, and the burger was constructed better. But maybe I just had higher expectations because of the hype around Whataburger. Would I eat here again? Sure. Would I go out of my way to eat here? Definitely not. What I did like, however, was the service. The staff was friendly and courteous, and rather than having you get your own condiments, someone walked around with a tray of ketchup/sauce containers, straws, and napkins and offered to replenish our supply whenever we ran low. That's something you don't see at other fast food places, and I appreciated the extra level of hospitality.
Whataburger (multiple locations)
100 East NASA Rd. 1
Webster, TX