We had a super early start to our day, as we were picked up from our hotel in Puno at 6:15 am to take the three hour drive to Copacabana. We barely had time to bolt down a few bites of an omelet before it was time to go. We were taken on a minibus and our group included three Australian couples. The ride itself was pretty uneventful, though we got to see a lot of the countryside that borders Lake Titicaca.
We were curious as to why most of the houses we saw were unfinished, and our guide explained that it was because when a house is finished, the residents have to start paying taxes. Because of that loophole, they would rather leave their houses unfinished to avoid paying taxes. We also saw many outhouses that were painted a bright blue or green color, which we were told was a representation of the residents' political preferences.
We made a short pit stop before we crossed the border into Bolivia. There wasn't much to see in that little town, just a church (of course), and some nice views of the lake.
When we arrived at the Bolivian border, we had to get out of our bus and walk across the border. After going through immigration and getting our passports stamped, we boarded a different bus that would take us into Copacabana.
After making the short drive to Copacabana, we had a quick city tour that took us through the Basilica of our Lady of Copacabana, a large church in the center of town that has beautiful domes that look like they came from a mosque. The inside was very colorful, not at all what you expect a church to look like.
We also walked through a small outdoor market that specializes in popcorn. The popcorn here was all different shapes and sizes, not at all like the popcorn we eat at home.
After walking through town for a bit, we headed to the marina where we boarded our Catamaran cruise ship that would take us around Lake Titicaca. We were joined by a few other tour groups, although it turned out that we and one Australian couple were the only people who would be staying on board the ship that night.
We had a little snack of fruit and sandwiches on board the catamaran as we cruised the lake, heading towards Isla del Sol, or Sun Island. There we had to climb up a really tall staircase, which was really difficult due to the altitude. Once we got to the top we had a great view of Lake Titicaca, which we admired for quite some time while we caught our breaths. Then we walked along some Incan agricultural terraces where we saw all different kinds of plants and flowers.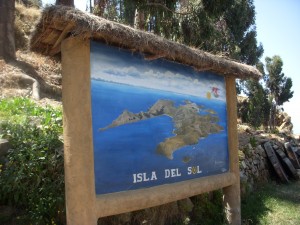 One of the highlights for us was watching a short religious ceremony by a local shaman. He sacrificed some animal shaped candies for us, and blessed each of us.
Next we went into a small museum where we saw some colorful costumes and masks made by the locals for Carnivale, which is similar to the celebration in Rio or Mardi Gras in New Orleans.
There was also a museum that displayed the history of the Incas, along with a few artifacts. There was also a mummy and a few skulls, so I was sufficiently creeped out.
We then got to see a demonstration of how reed boats are made. These intricate boats are gorgeous and must take forever to make. It's hard to imagine that something constructed out of reeds from the lake can be turned into something so seaworthy.
Before heading back down to the boat, we stopped to feed a few llamas and alpacas.
Our next activity was going for a ride on a reed boat. We took turns donning ponchos and hats and taking our hand at rowing the boat.
Afterward, the rest of our group got on a different catamaran and sped off in the direction of La Paz while Josh and I and an Australian couple went back to our own ship. It was strange being on such a large ship with just the four of us and the crew but it was a good chance to unwind and get to know each other. We had a buffet lunch on board while the ship headed to the other side of Sun Island.
After lunch, we got off the boat at the other side of Sun Island from where we were in the morning. It's the biggest island in Lake Titicaca, so it was a pretty long way around. We got into rowboats and were rowed for about an hour to a different part of the island where we would begin our walk. We felt so bad for the local who was hired to row us, as it was a long way and the water was pretty rough. Hopefully the catamaran company pays him well!
We hiked up a path that took us to the top of the hill. It wasn't a strenuous hike but the altitude was really a big factor for us. We followed some boys who were tending to a flock of sheep.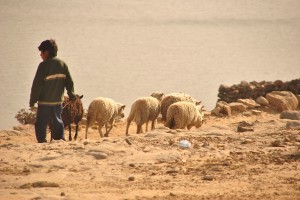 They were going to the same place we were, some amazing ruins that overlook the lake. The structures are set up like a maze, with twists and turns and dead ends. No one knows exactly what these ruins were originally used for, but the boys were having a ball chasing the sheep around in the maze. We couldn't help but laugh at their playfulness, and after they left, we stayed a bit longer to enjoy the peaceful setting.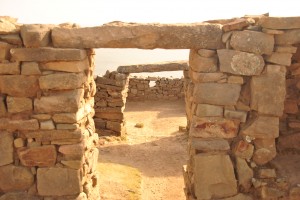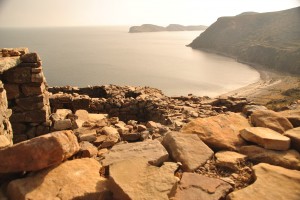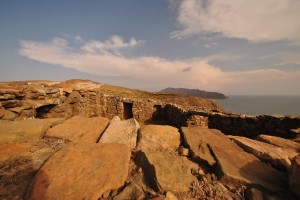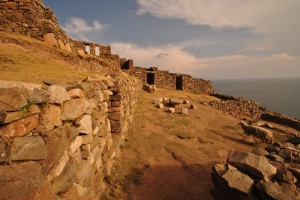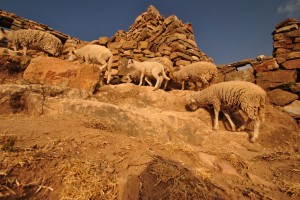 After leaving the ruins, we continued down the path, passing a ceremonial site along the way. The terrain was pretty dry and rocky, but the beautiful bright blue lake was always in view.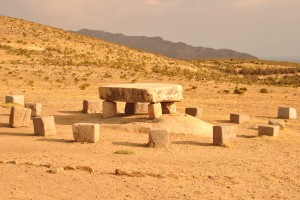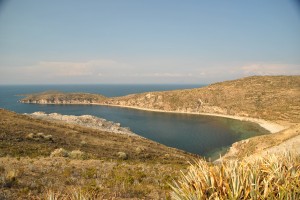 As we continued on our way, we got closer to the town where our boat was docked. The sun was starting to set so all of the farmers were bringing their herds back. We were passed by donkeys, sheep, llamas, and cows. At one point we were in the middle of a sheep stampede and there was nothing we could do except freeze in the middle of the path while dozens of sheep ran past us, including itty bitty baby lambs.
We walked around town for a little bit before getting back on the boat for dinner. We ate by candlelight, and they had arranged a little show for us afterward that included music and dancing by local villagers. We all got up to try our hand at the local dance, which was fun.
As you can probably tell from all of the pics in this post, it was a long and exhausting day but chock full of interesting sights. It was one of my favorite days in Peru, as we got to see a lot of different things, and Sun Island was absolutely magical. I loved the ruins that we wandered through, and being able to witness what town life was like firsthand. We promptly went to bed after dinner and were lulled to sleep by the gentle waves rocking our catamaran.