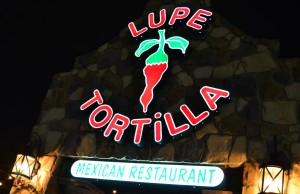 Our first night in Texas was spent in downtown Houston, although it was really just a stopover for us to break up our drive into more manageable segments for J. Josh goes to Houston often for work, and he warned me that there wasn't much to see in the city. However, he said that we could eat the best fajitas he's ever had. That was a pretty bold statement in general, and while he does usually order fajitas whenever we're at a Tex Mex restaurant, he's not exactly a connoisseur. I, on the other hand, never eat fajitas, so I was pretty sure that no matter what, they would be the best fajitas I ever ate, but the skeptic in me wondered just how good any fajita could possibly be.
It was getting pretty late by the time we arrived in Houston so rather than going to the hotel first, we drove straight to the restaurant, Lupe Tortilla. I had googled it during our drive and saw that it was a chain restaurant with many branches throughout Texas, which made me even more skeptical. We went to the one closest to downtown Houston and the place was packed. That was a good sign, even though it meant we had to wait about 20 minutes for a table.
Since it was late and we technically had eaten two lunches in Lafayette before heading to Houston, we declined ordering any appetizers. In hindsight, I would have liked to try the queso flameado since I've never eaten it before, and we ended up never having it on the rest of our trip. Oh well, just another reason to go back to Texas. Instead, we zoned in on the fajitas and decided to share a mixed pound of beef and chicken.
While we waited for our food, we snacked on the complimentary basket of tortilla chips with salsa and a warm bean dip. The chips were terrific – thin and crispy with just the right amount of salt. The salsa was on the runny side but was packed with flavor and had a little kick to it. We made a pretty good dent in everything while we waited for our food to arrive.
Shortly thereafter, a large sizzling platter arrived with our beef and chicken, plus grilled onions and an array of accoutrement – guacamole, pico de gallo, shredded cheddar cheese, rice, and beans. We asked for a mix of flour tortillas and corn tortillas. I prefer flour, whereas Josh is usually a fan of corn. I constructed my first fajita with a few slices of beef, some grilled onions, a little guacamole, and a sprinkle of pico de gallo. I used a flour tortilla, which was large in size but super thin, unlike the commercial flour tortillas we get from most places at home or at the supermarket. I took one bite of my fajita and my eyes opened wide – I was believer. These were definitely the best fajitas I've ever had, by a long shot. The steak was beautifully cooked and incredibly tender. The meat was well seasoned and had a great grilled flavor to it that helped it stand up to the rest of the accompaniments.
I tried a chicken fajita next with a corn tortilla, and while I definitely preferred the flour tortillas, the chicken was outstanding. Moist and flavorful, I couldn't decide which protein I liked more, the chicken or the beef. Even J, who was on a bit of a meat strike by this point in our trip, devoured piece after piece of both the steak and chicken.
Overall, Lupe Tortilla really did have the best fajitas I've ever eaten. And not just by a little. It completely blows any fajita I've ever had out of the water. There's just no comparison. In fact, when Josh ordered fajitas just the other day, I took one nibble on a piece of steak and turned up my nose. I didn't even ask for a full bite. I think Lupe may have ruined me for other fajitas. In addition to their fantastically flavorful and tender meats, their flour tortilla is outstanding. It's thin and chewy, yet with a delicately flaky texture, and is more similar to a peking duck crepe than to any other flour tortilla I've tasted. The website says they are hand-rolled, and I can believe it. I'd even enjoy eating them plain, without any fillings. Admittedly, our experience with Tex Mex food has mostly been limited to chain restaurants, but I know when my taste buds are happy. And I could not be happier going back to Lupe at any time. Too bad it's all the way in Texas! I would definitely be going there often if it was close by. Oh well, until next time!
Lupe Tortilla (multiple locations)
2414 Southwest Freeway
Houston, TX ‎