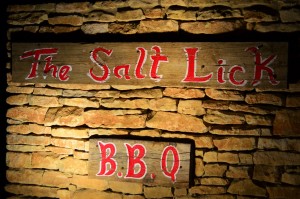 We took a much-needed break in San Antonio from eating barbecue after our epic day of feasting through Luling and Lockhart, but we picked back up on the barbecue train after arriving in Austin. We spent the afternoon exploring the south side of the city, including the famed South Congress Ave. area where there are lots of restaurants and bars. It was kind of dead though, as it was still early in the evening, so we decided to make the 40 minute drive to the original location of the Salt Lick, a barbecue place we've heard a lot about.
It was fortunate that we made the decision to go when we did, as they were closing the restaurant early for their staff holiday party that evening. There was a short wait for a table, but we had the foresight to pick up a 6-pack of beer on our way to the restaurant (it's a BYO) so we were able to enjoy a cold one while we waited. It also gave us time to observe the huge pit were all the meats were being cooked, which definitely helped to whet our appetites.
We ended up getting a huge table in the back just for the three of us, which gave us plenty of room to accommodate J's high chair and spread out. We debated ordering family style, which is basically all you can eat beef brisket, pork ribs, and sausage, as well as sides, but we weren't super hungry and didn't want to overdo it. At $21.95/person though, it's a pretty good deal, and a lot of groups around us appeared to be partaking. Instead, we shared combo plate and one double cut beef rib. The combo plate came with two meats, and we selected brisket and pork ribs (the other choices are sausage or turkey). It came with potato salad, cole slaw, and beans on the side, as well as soft bread, pickles, and onions.
The pork ribs were very meaty, not falling off the bone but still tender. The brisket was on the drier side though, without the marbling that I like in fattier cuts. Fortunately the Salt Lick barbecue sauce was there to help, add some moisture and tangy sweetness.
The single order double cut beef rib actually came with two ribs, both massive. I felt like I was in the Flintstones, gnawing on a gigantic rib. Unfortunately, the meat was pretty tough and dry, and even the barbecue sauce wasn't much help here. The pork rib was the clear winner of the two.
Overall, we were slightly disappointed with the barbecue from the Salt Lick. It wasn't bad, but it wasn't great either. The meat didn't have much smoke flavor to it, which I don't necessarily mind, but it was definitely drier than other barbecue we tasted on our trip. I don't know if they were in a rush since they were closing early that evening so we just happened to be there on an off night, or if what we got was standard. I also think that part of the appeal of the Salt Lick (the Driftwood location at least) is the atmosphere, which is usually supposed to be crowded, noisy, and festive, with live music and plenty of seating, both indoors and out. We were there on a chilly winter night just before they were closing, and we were at a big table with just the three of us. I would definitely like to try it again, maybe on a warm day sitting outside with a bunch of friends and a cooler full of beer.
The Salt Lick (multiple locations)
18300 FM 1826
Driftwood, TX