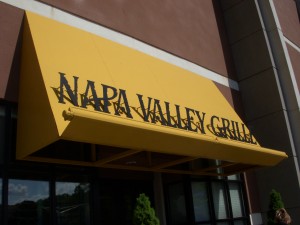 I needed to get a few things to round out my summertime wardrobe so I recruited Josh's mom, who has terrific taste, and coerced Josh into coming along as we braved the crowds at Garden State Plaza. Usually we avoid this mall at all costs, as the mobs of people, traffic and parking are always horrendous, but since we had a few additional errands to run, it made sense to get them done all at the same place. And since shopping at Garden State Plaza takes such effort, we stopped for lunch first at the Napa Valley Grille.
Compared to the rest of the mall, which was already packed with patrons, the Napa Valley Grille was an oasis of calm. It was a bit early for lunch so there were very few people in the restaurant aside from us. The restaurant is a bit pricier and more upscale than most of the other mall offerings, but the food is always fresh and well prepared, and they have really good "combination plates" during lunch that range from approximately $13-$16 each. Each plate comes with three items arranged together on a long platter. Josh and I shared the "Oak Knoll", which came with Portobello mushroom soup, steak fries, and two beef sliders with cheddar and tomato, and the "Atlas Peak", which also came with mushroom soup, a mixed salad, and a grilled cheese and prosciutto sandwich.
After we ordered, they brought by a plate of soft and fluffy focaccia bread and some delicious herb infused olive oil. We happily noshed on these for a short while as we waited for our combination plates.
We all tasted the Portobello mushroom soup first, which was smooth, creamy, and earthy. It wasn't too heavy or rich and the portion size was just perfect. The mixed salads were refreshing and lightly dressed with a tasty balsamic vinaigrette. The sliders were tasty, but the bread, which looked like a buttery brioche, was actually more of a dense potato bread and was a bit too heavy for a slider. The accompanying steak fries were a disappointment, as they were made from real potatoes but were limp and mealy.
The grilled cheese and prosciutto sandwich was served on thick cut slices of bread and grilled to a buttery perfection but there isn't enough filling, just a thin layer of cheese and prosciutto; I was hoping for a sandwich that was oozing with cheese. It was still pretty tasty though, and my favorite "entrée" of the bunch.
Josh's mom ordered the "Yountville", which had the soup, salad, and a piece of grilled salmon.
Overall the Napa Valley Grille isn't a place that we go to often, given its location at the mall and its pricier lunch offerings. It's a nice treat once in a while though, and I really do like the combination plates they offer. The portions of each component are smaller tasting portions, but it's nice to be able to try lots of different things. I usually have a hard time deciding what I want and this is the perfect solution.
Napa Valley Grille (multiple locations)
Garden State Plaza, Routes 4 and 17
Paramus, NJ