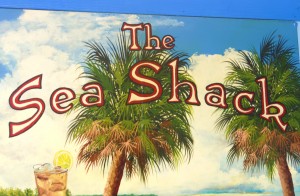 The Sea Shack is great little place on the island that I finally got to try two years ago. It's a no frills joint where the specialty is – you guessed it – seafood. You order at the counter in front and then they call your name when your food is ready. Although we usually make sandwiches for lunch and eat by the pool every day, now we try to make a special trip to the Sea Shack once a year. It takes a bit of planning since they're only open for lunch until 3 pm (they do serve dinner from 5-9 pm), and Josh and his dad don't usually get back from golfing until about 2 pm.
The menu is surprisingly extensive but basic. You can pretty much get whatever seafood they have either fried, grilled, or blackened. The Shark Attack combo lets you try the most amount of items, though you can also get combo platters with 2 or 3 items of your choice. The Shark Attack comes with fried fish,  shrimp, scallops, oysters, and crab cake. It also includes hush puppies and your choice of two sides. We opted for mac n' cheese and the veggie of the day, which was stewed okra and tomatoes. The seafood is fried on the spot when you order so you can be sure it'll come out piping hot and crispy. Everything tastes fresh, and the oysters are big enough that you can taste their brininess through the breading. The crab cake is also excellent, not too heavy on the filler.
The okra on that day was delicious, not at all slimy, but crisp and bright. I wish I could eat okra more often! The mac n' cheese can be a little mushy but there's lots of cheese mixed in. And the hush puppies are great, light and fluffy on the inside.
Since we already had a big plate of fried food, we decided to try out the jerk grouper. I asked them at the counter which they would recommend – jerk or blackened – and they said they make their jerk seasoning in house. Unfortunately, I wasn't a fan of the seasonings they used. There was something in it that had a floral quality that I didn't like, though Josh didn't seem to mind it. The grouper was also a bit overcooked, rendering it a little tough and chewy. I'll skip this dish the next time, and go for something blackened. For our sides, we chose french fries (standard, but crispy) and sweet potato cornbread, which tasted a bit like pumpkin pie and was very dense but moist.
Overall, I think if you want to eat fried seafood, the Sea Shack is the place to go. Everything is prepared fresh, so that it's not sitting out under heat lamps getting soggy. The restaurant has seats on the inside but it's a pretty small place so it does fill up quickly. We tend to go later than normal lunch hour when it's not as crowded, but it's still tough to find tables together for our big group. There is also seating outside. Most sandwiches/platters will run you about $10-$15, but you get a pretty big portion of food and the quality merits the price tag. It's definitely worth checking out.
The Sea Shack
6B Executive Park Rd.
Hilton Head, SC