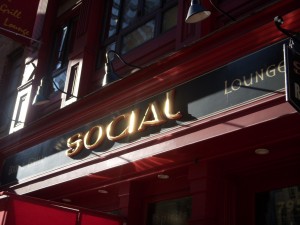 Poor Josh has really been on the road a lot lately, traveling for work. The day after we got home from San Francisco, he was on an early morning train to Baltimore. After spending one night there, he took the early morning train back from Baltimore and had about two hours to pack before heading to the airport on his way to Colorado. Because he knows how much all the traveling takes on toll on me (hey, it's hard when you're husband is away all the time and gets to go to new places and try new foods!), he made sure to grab a quick lunch with me during his two hour window.
We ended up at Social, a bar/restaurant on 8th Ave. that wasn't too crowded, as we wanted a quiet place where we could sit and talk. There was a special lunch menu that had sandwiches and burgers listed for $7.45 but we opted to split a few things from the regular menu instead. Since it was chilly outside and I was craving comfort food, we got an order of macaroni and cheese.
It was described on the menu as being covered in a three cheese truffled mornay sauce, but neither of tasted any truffle at all, not even a hint of truffle oil. And even though it had a nicely browned and crispy top, it was more creamy than cheesy, without any of the gooey-ness or stringy-ness that I wanted from the mac and cheese. Flavor-wise it wasn't bad but it was just too creamy overall.
We also split an order of sliders, which were really four mini burgers topped with American cheese. They came with lettuce, tomato, and pickles on the side, which were cut into smaller pieces so that they fit the sliders perfectly. I thought that was a nice touch, and very convenient. It also came a pile of fries, which were battered and crispy.
We had asked for the sliders to be cooked medium rare but they were closer to medium. I guess it's hard to cook these to order. At least they weren't dried out, and had a good amount of seasoning to them.
Overall we both enjoyed our quick lunch at Social. It's far enough away from the hustle and bustle of the Midtown lunch crowd that it was quiet and we were able to chat and have a relaxed meal. The food is standard bar fare but it was tasty enough and reasonably priced. While we probably wouldn't get the mac and cheese again, we did like the sliders, and there were lots of sandwiches on the lunch menu that I would go back and try. It's not too far from my office and is better than some of the other sit down options that we have closer to the heart of Midtown. The bar is multiple levels, and there are lots of flat screen TVs hanging up everywhere, so I think it would also be a good place to hang out after work for happy hour, or on weekends to watch sports.
Social
795 8th Ave. between 48th and 49th St.
New York, NY