We had a long morning of traveling to get to Grand Cayman from New York, but our trip was a breeze compared to the people who were coming in from Ireland and California. After an early flight to Charlotte and a three hour layover where we met up with a few other friends, we were finally headed to the island. Unfortunately, it was gray and rainy when we landed, but our spirits were still high. We were on vacation after all!
After clearing immigration and customs, we headed outside the airport to find a taxi to take us to our hotel. To our surprise, Claire and Sean were standing there, waiting to greet some of their family who had arrived on the same flight. We exchanged a few hugs and made plans to meet up at their hotel bar at the Grand Cayman Beach Suites later on in the evening. Then we all piled into a huge taxi van that took us to our own hotel, the Comfort Suites Seven Mile Beach, which was about a mile down the road from the Beach Suites.
Checking in was a breeze and we made plans to meet up at the bar, Stingers, for drinks and food. We dropped our bags in our room, which was perfectly fine but nothing too fancy. It was an alcove studio with a little sitting area and a small kitchenette area with a nice breakfast bar, a sink, microwave, toaster, and mini fridge. Our only complaint was that the air conditioner sounded like a jet engine, but at least it did its job in keeping the air cold.
Stingers is located out the back of the hotel, next to the pool. It's open air but covered, so we were safe from the rain. Josh and I started off our island vacation with some appropriate frozen drinks – a strawberry daiquiri for me and a pina colada for him. We also split a jerk fish sandwich, our first taste of the Caribbean. The sandwich was really flavorful, with lots of spice on the fish. The fish was perfectly cooked, moist and flaky, and we enjoyed the burn from the jerk seasoning. The fries were good as well, thin cut and crispy.
Even though it was still raining after our late lunch, we decided to head to the beach anyway. We figured that we would be getting wet regardless, so a little rain wouldn't hurt us. It was actually quite nice, since the beach was nearly deserted due to the weather. We were a little chilly when we first got into the water, but we warmed up pretty quickly. We had fun bobbing in the water and hitting a beach ball around. There were also some fake coral formations in the water so there were lots of fish swimming around. We donned some goggles and watched the fish dart in and out of the formations, and we did our best to avoid the spiny sea urchins.
When the air got a bit colder, we finished off our afternoon with a dip in the hotel pool, which was quite warm. It was also convenient since it was located right next to Stingers, so we enjoyed a few beers and cocktails while we were in the water.
After we retired to our rooms for a bit to shower and clean ourselves up, we rallied the troops and headed to Cimboco for dinner. It was billed as a Caribbean cafe, and the menu looked pretty good. Plus it was close to our hotel and in the direction of the Beach Suites, where we were going to meet up with Claire and Sean for drinks afterward.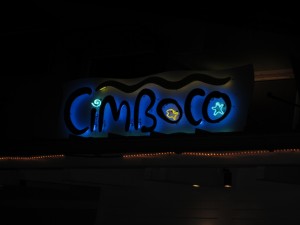 The restaurant was pretty casual and had a nice colorful decor. The menu has a mix of Caribbean style dishes as well as pizzas and pastas. Josh and I both ordered a Caybrew to drink, which is the local Cayman beer. It was pretty light but perfectly drinkable, and refreshing in the heat.
To start, Josh and I split the plantain wrapped callaloo for our appetizer. Callaloo is like the local version of spinach, and it was rolled into fried strips of plantain. The rolls were served on a spicy Cayman style sauce that tasted like pureed tomatoes and peppers. The plantains were the savory kind but still had the banana flavor, and it worked well with the sweet and spicy sauce. I wished there was a bit more callaloo in each roll, but otherwise, it was a nicely composed dish.
For our main course, Josh and I shared the banana leaf roasted snapper and the Carribean roti. The snapper was a perfectly roasted filet served with okra, carrots, zucchini, and a stuffed tomato. There were also pieces of creamy coconut infused cassava, or yuca, underneath the fish that had a great starchy texture to it and good flavor. The star of the plate was definitely the snapper though, with its flaky meat and well seasoned outer crust.
The Caribbean roti was a wrap featuring curried vegetables, including potatoes, carrots, onions, and chickpeas. I was expecting more of an Indian style roti, which has many flaky layers, but this seemed to be an ordinary flour sandwich wrap. Nevertheless, the curried vegetables were very tasty, and there was a yogurt raita sauce and a tangy chutney on the side for dipping.
Overall we all enjoyed the food at Cimboco, as well as the laid back atmosphere. We didn't have a reservation but we didn't have to wait too long for a table for eight of us. Service was pretty efficient, and I liked how the menu tried to incorporate local flavors wherever possible. Prices were pretty reasonable as well, with entrees topping out at about C$20, but most items were about C$15 (the fixed exchange rate is US$1.25 to C$1). Food in Grand Cayman was generally on the more expensive side compared to NYC, but they do have to import a lot of items. Plus the exchange rate doesn't work in our favor. Nevertheless, I thought the restaurant was pretty good and would definitely recommend it to someone looking for something casual but still with a nice atmosphere.
After dinner, we continued walking down West Bay Road towards the Beach Suites. It was a bit scary because the sidewalks were narrow and there weren't really any shoulders on the road, so cars would pass by us very closely. At the Beach Suites, we met up with Claire and Sean and their families for a few drinks, first at Hemingways, and then at Bamboo, which closed later. We ended up going to Bamboo most nights during our trip, so we made friends with the bartender there who was originally from Canada. All in all it was a great first day in Grand Cayman despite the rainy weather, and the best parts of our trip were still yet to come!
Stingers
P.O. Box 30725, Behind Comfort Suites, West Bay Rd.
Grand Cayman
Cimboco
P.O. Box 30786, Marquee Plaza
Grand Cayman