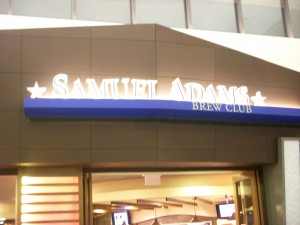 We arrived earlier than usual for our evening flight to San Francisco from Newark Airport so we decided to grab a quick snack before getting on the plane. It turned out to be a good idea since the snack they served us on the plane was kind of gross. The closest restaurant to our gate in Terminal C was the Samnuel Adams Brew Club. We ordered some pints of beer from the bar (Winter seasonal for me, regular lager for Josh) and sat down at a table to look over the menu.
Unfortunately, this particular branch of the Brew Club didn't really have full kitchen capabilties. There were mostly sandwiches and salads on the menu, and also soup and chili. The sandwiches can be heated in a panini press, which is what we opted to do. They were out of the sandwich we wanted though (they're premade and you pick them out from a refridgerator case in the front) so we ended up with a turkey club panini.
The bread was focaccia and formed a nice crispy outer crust when pressed in the panini but the fillings were lackluster. There were only a few slices of turkey and bacon, plus some severely wilted greens. There was also swiss cheese on the sandwich that melted all over everything and was kind of greasy. Not the worst airport sandwich you can get I suppose, but still not that great. I'd suggest sticking with the drinks and getting food from elsewhere.
Samuel Adams Brew Club
At Newark Airport
Newark, NJ