In addition to imbibing on some great wines over the weekend, we tasted a few local brews in both Quebec City and Montreal. At Le Sacrilege in Quebec City, we tried the blonde, red, and white beers. Josh loved the refreshing crispness of the blonde, while I thought the finish on the red was a bit too bland. It did have an interesting coffee flavor component to it that I didn't expect. The white beer was a hefeweizen with a strong wheat flavor. I enjoyed it a lot, even though it was freezing outside and I typically associate hefeweizens with summertime. It was served with both a lemon and a lime wedge.
In Montreal, our bar of choice, Brutopia on Crescent Street, was way too crowded for us to bring J in, so we settled for Les 3 Brasseurs, which is much bigger and had space for us and J's stroller at the front of the bar. Les 3 Brasseurs looks like a chain restaurant, but they do brew their own beer (the name translates to The 3 Brewers). We tried the brown and the amber. The amber packed a decent punch, but the brown was slightly disappointing. It had won a few awards so we were expecting a bit more complexity in flavor.
After leaving Les 3 Brasseurs, we walked up Crescent Street towards Amir for a late night snack of shawarma and shish taouk. It was always our post-drinking destination back in college when we would visit Montreal. We got one of each on pita and took it back to our hotel room, where we ate it with the leftover pied de cochon. Sadly, the sandwiches were not as good as I remembered. The beef shawarma was a bit too spiced for my liking, but Josh enjoyed it. The shish taouk (chicken shawarma) was always my favorite, but this time I found it exceedingly dry and under seasoned. The garlic mayo was bland, and the pickled vegetables were sparse. I was disappointed, but I'm sure there are other places to get better shawarma and shish taouk in the city. Amir was just a nostalgic place for us to visit.
We finished up our Canadian adventure with a few Montreal-style bagels from two famed locations: St-Viateur Bagel Shop and Fairmount Bagel. The Fairmount Bagel shop had a fairly long line when we were there, though it moved quickly. We were in and out of the store in just a few minutes (even though Josh had to run out and find an ATM since it's cash only). We picked up an everything, a chocolate chip, and a caraway seed bagel to eat in the car on our way home.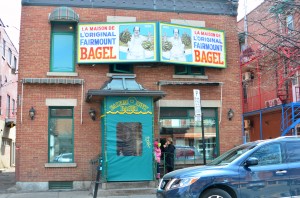 The St-Viateur Bagel Shop, on the other hand, was mostly empty. The production is a bit more impressive there though, as it is easier to watch the bagels being made in the back. Josh ran in and picked up an everything and a rosemary bagel for us to share.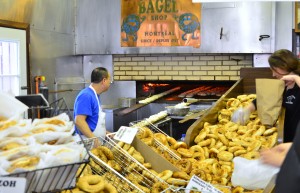 So which bagels did we prefer? Fairmount, hands down. They seemed fresher and chewier, with a better crust. The dough also tasted more seasoned, with good flavor throughout. While I liked the everything bagel the best (it's our baseline bagel), I was particularly intrigued by the chocolate chip bagel. The chocolate chips added a slight sweetness to the savory dough but it was far from being a dessert. I haven't seen chocolate chip bagels here in NYC/NJ, and I wish there were some around so I could eat them more frequently! Josh loved the caraway bagel, as he is into anything caraway (particularly caraway-flavored spirits, ie., Brennivin).
The St-Viateur bagels were blander, with a drier texture that gave it a stale quality. Even the everything bagel was lacking in taste, as the toppings didn't do much to help the flavorless dough. The rosemary bagel at least had rosemary running throughout the dough, so I preferred that one. But these bagels were a disappointment compared to Fairmount (although neither place stacked up to our favorite bagel shop in NJ).
The last item we picked up for our car ride home was sugar pie. I had read about it when researching Quebecois specialties, and I had wanted to try it at Au Pied de Cochon but we ran out of time and stomach room. I googled a place to buy it and came up with La Foumagerie, a specialty cheese shop/cafe in Westmount, just outside the city. Josh ran in to pick some up for us, and came back with two individually wrapped slices. He said the woman behind the counter was reluctant to sell it to him by the slice because it was the last pie left (I guess they mostly sell whole pies), but luckily for us, she eventually acquiesced.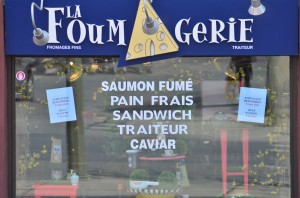 I unwrapped one and dug in immediately. It was sweet and maple-y, just as I expected. It's basically a pie filled with soft, crumbly, maple sugar candy. The fresh slice was slightly gooey, dripping out sticky streams of maple syrup. We saved the second slice for later, and by that point, the syrup was more incorporated in the filling and no longer drippy. Nevertheless, I thoroughly enjoyed both slices. It was not cloyingly sweet, but had more of a caramelized maple sugar flavor.
The drive home went by quickly, and thus ended our little Canadian adventure. The trip was a success overall, as we got to try a lot of great food and we handled Baby J pretty well on our own. Hopefully there will be a lot more travel in our future!
Le Sacrilege
447 Rue Saint-Jean
Quebec City, Canada

Les 3 Brasseurs
1356 St-Catherine St. W.
Montreal, Canada
Amir
1333 Boulevard De Maisonneuve Ouest
Montreal, Canada
Fairmount Bagel
74 Avenue Fairmount Ouest
Montreal, Canada
St-Viateur Bagel
263 Rue Saint Viateur Ouest
Montreal, Canada
La Foumagerie
4906 Rue Sherbrooke Ouest
Westmount, Canada