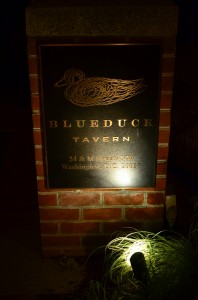 Last July (yes, over a year ago, in 2012), Josh took me to Washington DC and Philadelphia for my birthday. Both are places we've been to before, but I was seven months pregnant at the time and feeling a bit down about not being able to go on our annual "big" trip (ie., Peru, the Galapagos) due to my condition. Physically, I probably could have traveled overseas, but I didn't want to go anywhere exotic or new/exciting for fear that I wouldn't be able to fully partake in all activities, especially eating and drinking. DC and Philly were a great weekend getaway for us, with enough sights and foodie destinations to keep me occupied and happy.
I had a half day Friday at work so Josh picked me up in the city at 2 pm and we made the drive to DC in pretty good time, not hitting too much traffic along the way. He had made reservations for a relatively late dinner at the Blue Duck Tavern, which gave us plenty of time to check into our hotel and make our way over to the restaurant. That was fortunate because we were at a different hotel from where we thought we booked. Rather than staying at the Westin Georgetown, which is right across the street from the Blue Duck Tavern, we were actually at the Westin City Center, which is a mile down the road. It wasn't a bad walk, although we were a bit hot and definitely hungry by the time we arrived.
The restaurant itself was not what I was expecting. When I think of a tavern, I picture something a bit rustic, with exposed beams and rough wood. The Blue Duck Tavern had extremely modern decor, with contemporary furniture and lots of clean lines. It was also a little more casual than I expected. We did have a nice view of the open kitchen from where we sat.
The menu looked incredibly appealing, with lots of options for appetizers and main courses. Josh and I decided to go a bit crazy and ordered lots of dishes, creating our own mini tasting menu. We told our waiter that we wanted to share everything, and that he should bring the dishes in whatever order the kitchen thought was appropriate.
We ended up starting off with the oven roasted bone marrow topped with ramp butter, which was decadently delicious. It was served with a head of roasted garlic and grilled country bread.
We spread some cloves of roasted garlic on each piece of toast, then topped it with the melty marrow and ramp butter. The marrow was rich and flavorful, and it was an ample portion to split between the two of us.
Next up was the spinach and smoked ricotta tart, which was like a savory ricotta cheesecake. It was served cold, and we could really taste the smokiness of the cheese. It came with a side salad of fresh baby spinach leaves and toasted pine nuts, which helped cut through the richness of the ricotta. It was a simple dish but packed with lots of flavor.
We moved on to the 12-hour roasted suckling pig, which was very tender, as expected. There was a mustard jus in the pan that definitely packed a mustardy punch, but overall I thought the dish was just ok. It wasn't as intensely pork-y as I had hoped, although the big piece of fried pork skin on top was a nice touch. It was served with a gorgeous pile of roasted baby vegetables.
The next dish was butter poached lobster on top of crispy pork and split pea emulsion. It was really an interesting dish, with the tender lobster paired with what was essentially pulled pork formed together into a cake, breaded, and fried. The split pea emulsion was creamy and sweet. It was a nice mix of textures and flavors.
I was not a big fan of the course that followed, the braised beef rib with homemade steak sauce. Part of it was probably because I was very full by this point, and this was an extremely heavy dish. The beef rib itself was huge, incredibly meaty, and fork tender. However, I found the steak sauce to be completely overwhelming. It just covered the beef and was all I could taste. We had a hard time finishing this one.
On the other hand, I loved the crispy fried veal sweetbreads with mac and cheese and morel mushrooms. It seemed like this dish was made just for me! The sweetbreads were nicely fried, crispy on the outside and creamy on the inside. The morels had a nice earthiness to them. The mac and cheese was more creamy than cheesy though, and it could have used a touch more seasoning, but otherwise, it was a well composed dish.
Lastly, we got a side of sauteed wild mushrooms. It was completely unnecessary – we had more than enough food on the table. The mushrooms were sauteed with olive oil and garlic. I found them to be a bit chewy, and the texture was sort of a turnoff. Too bad, because I usually love mushrooms.
Overall we enjoyed our meal at the Blue Duck Tavern, although there were a few hiccups with some of the courses. We generally found that the "appetizer" dishes (the bone marrow, spinach and smoked ricotta tart, butter poached lobster, crispy sweetbreads with mac and cheese) were better than the "entree" dishes (the suckling pig and the braised beef rib), though we may just have ordered poorly. The smaller dishes ranged from $11-$16 and the larger courses were mostly in the $25-$30 range. The appetizers were all shareable portions though, so it would be easy to make a nice meal out of several selections. We liked crafting our own tasting menu, and the waiter was very accommodating. The ingredients are obviously all fresh, and the menu even tells you where it comes from. The dishes are seasonal and the menu changes often, so I would definitely make a return trip if given the opportunity.
Blue Duck Tavern
1201 24th St. NW at M St.
Washington, DC