We were pretty tired the morning after Claire and Sean's wedding but probably not as tired as the people who partied on the roof afterward. Claire and Sean had organized a brunch at their hotel so we made our way over to the Beach Suites, via the beach of course. After a hearty breakfast of eggs, bacon, potatoes, and pancakes, plus some slices of leftover wedding cake, we felt re-energized. Silva, Felipe, Justin, Josh and I decided to head over to Georgetown, the main town on Grand Cayman, to check out the sights.
We took a bus to Georgetown, which we found was the best method of transportation. The buses, which are really just large vans with blue license plates and have stickers on them that say WB1 or WB2, run back and forth on West Bay Road and the fare is C$2 or US$2.50 (they take both forms of currency and will give you change in whichever one you prefer). Although there are bus stops along the road, the buses will pick you up anywhere. You can flag them down like a taxi, or if they are coming up behind you, they'll give a little honk and you can wave at them to stop for you. They'll also drop you off anywhere along the road, so it's almost like taking a taxi, except much cheaper. Taxis are very overpriced compared to the bus, so I would suggest taking the bus whenever you can.
In Georgetown we pretty much just walked around. There wasn't a whole lot to see – we were a bit disappointed. Sure, there were lots of souvenir stores and jewelry shops, but we were expecting more historical buildings or colonial architecture. The biggest attractions seemed to be Margaritaville and the Hard Rock Cafe. I guess the town mostly caters to the cruise ships that come in. All the stores boasted duty free signs, but only for the cruise ship passengers. We didn't find anything interesting to buy, but the stores were nice for their air conditioning. It was really hot out and extremely humid. I ended up overheating at one point and had to find a bathroom to run some cold water on my face and wrists in order to cool down.
We had some milkshakes and smoothies at a place called Paradise, which is right on the water. It was nice to sit and enjoy the view and the slight breeze. Afterward, we headed back toward the center of Georgetown, away from the water. There was a post office, a library, and a war memorial, though still not much to see. We took a few pics then continued on our way.
Our next destination? Seymour's Jerk Centre.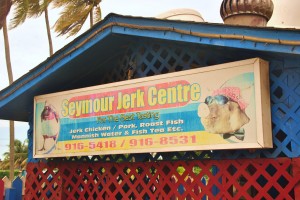 I hadn't done much restaurant research on Grand Cayman before we arrived because I wasn't sure how much free time we would have. Of the minimal research that I did, however, all signs pointed to Seymour's Jerk Centre, which is famous for its jerk chicken. I knew we had to go there so we convinced the crew to meet up for a late lunch. I hadn't seen pictures of the place beforehand and was surprised by how rustic it was. It's basically a hut that houses the barbecue smokers where they cook the meat, a small kitchen where the workers prepare and serve the meat, and two picnic tables in the back where you eat. We could smell the barbecue from a few blocks away, and let me tell you, it was pretty enticing.
The menu is pretty straightforward. There's jerk chicken and jerk pork, fried fish, and a handful of other choices. We all got some form of jerk, since it is a jerk centre after all.
We were the first of the group to arrive but we were surprised to see Claire's parents already there eating. They both enjoyed their meal, though I think Aine may have found the jerk seasoning to be a bit too spicy. We placed our orders and were just sitting down to eat when the crew from the Beach Suites arrived, including Sean and Claire. The rest of the Comfort Suites crowd followed shortly thereafter, and we all squeezed into the larger of the two picnic tables.
Josh and I decided to get an order of jerk chicken and an order of jerk pork to share. They also do a combo platter for single diners who would like to try both meats. The meats were wrapped in tin foil and served with two slices of white bread. We ended up forgoing silverware and just tore into it with our bare hands. Both the chicken and the pork were absolutely fabulous. I might have liked the pork a bit more, but only because there were pieces of pork belly in the mix, and I love pork belly. All of the pieces of pork were succulent and tender. The jerk seasoning was spicy but not overwhelming. The spices tingled on our tongues and lips but we could taste the different nuances in the seasoning.
The chicken was a mix of all parts as well, though I preferred the dark meat thighs and legs. There was a bottle of vinegary hot sauce on the table, which we liberally doused on the meats to add even more zing. I used the white bread to make little sandwiches out of the meat, and even though the portions were huge, I stuffed myself silly until all we had left were a pile of bones.
I absolutely loved Seymour's Jerk Centre. The jerk seasoning was the best we tasted our entire trip, and the chicken and pork were obviously slow cooked so that they were falling apart tender. There isn't much in terms of ambiance though, which might turn some people off. Like I said, it's basically a hut. You eat outside on picnic tables, and there are lots of flies flying all around. Admittedly, the flies were a bit annoying, but I guess it's part of the experience. This is an authentic, local joint. Everyone we asked knew about Seymour's, and it was totally worth the trip. This was definitely one of my favorite meals in Grand Cayman, and I highly recommend it.
After lunch, we took a bus back to our hotel and changed into our bathing suits, then walked back over to the Beach Suites to meet up with everyone. Claire and Sean were finally able to hang out and relax with us for a bit. We hung out in the water for a bit, and then decided to get some exercise in with a friendly yet competitive game of ultimate frisbee. It was pretty tiring running around in the soft sand, so we took frequent intermission breaks and ran into the water to cool down. It was a tight game but our team ended up victorious, which is always nice. It was definitely a fun time, if a  bit exhausting.
We finished the afternoon in the pool, enjoying some frozen drinks from the swim up bar. The sun was starting to set and it actually got a bit chilly in the pool so we started to make our way back to the Comfort Suites. Josh decided to have fun with his wide angle lens on the walk back, taking lots of pictures of the beach, the water, and his footprints.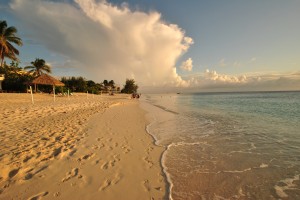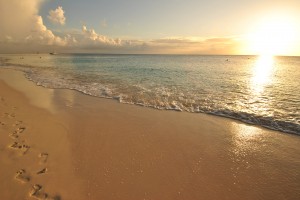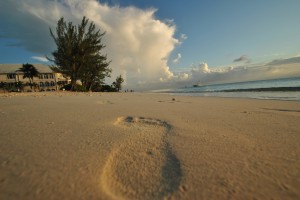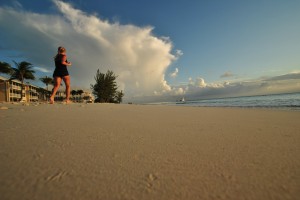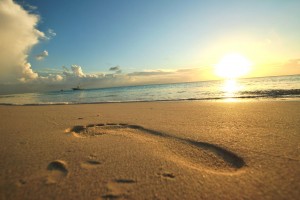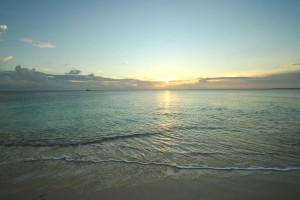 We took a short break before dinner, taking our time to clean up and relax a bit. For dinner, we decided to try out Myrtle's, which was recommended to us by a few locals. It was noted for serving authentic, local Caribbean cuisine. We took the short walk over to the restaurant, which is located in a strip mall just down the road from the Comfort Suites. It's nothing fancy, but we were there to try out the food.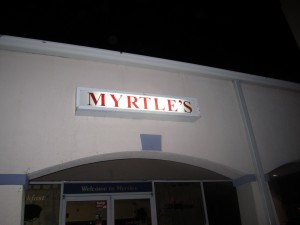 When we walked in, the place was packed with rugby players. There was a tournament going on and a lot of the players were staying at the Comfort Suites as well. I think it was the team from Barbados, and they took up the whole outer room of the restaurant. We put together a few tables near the bar and settled in. We got a round of lemonades, fruit punch, and sodas, and tried to decide what we wanted to eat. I was debating between the turtle burger and a few other items, but then we got some bad news.
Because the rugby players were such a large group, the kitchen had prepared a buffet style feast for them. That meant they didn't have capacity to cook many items on their regular menu, including the turtle burger, turtle soup, and marinated conch, all of which I really wanted to try. The choices we did have were pretty limited, but there wasn't much we could do.
Josh and I decided to get conch fritters to start, which were better tasting than the fritters we had at the Beach Suites. There was more conch mixed in that added a chewy texture, and the flavors of the spices in the mixture really worked well. I just wish they had been slightly crispier.
Josh wanted the shrimp curry from the menu, and fortunately, it was available. The curry sauce was a bit weird though, not what we were expecting. We thought it would be a yellow curry, similar to the curry that came with the curried chicken, but this was more like a brown curry that was sweet and sour. Josh asked for it spicy but it didn't have too much of a kick.
I ended up ordering the stewed beef, which was not on the menu, but I guess it was one of the dishes they had prepared for the rugby players. It turned out to be a fantastic dish, with soft, tender beef that fell apart with the gentlest prodding of my fork. The beef was cooked with potatoes, carrots, and onions, and enrobed in a thick, rich sauce. All of the entrees were served with rice and beans, a small salad, and two pieces of fried plantain.
Overall I was disappointed that we weren't able to try out the normal menu at Myrtle's, but what we had was pretty good. It's simple, local cuisine, nothing fancy. Prices are a tad lower than some of the more upscale restaurants that we went to, but still kind of pricey compared to NY. I think the shrimp curry was about C$17, and the stewed beef was C$14.50. There's a small extra charge if you use a credit card, but all the prices are laid out clearly on the bill and you can pay in Cayman or U.S. dollars as well. Service was friendly, and it's definitely a nice, low key joint. I just wish I could have tried turtle!
After dinner we headed to the Beach Suites once more and hung out at Bamboo, of course. We had a nice semi private area in the corner because the bar was full, and we had a few round of drinks before saying our goodbyes to everyone, since we all had different flights out the next day. The walk back to our hotel via the beach route was peaceful as usual. It was our last full day in Grand Cayman so it was kind of bittersweet, but we managed to pack in a lot of sightseeing, food, and fun.
Seymour's Jerk Centre
Shedden Road, Georgetown
Grand Cayman
Myrtle's
Queen's Court Plaza, West Bay Rd.
Grand Cayman