Josh's cousins had two extra tickets to the Yankees/Orioles game last Saturday so we were lucky enough to be able to tag along. It was the night game of a day/night doubleheader, and the earlier game must have taken a toll on the Orioles, as the game we witnessed was a completely lopsided match-up. The Yankees scored 12 runs in the first inning, a franchise record, and I think everyone in the line up got on base and scored during the hour-long inning. It was pretty incredible, and lots of fun to watch.
Because the first inning took so long, Josh and I were pretty hungry by the end so we immediately headed down to get some food after the third Yankee out. We knew exactly where we were headed – the new Parm stand in the Great Hall. The stand is run by the people behind Torrisi Italian Specialties down on Mulberry Street, a restaurant I'm really eager to try. They plan on opening up an actual Parm restaurant soon right next door to Torrisi, so this stand is almost like a trial run for them.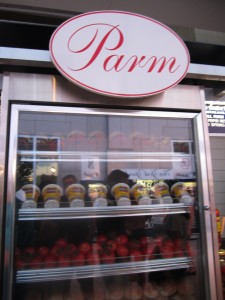 The menu is incredibly basic. You can either get a turkey sandwich or a meatball parm, both of which cost $14 each. Kind of steep, especially since the turkey sandwich is only $9 at Torrisi downtown, and $11 for a larger hero. But this is a ballpark so a markup is expected. I was pretty surprised though by the calorie count on the meatball parm, not that it really deterred me from ordering it.
Josh and I got one of each sandwich and asked the person behind the counter to cut them in half for us. The turkey sandwich had mayo on it, but Josh doesn't like mayo so we compromised and asked for light mayo. Turns out, it didn't need any mayo at all. The turkey was incredibly moist and flavorful, some of the best turkey I've ever tasted. In addition to the mayo, there was a spicy sauce slathered on that really had a great tangy kick to it. If you really don't like spicy sauce though, ask for it light or without because it packed a surprising amount of heat. There was also lettuce, tomato, and raw red onion on the sandwich, which added a nice freshness.
The meatball parm featured a thick meatball patty that was soft and flavorful. The meatball had a wonderful texture to it, and it was also one of the best that I have ever tasted. There wasn't a lot of cheese on the parm, but the tomato sauce was zesty and well seasoned. My major complaint was that the sandwich was lukewarm. I think it could have been even better had it been served hot, but the flavors were still pretty spot on. I really liked that they put fresh basil leaves on top of the meatball. My minor complaint was that the roll was slightly too sweet for the meatball parm. It was the same roll they use for the turkey sandwich, but it didn't work as well with the parm. It is sort of like an eggy brioche bun. I liked that it was soft and squishy but it was really just a tad too sweet for my taste.
Overall we really enjoyed both sandwiches from Parm, and I was happy to be able to try the turkey sandwich that helped make Torrisi famous. I'd love to go there for dinner sometime but the no reservation policy makes it kind of difficult. One of these days we'll just have to suck it up and stand in line. As for the Parm stand at Yankee Stadium, it's a welcome addition. Yes, it's pricey, and the sandwiches aren't huge, but the quality can't be beat. I'm still thinking about that wonderful turkey.
It was really hot out so we also decided to grab a lemonade from one of the many lemonade stands in the stadium. At $5.25 a cup, it's also pretty pricey. Unfortunately, it wasn't worth the cost. The lemonade tasted incredibly watered down. It wasn't too sweet, which I liked, but it also lacked the tanginess that you would expect from lemonade. As a result, it really wasn't very refreshing, and I'll pass next time.
The rest of the game wasn't as exciting as the first inning, though the Yankees still managed to tack on a bunch more runs. We started out the game sitting in the upper deck, in left field foul territory. Josh's cousins also had two field level tickets behind the Orioles dugout, and after the fourth inning, we were allowed to move down and sit with them there because the stands were pretty empty. It was a nice upgrade, and we finished out the game with a pretty great view of the field.
The Yankees ended up winning the game 17-3 and had a whopping 24 hits during the game. We had a great time watching the game and hanging out with everyone. Plus we really enjoyed our sandwiches from Parm, and I would definitely go back there if we make it to another Yankee game this season. I hope the stand sticks around, as it's really worth a visit!