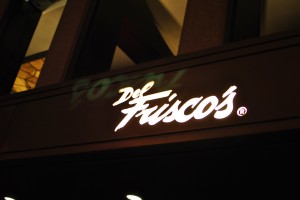 Del Frisco's is a steakhouse in midtown near Rockefeller Plaza that Josh says is his favorite steakhouse in Manhattan. He goes to lots of steakhouses for work dinners and I never get to tag along, unfortunately. Josh has been raving about Del Frisco's for years so I was thrilled when I finally got an opportunity to try it, because I wanted to see for myself what the fuss was all about.
The restaurant is huge, with two floors and a big bar that always seems to be packed, especially after work. The clientele is mostly business folks –  lots of people dressed up in suits, but the restaurant also appears to draw in tourists as well. We had a reservation for four (we were dining with Dave and Mike) and had to wait about 15 minutes before they seated us. We pushed our way to the bar and got a round of drinks. The hostess found us shortly afterward and we were shown to our table in the back. We kind of joked with our waitress that this was where they stuck the unattractive people, as we were pretty tucked away from the main dining room "scene." To be honest, I didn't mind – I preferred the dark nook in the back where we were seated because it was not as noisy, and we could actually hear each other without having to yell across the table.
We looked over the menu but basically all we were deciding was what cut of steak to get. We were at a steakhouse, after all. They had a few special cuts available (though Josh says they're always the specials, so I wonder why they don't just put them on the regular menu?) that most of us wound up ordering. We also got a few sides to share, and some crab cakes to start. The bread they served us was soft and fluffy, like large dinner rolls, which we tore apart and slathered with some sweet whipped butter.
The crab cakes were pretty fantastic. They were made from jumbo lump crab meat and basically had no filler in them. The crab broke off in huge, meaty chunks, and we could really taste how fresh the crab meat was. The large cake was sitting in a pool of remoulade sauce that was nicely seasoned and paired well with the sweetness of the crab.
Our steaks were served just a short while after they cleared our appetizer plates. When they bring your steaks, they have you cut into the meat right away so that you can see immediately if it's done to your liking. I ordered my steak medium rare, and it was perfectly pink throughout, just the way I wanted it. It's important to note, however, that the temperatures here are probably just a little under what you would normally expect, so adjust your order accordingly. Dave ordered the bone in filet mignon (one of the special cuts) medium rare as well, but he thought it was just slightly more rare than he preferred. Still, it was cooked exactly the way our waitress described it would be.
Josh had suggested that I order the bone in ribeye, another one of the special cuts. It turned out to be the perfect choice – tender and flavorful, with little pockets of marbling that just melted in my mouth. I thought the ribeye was perfectly seasoned, with lots of cracked black peppercorns on top that added a nice bite. The meat itself was beefy and flavorful; it was pretty much the quintessential steak for me.
Josh ordered the eight ounce filet mignon black and blue. It was cooked as requested and very tender. We ended up going halfsies, and while he loved the ribeye, I wasn't a huge fan of the filet. Because it's such a lean cut, I find the meat to be less flavorful. I think they tried to overcompensate for that and ended up over-salting the meat. I have a pretty high salt tolerance but I found the steak difficult to eat. Josh seemed to enjoy it, though he did prefer the ribeye. A little bit of fat really makes a huge difference flavor-wise I think.
We ordered a few side dishes that were big enough to share. After they put a portion of each item on our plates, they left the platters on the table so that we could continue to serve ourselves family style. We ended up getting macaroni and cheese, creamed spinach with bacon, sauteed mushrooms, and onion rings. The macaroni and cheese was pretty fantastic, with lots of stringy cheese mixed throughout and just the right amount of creaminess. The creamed spinach was rich and flavorful, though the bacon might have been a bit overkill. The sauteed mushrooms were well seasoned and had a nice texture to them.
The onion rings arrived in an impressive tower, with large slices of onion covered in a light, crispy batter. While the batter was well seasoned and crunchy, it didn't adhere well to the onions and completely fell apart once you bit into the onion ring. The onions themselves were also slightly undercooked and had a raw bite to them. Too bad, because they looked so good.
We were pretty stuffed but made some room for dessert. We all shared a slice of lemon cake, one of the restaurant's specialties. It's a moist yellow cake with layers of lemon icing in between. It's pretty rich, though the lemony flavor makes for a nice and bright finish. I also liked that it wasn't too sweet or cloying.
While we were eating our cake, Dave introduced us to a Canadian after dinner drink called blueberry tea. Surprisingly, the drink doesn't involve blueberries. It's two ounces of Grand Marnier and one ounce of Amaretto poured together in a large snifter glass. Then you add hot black tea (Dave used Earl Grey) on top of the liquor. The aroma is supposed to be similar to blueberries, though I found it more orange-y and fruity. Flavor-wise it was actually quite nice. I could taste the Earl Grey, which was slightly sweetened by the Grand Marnier, and the almond flavor of the Amaretto lingered on my tongue. I really enjoyed the blueberry tea and could see myself drinking this more often in the future.
Overall I really enjoyed the food at Del Frisco's and thought their steaks were pretty top notch. While I don't eat at a lot of steakhouses, I do eat a lot of steak and would happily eat that ribeye any day of the week. The crab cakes were wonderful, and I also enjoyed most of the side dishes. The menu is your typical steakhouse fare but they do execute it very well. Our waitress was friendly and had a good sense of humor, which was important when dealing with the corny jokes that were being made at our table. The restaurant "scene" itself at the bar and the outer room might be a bit much for me, but the in the end, food trumps all. I would happily go back, though the prices might make it a bit prohibitive. It was pretty expensive, almost shockingly so, but the food was really great. I can see why Josh thinks of this as the best steakhouse in Manhattan.
Del Frisco's (multiple locations)
1221 6th Ave. at 49th St.
New York, NY