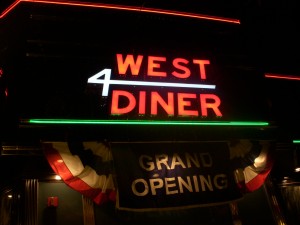 The first time we tried to go to the 4 West Diner turned out to be a bust, as it wasn't opening until the following week. Several months passed before we tried again, and I must say that I was pleasantly surprised by both the food and the décor of the diner.
It's located in a space that use to house a Bennigans but they've totally re-done both the outside and inside. The outside is a gleaming silver highlighted with neon lights, which evokes memories of old time diners and has the benefits of attracting cars passing by on a busy section of Route 4 in Englewood. The inside, however, is nothing like what I expected. Instead of metallic tables and booths covered in brightly colored vinyl, the décor is understated with neutral brown/beige tones, and is actually quite pleasant. The space is deceptively large on the inside, and we were seated along the back wall so we had a nice view of the entire diner.
It was a chilly and rainy night when we went so both Josh and I decided to start with some bowls of soup. I opted for French onion, which is usually a hit or miss at diners. Some seem to dump soup straight from a can and top it with barely melted generic white cheese. Fortunately 4 West Diner took better care than that. The soup was served piping hot, had a nice rich onion-y flavor, and wasn't too salty. I don't think the cheese on top was quality gruyere but it was a generous sprinkling and pretty evenly melted.
Josh's matzo ball soup, however, was pretty dismal. The chicken broth was greasy and lacked seasoning while the matzo ball had a really weird rubbery texture to it. Proper matzo balls should be light and fluffy so that they almost dissolve in your mouth, not dense lead-like balls of dough.
For my entrée, I chose the chicken bello sandwich, which was served open faced on a square ciabatta roll. Each side of the roll had an enormous slab of chicken breast topped with a portobello mushroom and melted fresh mozzarella. Both sides were huge, and there was no way I could slap them together to make a normal sandwich. Instead, I could only finish one side, eating it with a knife and fork, and saved the other half for later. The chicken on the sandwich was cooked so that it was still nice and tender, and it worked well with the slightly chewy portobello and stringy mozzarella cheese. I just wished there was more balsamic dressing on the whole thing, or more seasoning, as it ended up being a bit bland. The huge sandwich came with a side of fries, which were standard but decent.
Josh had the french dip sandwich, which was also served on ciabatta bread and had tender, thin slices of beef. It was real slices of steak, not like deli roast beef, which Josh liked, but he wished that they put some swiss cheese on the sandwich for extra flavor. The dipping sauce was pretty good, not too greasy or salty. The french dip sandwich came with french fries as well.
Overall we both thought the food at 4 West Diner was pretty decent and slightly more creative than standard diner food. Prices aren't dirt cheap but they're reasonable, and service was fast and efficient. I did like the more upscale atmosphere, though you lose some of the nostalgia factor of eating in a diner. The menu is very extensive so it's a good place to go if you have a large group or picky eaters, as everyone will find something they like. It's by no means a destination restaurant but if you're hungry and happen to be passing by or in the neighborhood, it's not a bad place to stop.
4 West Diner
412 South Van Brunt St.
Englewood, NJ