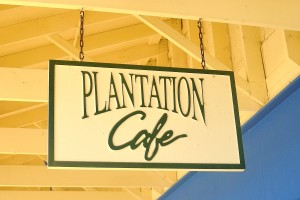 After lamenting the lack of good she crab soup over the course of our week in Hilton Head, we asked around whenever we had the opportunity to talk with locals, and the general consensus seemed to be that the best she crab soup on the island could be found at the Plantation Cafe & Deli. It's a diner-like cafe that's only open for breakfast and lunch, and there are two locations on the island – one on the north end and one on the south. We wound up going to the northern location on the morning that we were heading home from Hilton Head.
The menu is huge, as you would expect at any diner. There were lots of eggs and assorted breakfast items available, as well as numerous sandwiches and salads. We started with a bowl of the famous she crab soup.
Chock full of crab, thick, creamy, and rich, this really was the she crab soup of our dreams. The crab flavor was very pronounced, and it had a bit of a pepper kick to it that wasn't overwhelming. A bowl was pretty filling though, so we were glad to have shared it, though I was craving more when we finished.
I don't usually go for breakfast items at a diner, but a few of the breakfast dishes were calling out to me. I ended up sharing the crab cakes benedict and Elle's southern breakfast with Josh. The crab cakes benedict featured poached eggs stacked on top of two decent-sized crab cakes and a toasted english muffin. The crab cakes had a good amount of meat in them, not a lot of filler, though they were on the mushy side rather than light and crisp. Still, it was a nice combination in terms of a runny egg on top of flavorful crab and a crunchy english muffin. We got the hollandaise sauce on the side and dipped lightly (I hate it when my eggs benedict are drowning in sauce). We had a choice of home fries or grits, and since the southern breakfast came with grits, we opted for home fries. They were shredded potatoes that were nicely browned and well seasoned on the outside, soft in the middle. We also had a choice of fresh fruit or hot cinnamon apples, and of course we went with the apples. They were like apple pie filling, though not as soft, but warm and comforting.
Elle's southern breakfast featured a big bowl of grits topped with three fried green tomatoes, two eggs any style (we opted for over easy), two sausage patties, and a choice of a buttermilk biscuit or toast (biscuit, of course). The fried green tomatoes were crispy on the outside and juicy and tart on the inside, but they seemed to be lacking something – more seasoning, some sauce, anything. It seemed odd that they were in the bowl of grits, so we just moved them off to the plate and doused them in salt and hot sauce, which made a big difference. The grits were buttery and creamy, and we tossed a little hot sauce in there as well for a nice kick. I'm not a fan of sausage patties in general (too many bad fast food breakfasts growing up!) but these had a nice browned crust on the outside and were milder in the flavor, which I preferred. The biscuit was fluffy and just plain yummy.
Overall, we were pretty impressed with the food at the Plantation Cafe & Deli. It's a cute diner that serves large portions at reasonable prices. The she crab soup was amazing (I would go back just to eat another bowl of it), and the ambiance is casual and friendly. It's a great spot to grab a filling breakfast or lunch, and I hope that we can find the time to make it there again this year.
Plantation Cafe & Deli
96 Mathews Dr.
Hilton Head, SC