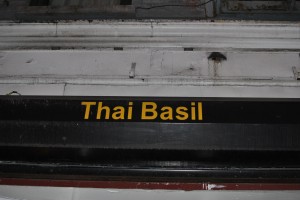 In our neck of the woods, there is no lack of Thai restaurants. It seems like there is a Thai restaurant on every block in Hell's Kitchen. We've been partial to Wondee Siam II but I always like to try out different places. Thai Basil is a tiny place that I've walked past many times and we decided to try it out with Mike and Melissa one evening. I was a bit worried when I saw the "C" health rating on the door but no one had any major reservations about it, so in we went.
The restaurant was empty except for one other table, which wasn't really a good sign either. Nevertheless, we pressed on. The menu is pretty straightforward with typical Thai fare. We decided to start out with a few appetizers to share. The curry puffs were filled with ground chicken and potato. The crust was warm and flaky but the filling didn't have much flavor – they definitely needed a heavier hand with the curry powder. They came with a cucumber sauce for dipping that I thought was a bit unusual, but the crunchy cucumber was actually a nice complement.
We also split an order of fried tofu. The tofu was nice and crispy on the outside and soft on the inside. It came with a chili sauce topped with lots of peanuts on the side, which tasted good but was kind of hard to dip into. The chili sauce had a really thick texture to it that didn't stick well on the tofu. Still, I thought it was a pretty decent rendition of fried tofu, though the portion was a bit small.
Melissa and I both ordered the pad kee mao, which is flat wide noodles sauteed with onion, bell peppers, and basil. It was a dish that Melissa introduced us to last year and is now one of our favorites. Thai Basil's version was super flavorful and very spicy – I think it was the best pad kee mao that I've had so far. I loved the complexity of the spices, and while it was hot enough to make me sweat a bit, it wasn't an overpowering burn. I couldn't stop eating it even when I was full, and ended up cleaning my plate.
Josh ordered the massaman curry with beef. It was mixed with coconut milk, potato, onion, avocado, and cashew nut. The curry was also very flavorful and had a nice, slow burn to it. I found the avocado to be a weird but interesting addition to the dish; its creaminess helped tone down the spice a bit. I actually really enjoyed the massaman curry a lot, and it's definitely something I would order again.
Overall I was pretty impressed with the food at Thai Basil. Melissa, who is from Malaysia and is definitely well versed in Thai food, thought the flavors were more authentic than at Wondee. I really liked all the spices in the entrees we ordered, though if you don't like spicy foods, I'd suggest asking them to tone it down a bit. As with most Thai restaurants in this neighborhood, prices are extremely reasonable. I'm not sure why this place gets a low health rating (and I don't really want to know) but I didn't see anything out of place in the dining room. I would definitely go back, and I'm glad that we have another go-to Thai restaurant in the neighborhood.
Thai Basil
860 9th Ave. between 55th and 56th St.
New York, NY