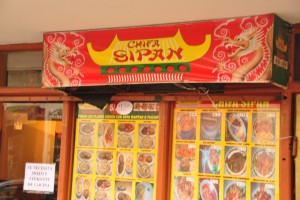 As strange as it may sound, Chinese food is actually really popular in Peru. We saw lots of Chinese restaurants in Cusco and Lima and wondered if we should give it a shot. Our tour guide in Cusco recommended a place for lunch called Chifa Sipan, saying that it offered classic Peruvian Chinese food. Not knowing what that meant, we decided to take him up on his recommendation and try it out.
Josh saw peking duck on the menu and immediately jumped on it. Peking duck is one of his favorite dishes, but this version was like nothing we had seen before. It turned out to be thin slices of duck on a bed of deep fried rice noodles. There was no crispy skin, no wraps or buns, no strips of raw scallions or cucumbers, and no hoisin sauce. It definitely wasn't peking duck as we know it, but at least the duck itself was tender, and the brown sauce it was doused in had decent flavor.
We also picked another one of Josh's favorite dishes, pork in garlic sauce. Again, this particular version wasn't recognizable to us. The pork was in large slices rather than the smaller, shredded kind we're used to, and it was much darker in color than we expected pork to be. Unfortunately the meat was kind of tough and chewy. The pork was sauteed with lots of veggies – broccoli, peppers, scallions – which I liked for the health factor (we hadn't been eating too many vegetables on our trip) and the crunchiness factor.
We also got an order of chaufa – fried rice – to round out our meal. The fried rice was the most recognizable dish for us, and had lots of roast pork in it. This pork was much tastier and tender compared to the pork in garlic sauce, and it had the barbecue flavor we're used to in char siu.
Overall we found the Chinese food at Chifa Sipan to be a bit of a mixed bag. I think we just didn't know what to order and tried to order dishes like we normally like here in the U.S., but the Peruvian version was not what we were expecting. I wouldn't be adverse to trying it again if I knew what the specialty dishes are, or at least what locals usually order. The restaurant itself had kind of an old school Chinese joint decor, and service was fine. The three dishes we ordered was a lot of food, more than we could finish. Prices were very reasonable, and our meal with a few sodas came out to 52 soles, or less than US$20. It might feel counter-intuitive to eat Chinese food in Peru, but it really is part of their local culture. Peruvian fusion food isn't new to us here in NYC either – Nobu is Japanese-Peruvian fusion, and there is a restaurant in Chinatown called Red Egg that is Chinese-Peruvian fusion. I would love to eat at Nobu, of course, but I'm also curious enough to give Red Egg a shot one of these days. If you're in Peru, try it out. Just ask for recommendations or specialties first.
Chifa Sipan
Calle Quera 251
Cusco, Peru