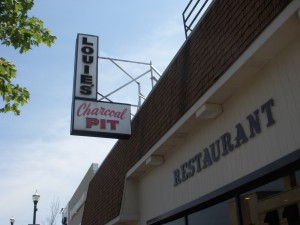 Growing up in NJ meant that we spent many nights during high school or breaks from college at a diner, eating fries, drinking coffee and talking late into the night. Our favorite was always Louie's Charcoal Pit in Teaneck, NJ, (which I guess technically is a coffee shop, but has all the great appeal of a diner) as it was just a quick walk up the block after we had spent hours drinking at Geronimo's Hot Spot (now closed, sadly, after several violent fights and a few stabbing incidents…). Louie's is also the place where Josh's family gets together often, either for Friday night dinners or Sunday morning breakfasts. The menu is broad, offering breakfast staples, sandwiches, traditional Greek dishes, Italian food and other assorted roasts and dinner food. We popped in for a quick lunch as we had some errands to run and we can always count on the service here to be super fast.
I had tuna salad on a toasted bagel, which is always overflowing with tuna. The sandwich is so big that I can't fit it into my mouth; I have to split it open and eat each quarter of the bagel separately. Usually I can only get through half, and save the rest for later.
Josh had a triple decker turkey club, which is piled high with roasted turkey. Unfortunately it's always a bit dry. A shmear of mayo would fix that, except Josh refuses to eat mayo, or anything that contains mayo (i.e. tuna/chicken/egg salad).
All of the sandwiches come with pickles and cole slaw, which they are definitely not stingy with!
We shared a plate of fries, of course, which are standard but satisfying.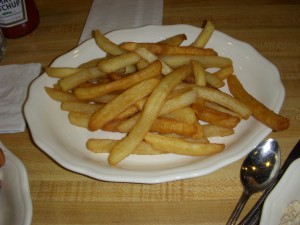 Portions here are huge, and the food is consistently good. It's obviously not fancy gourmet cuisine – it's a diner after all – but the wait staff is friendly and the food is comforting. It's nice to have a place that you can always count on.
Louie's Charcoal Pit
510 Cedar Lane
Teaneck, NJ