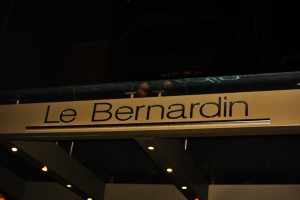 In the interest of full disclosure, this meal took place back in April. Yes, I'm really far behind with my posts.
As Josh wrote back in November 2009, Le Bernardin ranked as the #2 best meal we've ever had. We were there for his birthday that year and still remembered how incredible our experience was. During the last year and a half, however, we've had some pretty good meals (ie., Daniel, Eleven Madison Park), and we were curious to see if Le Bernardin would still live up to our memories. Our friend Melissa was in town and she really wanted to try Le Bernardin as well, so we managed to get a weeknight reservation at a decent time.
We met up with Melissa at the restaurant bar and were seated immediately. They're currently renovating the interior of Le Bernardin right now, but I liked the old decor. The restaurant has very tall ceilings, and the colors are pretty muted, with lots of beiges and light browns. I find the atmosphere to be calm with an understated elegance, but not stuffy.
I was surprised when they served us the amuse bouche immediately, before we even received any menus. The amuse was a small portion of tuna tartare, and I wish that I could have had an entire serving because it was absolutely delicious. Tuna tartare is pretty mainstream these days and it's hard to mess up, but it's also hard to find one that will knock your socks off, like this did. This version featured classic ingredients like cucumber and chives, and the sauce had an Asian flavor to it. The tuna was fresh and perfectly seasoned, and it was a great bite to start off our meal.
We were debating between the shorter tasting menu or the regular four course prix fixe menu and decided that if we all ordered different things and shared, we would be able to taste more dishes overall with the regular four course prix fixe. It was a bit tricky to split each dish three ways but we managed to do it without any major issues. We all picked our favorite dishes for each course, and the sommelier helped us pick out a white burgundy wine that was buttery and matched well with our dishes.
After we made our selections, we settled in to enjoy our meal. First up was the bread, which featured an olive rosemary stick, a crusty white roll, and I think a whole wheat roll (sorry, my memory is fuzzy). The star of the lineup was definitely the olive rosemary stick, which was studded with salty and briny green olives.
In order to make the sharing process easier, when we received our dishes, we immediately split them into thirds, ate our portions, and then passed our plates to the left.  The first course of the prix fixe comes from a category called "Simply Raw." As the name indicates, the seafood featured during this course are not cooked, allowing their freshness to shine through. For our dishes, we ended up choosing the progressive tasting of Kumamoto oysters, the striped bass tartare, and the thinly pounded yellowfin tuna. The oysters, which were topped with different gelees and ranged from light and refreshing to complex and spicy, was a difficult dish to share because each oyster was different. Fortunately there were six oysters in total, so we each selected two, one from each end of the plate. I don't know what each of the gelee toppings were, but the oysters were fresh and juicy, with lots of briny liquid to slurp up. The gelees were more of an accompaniment rather than a condiment, and they didn't hide or detract from the flavor of the oysters.
The striped bass tartare was served with watermelon radish carpaccio, mustard oil, and red dulce seaweed vinaigrette. They also gave us some toasts on the side to accompany the tartare. At first taste, the tartare was a bit bland and really nothing special. However, when eaten in conjunction with the toast, the dish itself changed drastically. The flavor of the bass was more apparent, and the nuances of the vinaigrette and seasonings came through better. I went from thinking it was a lackluster tartare to really enjoying the flavors. It was like magic!
My favorite appetizer of the bunch was the thinly pounded yellowfin tuna layered on a toasted baguette that is spread with foie gras. There was olive oil drizzled over the top and a sprinkling of chopped chives. The tuna was fresh and flavorful on its own, and light enough that it was the perfect match for the foie gras. The foie gras was just a thin layer so the dish wasn't overly rich, and the toasted baguette provided a wonderful crunchy textural contrast. It was just a winning combination overall.
The second course of the prix fixe comes from a category called "Barely Touched." Again, we all picked the dish that we wanted for the course, split it into thirds, then passed it along so that everyone could have a taste. We selected the peekytoe "crab cake," the smoked yellowfin tuna "prosciutto," and the seared langoustine. The peekytoe crab was a pile of loosely packed crab meat served with mango ribbons and a chili crab broth. There was no filler in this "crab cake," just crab meat. The broth was pretty complex, with lots of different spices. It definitely had an Asian flavor to it, and we actually requested spoons so that we could spoon up the broth to eat together with the crab meat. Josh really enjoyed this dish a lot.
The smoked yellowfin tuna "prosciutto" was an interesting dish, with thick pieces of tuna that were a deep red color and had a salty, smoky flavor to it. The tuna was topped with pieces of pickled vegetables and a crispy sheet of kombu seaweed. I didn't love the flavor of the tuna but I appreciated the whimsical aspect behind the dish.
Our favorite second course, and quite possibly our favorite dish of the evening, was the seared langoustine with mache and wild mushroom salad and shaved foie gras. The langoustine was cooked perfectly so that the texture was still light and delicate, not chewy or rubbery. There was just a small pat of foie gras on each piece, which added some richness but was in no way overwhelming. The mushrooms and mache were a great match for the langoustine, and a white balsamic vinaigrette bound everything together with just the right amount of acid.
The third course, our last savory course, came from the "Lightly Cooked" category. We wound up selecting the poached halibut, the sauteed codfish, and the baked skate and langoustine "paupiette." The halibut was described as being served with braised artichokes stuffed with water chestnuts and bacon in a Persian lime scented truffle broth. I have to admit, we picked the dish because of the lime scented truffle broth and were disappointed with what we actually received. The broth had no trace of truffle flavor, nor was it tangy from the Persian lime as we had anticipated. The broth was still flavorful, just not what we expected based on the description. I did like the stuffed artichokes, and the halibut itself was tender and flaky.
The sauteed codfish had a beautiful golden sear on the outside, and the fish was well seasoned. It was served with a leek and grape parfait, caramelized endives, and a green peppercorn mariniere. This was probably the most classically French dish we had all evening, with simple, clean flavors and perfect execution.
Our favorite dish of the course was the baked skate and langoustine "paupiette" with charred shiitake mushroom and brown butter flavored dashi broth. Even though there was langoustine was tucked inside the skate, the skate itself was the star of the dish. It had a wonderful delicately chewy texture to it, and wasn't the least bit stringy. The shiitake mushrooms and the dashi broth definitely gave the dish a Japanese tilt, and the flavors were surprisingly bold. I also liked the little french radishes on top, which gave each bite a little bitterness to counteract the richness of the broth. It was an elegant and well put-together dish.
The last course of our four course prix fixe was dessert. Before dinner, I told Josh that I had read about a famous off the menu dessert created by Pastry Chef Michael Laiskonis, which was simply called "The Egg." It was usually served as a pre-dessert with the tasting menu, and I was hoping they would let us order it even though we weren't doing a tasting menu. After checking to make sure they had enough prepared for actual tasting menu diners, our waiter graciously let us swap out one of our desserts for The Egg.
What is The Egg exactly? It's a milk chocolate pot de creme, or custard, served in an actual eggshell and topped with maple, caramel, caramel foam, and flakes of Maldon salt. The presentation is fun and unusual, but the taste is even better. Who doesn't like a combination of chocolate and caramel? The salt adds a nice contrast to the sweetness, and the maple is just a hint to make you wonder exactly what's in The Egg. The custard is smooth and rich, and each bite varies just slightly depending on what you get on your spoon.
I have to say, The Egg is simply heavenly, but it was almost impossible to share with two other people. Considering that the serving is inside an actual eggshell, it's quite small to begin with. That's why it's meant to be a pre-dessert, just a taste to leave you wanting more, and not an actual dessert. It was hard to pass The Egg on, but we managed to score a few tiny spoonfuls each. I know we all wished that we could have had our own Eggs!
We did order two other desserts for our prix fixe, the pistachio and the citrus. The pistachio featured pistachio mousse, vanilla cream, lemon raspberry pearls, and pistachio ice cream. I'm a huge fan of pistachio so I loved this dessert as well. I felt bad though when I found out later that Melissa doesn't really like pistachio. Still, the mousse was light and airy while the ice cream was dense and rich. Pistachio was definitely the dominating flavor on the plate. The lemon raspberry pearls added a bit of color and some whimsy to the dish.
The citrus dessert featured lime parfait, meringue, avocado puree, and mint-grapefruit tequila sorbet. It was definitely citrusy, both tangy and very refreshing. The lime parfait was smooth and creamy, and the mint-grapefruit tequila sorbet was an interesting combination. Both Josh and Melissa liked this dessert a lot, and it was a great way to revive our palates after all the food we ate.
Lastly, they presented us each with a plate of petit fours. We were stuffed but couldn't resist tasting each little bite. There was salted caramel covered in chocolate, a chewy caramel canele, a pistachio financier with a cherry inside, and a vanilla cream puff. They were sweet endings to a wonderful meal.
After our meal we asked to see the kitchen, and while I was disappointed that Chef Eric Ripert was not in the house that evening, the chefs in the kitchen were extremely nice when we walked in. We also saw the separate pastry area where the team was hard at work trying to get all the desserts plated before the ice creams melted, as the kitchen was very hot – much hotter than any other restaurant kitchen we've visited.
Overall we were all extremely pleased with our meal at Le Bernardin. While it's hard to compare if this meal lived up to the #2 best meal of our lives, it definitely ranks up there. The food was outstanding and the service was top notch. Our waiter was very friendly, offering his advice on which dishes to order when asked. The sommelier was also great in helping us pick out a solid yet reasonably priced wine. It's easy to see why this restaurant has three Michelin stars. With regard to all the courses we had, I personally preferred dishes from the first two courses, as the fish was either raw or barely cooked. That's not to say that the lightly cooked dishes were bad, I just found more exciting pairings and more variety in the first two courses. Coincidentally, Josh had a business dinner at Le Bernardin just a few days after our meal, and he found that dinner to be spectacular as well. I think it's safe to say that Le Bernardin is our favorite high end restaurant in New York, and I wish that we could eat there more often. I'm looking forward to seeing what the new renovations will bring, as it will give us an excuse to visit again soon.
Le Bernardin
155 West 50th St. between 6th and 7th Ave.
New York, NY