We had a super early start to this day, as we had to make sure we got to the Condor Cross in time. The view that greeted us when we walked out of our little bungalow was just stunning.
We were supposed to get breakfast at the hotel at 5:30 am but Josh and I were running late as usual so we ended up missing it. Instead we grabbed a stack of pita bread to go and ate it on the bus. Not exactly filling, but they had to do.
After we got on the bus, we headed back toward the town of Yanque to pick up the other people in our group from their respective hotels. Then we stopped in the center square of town where there is a beautiful white colonial style church. In the center of the square there is a large fountain where the children of the town dance for tourists before heading off to school. They wear brightly colored traditional clothing and perform the dance of love.
After leaving the town, we made our way toward Colca Canyon and the Condor Cross. We pulled over at different points along the road, where the views of the valleys were just breathtaking. There are colorful agricultural terraces lining the valleys, most of which were built by the Incas and are still in use today.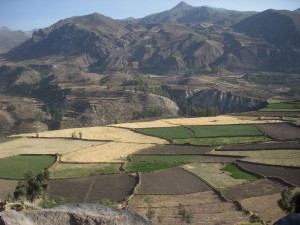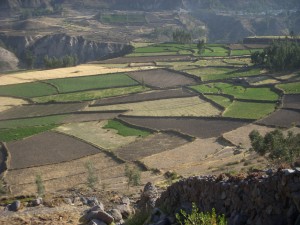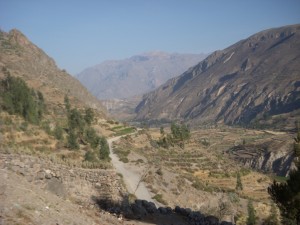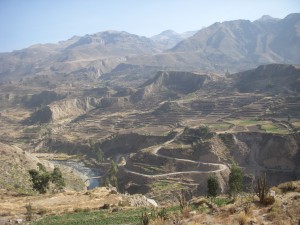 We also saw the hanging tombs at Choquetico along the way. These pre-Inca tombs aren't really hanging, but they're buried in the face of the mountain, way up. Some of the tombs are marked in red, and it's impressive that they were able to build these so high up on a steep mountain.
When we finally reached the Condor Cross, the portion of Colca Canyon where condors take flight by gliding on the early morning air streams, it was pretty crowded with lots of tourists. Everyone was perched on the rim of the canyon scanning the skies for any sign of a condor. Since nothing was really happening, we took the opportunity to look at the canyon itself, which was nothing like what I expected. I was picturing something like the Grand Canyon, but at this portion the walls of the canyon were pretty slanted, not steep. There was no layering of colors like the Grand Canyon, but they were pretty deep. It was majestic in its own way.
We waited for what seemed like hours but was probably only about 40 minutes, and no condors in sight. Not even a hint. I was feeling pretty dejected at this point and I was starting to get upset that we went out of our way to go to Colca Canyon just to see condors, and we had wasted our time. Then all of a sudden, I saw something flying low in the canyon out of the corner of my eye. The crowd all around us began making noises of excitement, and we realized that a group of condors had arrived.
The birds were absolutely magnificent, soaring high above us and the circling down so that they were just overhead. Their wingspans were ginormous, and they glided so gracefully. There were about six of them, one black and white adult and a few brown juveniles. They didn't seem to have any sort of agenda; they just circled around us, making pass after pass. We watched them fly around for about 20 minutes before we had to continue on our way.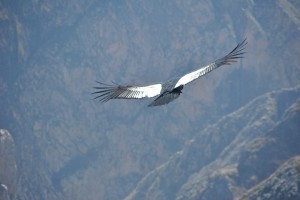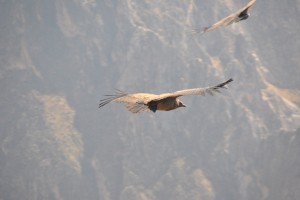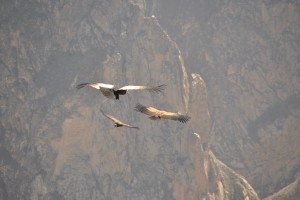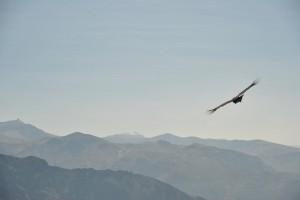 After leaving the Condor Cross, we drove a short ways and took a walk along the canyon rim. The views were pretty, but still didn't have the same impact on me as the Grand Canyon. We did get to see a condor fly past us though, which was pretty cool since Condor Cross seemed sort of staged (even though it's not), and this was "out in the wild" (sort of).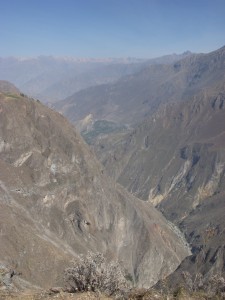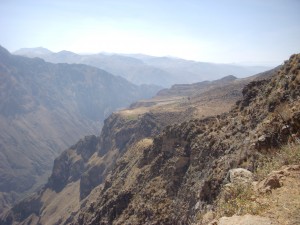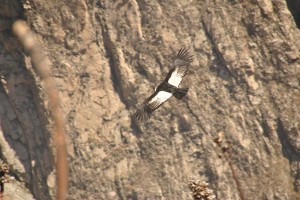 After our short stroll, we got back on the bus and drove to the start of the canyon, where we saw more agricultural terraces. We also got to try cactus fruit, which was super sour. It's usually blended with ice and other ingredients to make a drink so eating it plain was a bit overwhelming and mouthpuckering.
We drove through a few small little towns, stopping to check out yet another white colonial church.
It turned out that our route back to Arequipa was the same way we took getting to Colca. We drove back through Chivay and stopped for lunch at the same restaurant, Zacarias. I was kind of upset by that, since we were eating at the same place two days in a row, but luckily the buffet had different offerings. They had cuy! It was deep fried and cut into little unidentifiable pieces, which made them easier to eat. We also had some more alpaca, and my favorites from the previous day, beets and vegetable fritters.
After lunch we had a little bit of time to kill so we walked around the main square in Chivay, which featured, yes, you guessed it, another white colonial church.
Afterward, we got back on the bus for the four hour drive back to Arequipa. I was worried that we would feel altitude sickness again when we reached the highest point on the road, at over 4,900 meters, but luckily, we slept through most of the ride and didn't feel anything. When we got back to Arequipa, we went for a walk before dinner, checking out the Plaza de Armas and the cathedral at night.
For dinner, we went to a restaurant called Zig Zag, which was recommended to us by a couple who was in our Colca Canyon tour group. The food was fantastic, and it was one of the best meals we had during our entire vacation. With regard to Colca Canyon, the sights were beautiful and the condors were amazing, so if you have the time to spare, you should definitely check it out. However, it's not on my list of places you HAVE to visit in Peru. Regardless, we had a good time there and it definitely helped us acclimate to the altitude, which made the rest of our trip seem like a breeze.