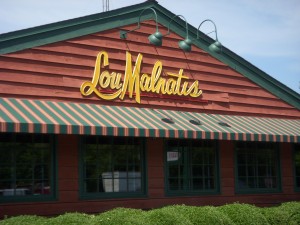 We actually went to Lou Malnati's two days in a row, but the first time was after we landed and we just wanted a snack so as not to fill up before our dinner at Alinea. Smart move. We ended up sharing two individual pan pizzas, one cheese and one deluxe, between three of us. The individual pies are only 6 inches in diameter and served out of the pan, which I think made them a bit colder and drier. They didn't really satisfy my Chicago pizza craving so I was happy when we returned the next day for lunch.
We had time to kill after attending our friends' wedding ceremony and before the reception, so a bunch of us headed to Lou's to grab a late lunch. We ordered a few pitchers of Goose Island summer ale and some appetizers to start.
Lou's bruschetta was surprisingly really tasty. Usually chain restaurant bruschettas are super oily and served on too-stale bread, but this version was made with fresh tomatoes and basil, lightly dressed with olive oil and well seasoned. The garlic toast was just the right consistency, crunchy on the outside and chewy in the middle. It was really a delicious starter.
We also ordered a combination platter, which came with mozzarella sticks, cheddar cubes, breaded zucchini and mushrooms. How can you go wrong with a giant plate of fried food with ranch dressing and marinara sauce on the side? Everything was nicely crispy, and the cheddar cubes were a big surprise hit. They just exploded in your mouth with molten cheesy goodness.
We ordered three pizzas to share – one cheese, one Lou, and one deluxe.
The cheese pizza was exactly what one would expect from deep dish Chicago style pie. It had a nice cheese to sauce to crust ratio, and I liked the buttery brittleness of the crust.
The deluxe came with cheese, sausage, mushrooms, onions and green peppers – a classic combination. While I'm not the hugest fan of sausage, I thought it worked well with the overall pie. All the flavors played off each other, and it was a nice combination of salty and sweet.
The Lou had fresh spinach, mushrooms, sliced tomatoes, and a mix of mozzarella, romano, and cheddar cheese. It was a bit too "gardeny" for my taste, and lacked enough seasoning. I also prefer tomato sauce on my pizza rather than actual tomatoes. Tomato sauce provides a much needed sweet tang and helps hold everything together.
While I do like Chicago style pizza once in a while, I still prefer NYC's thinner and chewier crust. It can't hold as much toppings, but you don't feel so heavy and gross after eating a few slices. I don't know if Lou's is the best of the Chicago styles, as I've only been to Giordano's once, and to a few Pizzeria Unos that weren't in Chicago. They all seem pretty similar to me but I guess if you're from Chicago, you have pizza debates just like we have here in NYC. If I'm in Chicago again and someone suggests going to Lou's, I wouldn't shoot them down but I'd also like to try a few other places (Gino's, for example), just for more comparison.
Lou Malnati's (multiple locations)
1050 East Higgins Rd.
Elk Grove Village, IL