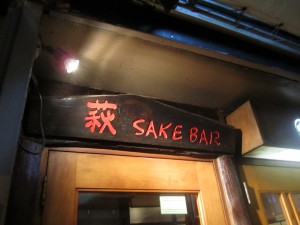 Sake Bar Hagi is sort of like a Japanese tapas restaurant that's been written up about in numerous papers and magazines and was featured on Anthony Bourdain's No Reservations. It's in midtown so it draws the happy hour crowd, and it's a great place for pitchers of beer and lots of little snacks. It's important to get there early though because the place really fills up quickly. Josh and I had been there once after work and really enjoyed it so one Sunday night when it was just us and Josh's parents, we suggested trying to get in for dinner.
The restaurant is located downstairs below street level but it's a pretty large and bright space. The tables are kind of cramped together though, and it does get a bit noisy. We had to wait for about half an hour before we could get a table. Fortunately the waiting area wasn't crowded and we were able to sit on some benches while we waited.
After we were seated an ordered a pitcher of beer, we set about perusing the extensive menu. There are so many different options to choose from, it was almost a bit daunting. There were the usual Japanese appetizers, like gyoza and edamame, different types of yakitori, as well as some more unusual offerings.
We started out with an avocado salad, which was pretty standard. It featured a good portion of sliced avocado on top of iceberg lettuce, shredded carrots, tomatoes, and asparagus. The ginger dressing was flavorful and not too sweet.
We also got a yakitori set that included skewers of chicken meatballs, chicken, garlic, pork belly, and beef. The meatballs were a bit bland but the other meats were well seasoned and had good barbecue flavor.
Agedashi tofu is something that we always order when we're at a Japanese restaurant, and this version was pretty good. It's deep fried tofu that's silky on the inside sitting in flavorful broth, topped with grated daikon, bonito flakes, and shredded seaweed. It's a good mix of textures and flavors.
The bonito sashimi was one of our favorites of the evening. It was served with citrus soy sauce and topped with chopped scallions, fried garlic chips, and thinly shaved daikon. The fish was a gorgeous deep red color and tasted fresh. The combination was light and refreshing.
The tatsu age, or Japanese fried chicken, was light and crispy on the outside, though I think there may have been a bit too much breading. Still, the chicken was pretty juicy and all it needed was a squeeze of lemon over the top.
An interesting dish we ordered was grilled clams topped with scallions. They were big and juicy, not too chewy, with lots of briny flavor. We just shot them straight from the shells, making sure to drink up all the delicious liquid.
Another one of my favorite dishes was a grilled eggplant topped with miso sauce. The sauce was nicely caramelized on top, and it had sweet, slightly smokey flavor. The eggplant had a creamy texture and wasn't bitter.
I had high hopes for the grilled yellowtail collar as it's usually a tender, luscious part of the fish. This version, unfortunately, was a bit dry and really bland. There was no seasoning or sauce on it, and even after we squeezed lemon over the top, it was pretty flavorless.
We got an order of gyozas filled with pork, which were decently pan fried and brown on the bottom, but flavor-wise they were just meh. These were probably the frozen pre-made kind, and not great ones at that.
Much to Alice's dismay, Josh and I shared a yakitori of chicken skin. Crispy on the outside, slightly chewy, well seasoned, and very flavorful, we thought these were pretty fantastic. Probably not great for our cholesterol, but we only had one bite each.
We got an order of shiitake mushrooms, which were topped with lots of bonito flakes. They had a meaty texture but were kind of plain, and I probably wouldn't order these again.
I enjoyed the fried octopus balls (takoyaki), which was kind of like eating an octopus doughnut. The balls had a light, slightly chewy texture and were filled with little chunks of octopus.
I wanted to try a grilled rice ball (onigiri) filled with spicy cod roe. I've eaten regular rice balls before but never the grilled kind. The rice on the outside was browned a crispy, and the spicy cod roe filling was definitely spicy. I just wish there was a bit more filling, and that it was more evenly dispersed throughout the middle of the rice ball. Otherwise it was pretty good.
Last, and definitely least, we got a yaki udon with chicken. It's pan fried udon noodles but the sauce they used was cloyingly sweet and gloppy. There was so much sauce that it totally overpowered everything on the plate, so that was all we tasted. It was probably the worst yaki udon I've ever eaten, and it was a disappointing way to finish our meal.
Even though the yaki udon was terrible, the rest of our meal was pretty good. They have a nice variety of yakitori, and I liked being able to try all the different skewers of meat. The fried items were all served fresh right from the fryer, which meant they were hot and crispy, as they should be. I think the best part of Sake Bar Hagi is the extensive menu and getting to try lots of different things. Most plates are small but shareable, and we washed them down with cheap pitchers of Sapporo. It's definitely a great happy hour spot, though if you plan on being there for a while, you have to keep ordering food and drinks, otherwise the servers will tell you that other people are waiting for a table. It does get crowded but it's got a nice low key vibe. I highly recommend checking it out.
Sake Bar Hagi
152 West 49th St. between 6th and 7th Ave.
New York, NY