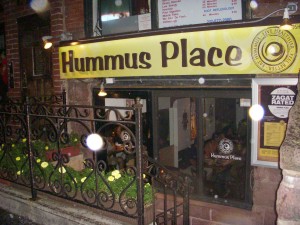 Josh and I tried to see a 7:10 showing of the new Harry Potter movie at the theatre in Lincoln Center but when we arrived at 6:45, the theatre was already packed and there were no good seats left. Since we didn't want to watch the movie from the front row, we exchanged our tickets for a later show and headed off to find something to eat.
I wasn't starving (unusual, I know) so we looked for something casual and light. We ended up at Hummus Place, a little place devoted to hummus, of course. There are several branches throughout the city and although the menu is limited, the food is fresh and good for sharing.
Josh and I started with a carafe of sangria, one of the more unusual versions that I've tasted. In addition to the standard chopped up pieces of fruit, they added dried spices to their sangria, which made it taste like Christmas potpourri to me.
There were visible pieces of star anise floating around but I'm not sure what else they put in there. I tasted more fruit juice and spices than wine, so I wasn't a huge fan. Josh seemed to enjoy it though.
We decided to share some appetizers and a plate of hummus. We opted for an order of falafel, which were crispy on the outside and moist and green in the middle. These were nicely seasoned, although the accompanying tahini sauce didn't have much flavor.
We also had stuffed grape leaves, which were surprisingly served warm. I've only had cold grape leaves before. These were soft though, and the rice stuffing had a nice texture to it. I enjoyed the minty green yogurt sauce that was doused over the top.
The tabule salad was chock full of fresh parsley and mint but lacked enough zing. An extra squeeze of lemon would have helped brighten up the flavors. I did enjoy the quinoa mixed throughout, as it provided a nice chew to the dish.
For our main course, we shared the hummus masabacha, which was hummus topped with whole chickpeas and olive oil. It came with two pieces of soft and fluffy pita bread that were warm and delicious.
The hummus had a nice creamy texture but lacked any sort of seasoning. I couldn't taste any tahini, so it seemed like they just pureed chickpeas plain with olive oil. It really needed some garlic and lemon to boost up the flavor. I ended up dumping in a bunch of salt but it was still pretty bland.
Overall Hummus Place was a nice place to get a quick snack, but it wasn't satisfying as a meal. I guess the carnivore in me can't survive on just chickpeas. The food is light and healthful though, and the small appetizer plates give you the opportunity to try a lot of different dishes. The only thing they need to work on is their seasoning, but the freshness of their ingredients really shines through.
Hummus Place (multiple locations)
305 Amsterdam Ave. between 74th and 75th St.
New York, NY