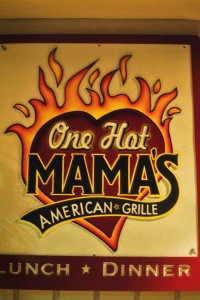 One of the restaurant suggestions made to us by a reader was One Hot Mama's, a barbecue restaurant whose chef, Orchid, participated in The Next Food Network Star competition. I don't watch that show so I had no idea who she was, but the menu looked good and I always like to try barbecue when we're in the south.
The restaurant doesn't take reservations but you can call ahead and put your name down, telling them approximately what time you want to come by. They'll try to accommodate you as best as they can but it's not a guarantee. Since we had 15 people in our group, we ended up waiting past the time they said to come in. We actually ended up splitting up into two separate tables to shorten our wait. The "kids" sat at one table while the adults sat at the other.
We decided to get a few appetizers to share. The restaurant offers a wide variety of wings, including their award-winning "Hot Asian" wings, so we knew we had to try some of them out. We ended up getting a mix of Hot Asian, Backyard BBQ, and regular Buffalo wings. The Hot Asian and Backyard BBQ wings ended up being pretty similar. They both had a smokey grilled flavor and sticky sauce, though I think the Hot Asian wings were a tad sweeter with maybe just a hint of spice. The buffalo wings were pretty standard with a vinegary buffalo sauce that had a decent kick to it but wasn't too spicy. They were served with blue cheese dressing and celery sticks on the side.
We also shared a platter of pulled chicken nachos. The chicken was tender and flavorful, and there was lots of it piled on top of the tortilla chips. There was also cheddar cheese sauce, melted monterey jack, pico de gallo, scallions, and jalapenos. The flavors were well balanced and we ended up polishing off the entire plate.
Josh and I wanted to try as much of the barbecued meats as we could so we split a rack of baby back ribs (also award winning) and a BBQ combo with hand pulled pork and sliced beef brisket. The rack of ribs was simply ginormous, and the meat was falling off the bone tender. It was slathered with Mama's Red BBQ sauce, which was a good mix of sweet, sour, and spicy. I really enjoyed these ribs but there was so much food that we only ended up getting through half the rack. We boxed up the rest for lunch later in the week. The ribs came with a side of french fries (perfectly crispy but standard), honey jalapeno cornbread (a bit crumbly), and coleslaw (crunchy, tangy, and not too mayo-y).
The BBQ combo was also supposed to come with fries and cole slaw on the side but we were allowed to substitute for two other sides. We ended up choosing collard greens and macaroni and cheese. The collards were great – intensely leafy but not bitter at all and soft but not mushy. The mac and cheese had a nice tangy, cheesy flavor to it, and the pasta was perfectly al dente. It was a good combination of creamy and gooey, and one of the best mac and cheeses we've had. As for the barbecued meats, the pulled pork was soft and melt in your mouth tender while the brisket was smokey in flavor and quite tender as well. We did douse more barbecue sauce on both for extra flavor, a vinegary bbq sauce for the pork and more of the fantastic Mama's Red BBQ sauce on the brisket. Again, the portions were enormous, and we took home lots of leftovers.
We also got an order of onion strings to share for the table. In retrospect, that was definitely way too much food, but the onion strings were actually really tasty. They were very sliced thin, lightly battered, and perfectly fried to a nice crisp. The strings were not greasy at all, and they were perfectly seasoned. There was ranch dressing on the side for dipping but we were happy eating them plain.
We were much, much too full for dessert, plus we had eaten Spiderman birthday cake before dinner. We also had tons of leftovers that we ended up doggie bagging for lunch later in the week. Overall I think everyone was pretty happy with the food at One Hot Mama's. It wasn't anything fancy but the food was hearty and solid. Prices were incredibly reasonable, especially for the amount of food we received. The only downside of the evening really was the fact that they don't take actual reservations so we ended up waiting a long time, plus we had to split our party into two groups. Nevertheless, once we were seated, the service was fast and efficient, and the food was really good. Authentic barbecue? Perhaps not, but I'm no expert. I have to admit, I had some reservations, especially since the place and a commercial, chain restaurant vibe to it, but in the end, I was won over. I don't know how well Orchid did on The Next Food Network Star, but I definitely have to give her props. I would happily come back here the next time we're in Hilton Head.
One Hot Mama's
7 Greenwood Dr.
Hilton Head, SC