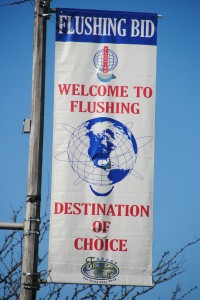 This actually took place a few months ago, but Josh and I finally made our way to Flushing for a little food tour. As I've admitted many times, we're pretty lazy, and we always say that we "don't do boroughs." However, after reading several posts on other blogs about some of the great snacks available in Flushing, I couldn't take it any more and had to go try it for myself. I was especially excited to be able to eat some Taiwanese foods, as there really aren't many Taiwanese options in Manhattan.
My family is from Taiwan and whenever we go there to visit, we eat nonstop. The food there is just incredible, with so much variety and lots of unique options. Josh has been to Taiwan with me three times and has fallen in love with the food just as much as I have. He's proven himself to my relatives as being an adventurous eater, as demonstrated by our quest to find and eat a rooster's crown at the Shilin Night Market, a mission we accomplished. We weren't seeking to eat quite so adventurously in Flushing, but we did have a list of several places that we wanted to hit up.
On one sunny Sunday afternoon, Josh and I hopped on the train and made our way all the way out to Flushing. The 7 train wasn't running from Manhattan, which only made the trip even longer. About 45 minutes later, we finally arrived. Our first stop was right outside the subway, a little takeout window outside the Corner 28 restaurant. There we purchased two peking duck buns for just $1 each.
The buns were the soft, fluffy mantou variety, and the duck itself was perfectly roasted, with crispy skin and nice, juicy meat. The buns were stuffed to the brim with duck meat, cucumber shreds, and scallions. The whole thing was topped off with a healthy squirt of hoisin sauce. These peking duck buns were made fresh right before our eyes, and we quickly stepped off to the side and devoured them. They were delicious, and a total bargain at $1 each. We were tempted to go back and get a second, but we knew we had a full day of eating ahead of us, so we showed some rare restraint and continued on our way.
Our second stop was a tiny hole in the wall restaurant called White Bear. The menu there features several kinds of dumplings and noodles, but we were there only for one dish – the wontons in hot oil.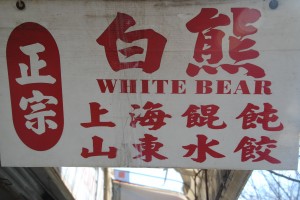 These gorgeous little meat-filled packets were doused in a chili oil mixture that was flavorful but surprisingly not spicy. The wontons were plump and meaty with nicely thin skins, and were tasty on their own but were even better dipped in the chili oil sauce.
The sauce tasted a little peppery, and there was also some minced pickled vegetable sprinkled over the top that added a slight sourness that complemented the savoriness of the dish. These wontons were probably my favorites of the day, and at $4.50 for a dozen, pretty reasonably priced as well.
Next we visited the food stalls of the famous Golden Mall. This place has been featured in many different blogs, articles, and even on tv. On the surface it's not much to look at but inside it's a food lovers dream.
I was surprised by how tiny the food stalls were, with small tables and stools crammed inside, but that really gave an authenticity to the place, as I was immediately reminded of some of my favorite food stalls in Taiwan. The stalls are located down a flight of stairs and as soon as we entered, we smelled the familiar stench of stinky tofu. We followed our noses and immediately found a stall that offered the smelly delicacies.
We pulled up some stools and placed our order for stinky tofu, watching as they deep fried a batch and topped the pile with hot sauce, sweet soy sauce, pickled cabbage, and cilantro. The first bite was deeply satisfying, as I had been craving stinky tofu since the last time we were in Taiwan, in November 2008. Although the stinky tofu here is nowhere as stinky as in Taiwan, we could still taste the subtle funkiness in the background. The smell might turn people off but the flavor is really something deliciously unique. It's a little bit sour but also a little bit sweet. The tofu should have a nice crispy skin and silky innards, and topped with the spicy chili sauce and salty fermented cabbage, it's a great combination of flavors and textures.
After finishing up the huge plate of stinky tofu (also a bargain at $4.50), we traveled down the hall to Xi'an Famous Foods, probably the most well known of all the food stalls at the Golden Mall. It was featured on an episode of Anthony Bourdain's No Reservations, and has been highly touted in numerous articles. They've since opened up a few branches in Manhattan, but I'm big on trying out the "original" restaurant, if it's an option.
There are many things on the menu that I wanted to try, but I also wanted to save some stomach room for more stops on our food tour. We had intended on getting a lamb burger and a pork burger to go, but as we were waiting we started chatting with the guy at the register, who I think is the proprietor of the place (he's the one in the pictures on the wall with Anthony Bourdain and Eric Ripert), and he convinced us to get an order of liang pi cold skin noodles, one of their most popular dishes.
The liang pi cold skin noodles feature slippery and bouncy thick wheat noodles and cubes of gluten, that have a similar texture to bean curd. The noodles are doused in a spicy, slightly sour sauce that is heavily seasoned with cumin. If you had no idea where this dish came from, you would think it tasted middle eastern because of the spices. It's a dish with complex flavors but was also really spicy, so much so that my eyes and nose both started running. Yet we couldn't stop eating it. There were fresh bean sprouts on top that provided a bit of crunchy, cool relief, but that wasn't enough.
I needed something milky and cold to relieve the burning in my mouth, so I sent Josh off in search of bubble tea.
He came back with cups of ice cold green tea milk tea for me and black tea milk tea for himself, both with thick tapioca pearls floating inside. The milk tea immediately soothed my taste buds, and we polished off the entire plate of liang pi noodles. We decided to save the lamb and pork burgers for later, as we had more eating to do.
We headed towards the Flushing Mall for some shaved mango ice but I got sidetracked along the way when we passed some takeout windows (AA Plaza) under the railroad overpass that boasted scallion pancakes for $1 and 4 steamed pork buns for $1.25. How could I resist?
We picked up one order of each and continued on our way. The food court of the Flushing Mall reminded me of the food courts in Singapore, with lots of different options and places that specialize in just a few dishes.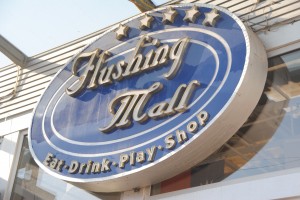 I wanted to try many things but we were pretty full at this point so we just went straight to the shaved ice stand and got an order of mango ice.
I first had mango ice in Taiwan, at a place called Monster Ice, and it was absolutely wonderful. It featured delicate shreds of shaved ice topped with ripe, juicy mango cubes, mango ice cream, and sweetened condensed milk drizzled all over. The version at the Flushing Mall looked somewhat similar, with mostly the same ingredients, but the differences were huge. The mango here was sour and unripe, and the ice was shaved way too thickly, so that it clumped together instead of melting like snow in our mouths. The mango ice cream on top was tasty, but I was pretty disappointed with the dessert overall. It looked good, but taste and texture-wise, it fell far short.
We ended up eating the lamb and pork burgers for dinner the next day, as well as the scallion pancake and pork buns. I ended up reheating them in a skillet so the textures might have been off, but they were still mighty tasty. The lamb burger was served on a griddled bun and the meat was heavily seasoned with cumin. Again, it tasted more middle eastern than Chinese, but it was wonderfully exotic.
The pork burger was served on the same bun, and the pork itself was stewed so that it was tender and falling apart. It definitely tasted more Chinese, but the spicing was more subtle compared to the lamb burger.
The scallion pancake wasn't as fluffy and flaky as I would have liked, but I'm sure it was due to the reheating. When we first bought it I could see that it was hot and crisp on the outside, so I know it must have suffered after spending the night in the fridge.
The pork buns were still really good, even after being microwaved. They were juicy and meaty on the inside, and the bun itself was still soft and fluffy. I would definitely get these again, and more than just four.
Overall we had a really great time walking around Flushing and trying food from numerous places. The Golden Mall didn't disappoint, and I wish we had more stomach space to explore the food court at the Flushing Mall. I smelled stinky tofu in there, plus I saw people with bowls of soy milk with fried cruellers, one of my favorite Taiwanese breakfasts. I loved the wontons at White Bear, and there are countless other restaurants in Flushing that we didn't get a chance to try. I definitely want to go back, even if it means another 45 minute subway ride. The food really brings back great memories of my trips to Asia, and it's definitely closer than taking a 14 hour plane ride.
Corner 28
40-28 Main Street
Flushing, NY
White Bear
135-02 Roosevelt Ave, #5
Flushing, NY
Golden Mall
41-28 Main St
Flushing, NY
AA Plaza
40-66 Main St
Flushing, NY
Flushing Mall
133-31 39th Ave
Flushing, NY