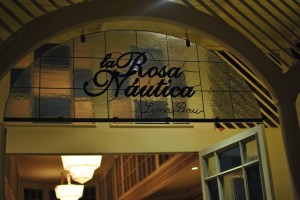 When we first expressed interest in going to Peru several years ago, we were told by a Peruvian travel agent that we absolutely had to go to a restaurant on pier in Lima called La Rosa Nautica. This was reaffirmed by my brother-in-law who attended a wedding at the restaurant and said it was really great. So when we finally arrived in Lima, we knew that we had to have dinner there.
We were pretty tired by the time dinner rolled around after walking around Lima all day, but we were looking forward to this meal after hearing so many great things. Our experience kind of got off to a bad start though when we were ripped off by a taxi going to the restaurant. We ended up being charged US$8, when an earlier taxi ride from a greater distance cost us only 7 soles, or about US$2.60. It kind of put me in a bad mood but I vowed to put the incident behind me, because we had been looking forward to this meal.
We arrived at the restaurant, which is at the end of a long pier that extends out into the Pacific Ocean. I'm a bit terrified of water during daytime, but at nighttime, the waves crashing in the dark all around us really spooked me. When we got inside the restaurant, however, I immediately relaxed and took in the beautiful atmosphere. The space is circular, though the restaurant is divided into multiple rooms. Around the perimeter is large floor-to-ceiling windows, which would probably give a great view during the day, but since it was dark, we didn't see much. We did get a table right next to one of the windows though, and when we looked down, we could see the waves rolling into the pier, which was freaky for me but still pretty cool.
We asked our hotel concierge to make us a reservation, which scored us yet another free Pisco Sour welcome drink. It was similar to the one we had at Alfresco, refreshing and boozy.
There was table side bread service and we each got two rolls, a baguette-like roll, and a heartier wheat roll. Both were served warm and had nice outer crusts and good flavor.
At this point, Josh and I were looking through our menus and trying to decide what to order. As I was going through my menu, I was confused because nothing had prices next to it. I flipped around wondering if this was a prix fixe menu, with one price at the end, but there was nothing. I looked over at Josh and asked him how we were supposed to know what everything cost, and he looked back at me confused. Turns out his menu had prices, and mine did not.
This is a practice that I've read about but have never witnessed for myself. Apparently I was given the "woman's" menu, one that did not list prices, while Josh had been given the "man's" menu that included prices. Even though Josh found it amusing, I was actually quite insulted and outraged. I understand the "theory" behind this practice, that if a man and a woman were out on a date, the man would most likely be paying and would want the woman to order whatever she wanted without worrying about what everything cost. However, I think this is a very antiquated train of thought as nowadays, many people choose to "go dutch" on dates, and who is a restaurant to assume that a man is always the one to pay?
If a man was in fact trying to impress a woman, then he should be able to call up a restaurant and ask them to give her a menu without prices, with the understanding that he was paying for the meal. But that should be able to work vice versa as well. Likewise, if I were hosting a dinner and didn't want my guests to feel awkward about how much I was spending, I could call up the restaurant request menus without prices for everyone. But for this restaurant to arbitrarily decide that just because I was a woman dining with a man that I wouldn't need to know the prices, that is just presumptuous and completely sexist.
I was fuming at this point, and Josh didn't help by laughing it off and refusing to share his menu with me. He said he wanted me to enjoy myself, but it was hard to order blindly without knowing if the dish I was ordering cost an arm and a leg. This was a very expensive restaurant to begin with, the most expensive restaurant we went to our entire trip, and I didn't want to end up spending US$100 on one dish, especially considering I wasn't very hungry that night. Josh claims that if I did manage to choose the most expensive item on the menu he would have told me so. I guess I didn't order something outrageously expensive because our bill was pricey but still relatively reasonable in the end. I just wish that they would do away with this extremely chauvinistic practice.
We ended up starting off with an appetizer platter to share, since it gave us the ability to try four different dishes. We chose from a list of 12 hot and cold appetizers, and went with a few of the dishes that my brother-in-law's friend (the one who got married at this restaurant) recommended. We picked the ceviche, the cold octopus, parmesan scallops, and seafood wontons. It was a huge platter of food, all nicely arranged on large shells on top of a mountain of curly parsley.
The ceviche was the traditional style with lime, and also had a yellow chili pepper sauce that added a little kick. The ceviche was topped with large kernels of corn and sweet potato, something we found to be standard in Peru. The corn kernels were super big but were chewy and not very flavorful. The sweet potato actually enhanced the flavor of the seafood, which we thought was very fascinating.
The seafood wontons were nicely fried and crispy but there wasn't very much filling in them. They didn't taste like seafood at all so Josh was disappointed with the flavor, but I kind of enjoyed the crunchiness after all the other "soft" food we had been eating. They came with a tamarind sauce for dipping that was slightly sweet and tangy.
The cold octopus with vinaigrette and olive oil was one of the dishes that came highly recommended to us. The vinaigrette was like a creamy olive sauce that enrobed the tender pieces of octopus. There was definitely a strong olive flavor but it didn't overpower the seafood, which I liked.
Our fourth appetizer was parmesan scallops, which was a scallop still in its shell covered in a parmesan cream sauce and broiled so that the top was brown and crusty. It was an interesting combination, more Italian tasting in flavor, and went against the theory that you shouldn't mix seafood and cheese. We also squeezed some lime on top for a little zip. It was a very rich dish but tasty nonetheless.
Josh and I were kind of switching back and forth between the different appetizers but we finished the scallops pretty quickly since there were only four pieces. We were working on the ceviche and the octopus when I noticed a movement on the plate out of the corner of my eye. In the empty shell that had previously held the scallops, a green worm-like bug was making its way across the shell. It was a really weird looking thing, super skinny and narrow, but very long. It had multiple legs on its front end and back end, but none in the middle. I watched in horror, but to my credit, I didn't yelp when I saw what it was. Josh quickly called over a waiter, who promptly removed the shell but my appetite was slightly ruined. It wasn't that it was a huge bug or anything, but just the fact that it had been on the plate the whole time, probably hidden in the forest of curly parsley, is a little disturbing. Who knows what else was lurking in there?
We didn't make a big deal about the bug, since we had already eaten most of the appetizer, and the waiter was apologetic when he took it away. A manager came over to us immediately and apologized again, offering us free dessert to make up for it. It was a very nice gesture, and one that we appreciated.
Moving on to our entrees, I ordered the Rosa Nautica Seafood Rice, which was seafood and shrimp stewed with chili peppers, beans, bell peppers, and cilantro, served on top of a bed of rice. The seafood was cooked properly, not tough or chewy, and the rice was very flavorful. It was a solid, simple dish, not spectacular, but well prepared.
Josh, ironically, did order the most expensive thing on the menu, the Rosa Nautica seabass, which was cooked in a pernod sauce and served with scallops and crayfish (camarones) on a bed of yellow Peruvian potatoes. The whole thing was topped with a piece of puff pastry that the waiter cut open for Josh. It was an interesting presentation, but Josh thought the dish was super rich. The seafood was swimming in a thick, creamy sauce that was slightly overwhelming. The crayfish were tasty but nowhere near as good or as large as the crayfish we would have later on in the trip.
We were really full at this point so we decided just to split one dessert, even though they offered to comp dessert for the both of us to make up for the bug incident. We chose the chocolate souffle, which took an extra 20 minutes to make, so Josh enjoyed a cortado (espresso with steamed milk) while I finished up our bottle of malbec wine.
The chocolate souffle was light and airy, though the grand marnier sauce that came with it was super thick. When they presented the souffle to us, they poked a hole in the middle and "poured" in the sauce, but it was so dense that they sort of had to scrape it into the souffle. I thought that was a bit strange, but both the souffle and the sauce tasted wonderful. The souffle had a nice sweet chocolate flavor, and the grand marnier sauce was rich and creamy. We enjoyed the dessert very much.
Overall we kind of had mixed feelings about our dinner at La Rosa Nautica. The restaurant is beautiful, and a great place to go for a romantic meal. I was displeased though by the sexist menu policy, and I thought our waiter was a bit pushy when we were ordering our wine. They were supposedly out of stock on our first choice, a reasonably priced malbec, and the waiter kept trying to get Josh to order a different wine that was twice as expensive. Josh stood firm though and picked out another malbec that was still reasonable, but I found the up selling to be kind of annoying. The restaurant did handle our bug issue properly though by apologizing immediately and offering us something on the house to make up for it.
Food-wise, everything was well prepared and pretty tasty, but nothing really stood out in particular. It was just solid, classic Peruvian cuisine, though we could tell the seafood they used was super fresh and the ingredients were top notch. Cost wise, however, this was by far the most expensive meal we had on the entire trip. Dinner, including wine, cover charge, and tip (minus the free dessert), cost S/330, or about US$122. Definitely cheap by New York standards, but extremely pricey for Peru. It was a nice experience though, as we had a great time chatting throughout dinner and enjoying the atmosphere. If someone is looking for an upscale splurge meal in Lima, this place definitely fits the bill.
Dinner coincidentally ended on the same down note that it started on though, as we were ripped off once again by a taxi going back to our hotel. Since the restaurant is on a pier that is kind of on a desolated stretch of the highway, with nothing else around it, we had to take a cab that was furnished by the restaurant. There was no negotiating on the rate, so we had to pay S/20 to get back to our hotel, or US$7.40. Definitely New York prices, if not more, since our hotel really wasn't that far away. Oh well, I guess it's part of the deal when dining at the restaurant. Regardless, it was a lovely evening for us, and we left with mostly positive feelings about the restaurant. Now if only they'd do away with that stupid misogynistic menu policy…
La Rosa Nautica
Espigón 4 Circuito de Playas – Miraflores
Lima, Peru