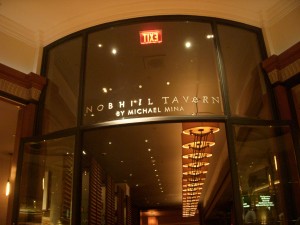 I have to admit that I wasn't fully recovered yet from our boozy brunch at the Bellagio, so my taste buds may have been a bit off during our dinner at Nobhill Tavern. I was surprised by the décor though, as I thought a tavern would be more casual, but this was definitely a more upscale restaurant. They were also offering a Summer Tasting Menu but we opted to order a la carte instead, even though I ended up picking an appetizer and entrée that were also on the special menu.
Josh started off with a glass of tempranillo wine, which he absolutely hated. His coworker who was dining with us tried to convince him that it was because he had drank too much earlier, but that didn't really make sense to us since bad alcohol is usually easier to get down after you've already had a few drinks. I wasn't feeling like I was in any condition to drink more, so I passed on having a taste, which Josh described as tequila-like, and definitely would not have agreed with my stomach.
The meal started off with slices of grilled bread and olive oil, which helped settle my stomach a bit and perked me up for the rest of the meal.
I started with an appetizer of gazpacho topped with blobs of delicious burrata cheese. The soup was a bit more acidic than I prefer in a gazpacho, but I concentrated mostly on the cheese.
Josh started with steak tartare, which was one of the best versions that I've ever had to date. A lot of restaurants serve ground beef as their tartare, and the mushy texture makes me just think that I'm eating raw hamburger (which I guess is what I'm eating, but I don't want to think that while I'm eating it). Nobhill's steak tartare was high quality beef hand chopped into small cubes, lightly garnished so that you could still taste the meat, and not just an overpowering flavor of worcestershire sauce and mustard.
For my main course, I had chicken and dumplings, which was a piece of chicken with crispy skin and little dumplings that were shaped like gnocchi and were pan fried to form a little crust on the outside.
It came with a little pot of corn and squash that was thick and rich like creamed corn, which was spooned over the dumplings. The chicken was a tad overseasoned and dry, and the dumplings were a bit dense, but the corn and squash helped make them more creamy and delicious. I could have just eaten that whole pot by itself and had been really happy.
Josh had the pork chop with three bean salad and roasted tomatoes. The pork was also a bit dry, and he wasn't thrilled with the flavors overall. Again, our taste buds were probably still off, but usually things taste better after you've had a few drinks. And you can't hide texture issues no matter what.
Overall I didn't think Nobhill was that great, but I'd give it another shot just to be sure. I found the restaurant to be a bit confusing, as the menu has a mix of casual and upscale offerings, and while the décor is upscale, the music and the service were more casual. There were some good hits, like the fabulous steak tartare, but there were also some misses. I promise to be sober the next time I go, whenever that may be, and hopefully the kitchen will also be more consistent.
Nobhill Tavern
At the MGM Grand
Las Vegas, NV