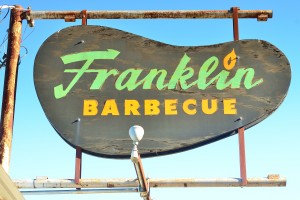 Prior to our arrival in Texas, I hadn't given much thought to Franklin Barbecue. Sure, I wanted to try it, but I also don't like standing in line or big crowds. I also don't like feeling disappointed when restaurants don't live up to their hype. But after getting to Austin and realizing there really wasn't that much to see around the city, we decided to bite the bullet and make the wait, the logic being that who knows when we'll ever be back in Austin.
For those of you who've never heard of Franklin Barbecue or have never seen the Chase commercial featuring Nobu Matsuhisa, a renowned Japanese chef, visiting the famous Austin joint and meeting Aaron Franklin, the person behind the barbecue, it's a much lauded barbecue restaurant that started as a food trailer and quickly grew into a brick and mortar location with a line almost as notorious as its food. People literally wait hours each day to eat this barbecue, and brisket, Franklin's most popular item, always sells out. Once all the food is gone, usually by midday, they close up shop. And so basically, unless you're the POTUS, there's no way to avoid waiting if you want to taste that brisket.
Josh and I mapped out our plan of action the night before: he would leave our hotel first around 8:30 am and get in line. I would stay in the room until J woke up and get her ready for the day, including packing the diaper bag full of books and toys that would amuse her during the inevitable wait. While I was getting everything ready, Josh called to say that I should bring whatever beer we had, as the line was long and everyone was drinking. So I put the beer we had left over from the Salt Lick, as well as a few other beers we acquired during our trip, in a grocery bag topped with ice, hooked it up to J's stroller, and soon J and I were on our way.
I'm pretty directionally challenged, so even though Josh tried to tell me how to get there the night before, I stopped by the front desk for a map and clear instructions. It was almost 10 am at this point. When I asked the nice young man at the desk how to get to Franklin Barbecue, his response was, "Well you see, ma'am, the thing about this place is, there's this line…" My first thought was, "Yikes! Am I really a 'ma'am' already?" Which was quickly followed by my second thought, "Duh, of course I know about the line." I convinced myself that the "ma'am" was just a polite Southern thing, not a reflection of how old I may or may not look, and I quickly assured him that my husband was already waiting in line; I just needed to know where to go to meet him.
It was a pretty short walk from our hotel to Franklin Barbecue, and as the restaurant came into sight, the line didn't look too bad. Only when I got closer, and could see down the hill from the building, did I realize just how far it stretched.
When I located Josh, who was about three-quarters down in the line, he told me that the line had actually been longer, but they had just given out the "last man standing" sign to someone only a few people behind him, and so a bunch of people who were at the very end of the line gave up and left. The sign indicates that the person holding it is the last person guaranteed to get brisket. Basically, a worker at the restaurant takes a poll of what each person in line is going to order, and then based on that, they estimate at which point they're going to run out of brisket. There is also an informal rib count, and I was alarmed to hear that the people right in front of us were the last ones guaranteed ribs.
The restaurant officially opens at 11am, and so we still had a bunch of time to kill before the line would even begin to start moving. Looking around, most people were a lot more prepared than we were, with folding chairs, umbrellas, and coolers of drinks set up. One rowdy group behind us (who we later found out was the crew from Uchi and Uchiko, two of Austin's top restaurants and where Top Chef Paul Qui honed his skills) was drinking endless cups of bloody marys and seemed to be having a great time. I guess if you think of the wait as sort of a pre-bbq tailgating party, it's just part of the fun. I still didn't think the wait was fun, but at least we had a few cold beers to help us pass the time. And if you don't remember or know to BYO, someone comes around selling cold beers and drinks from a tray.
At long last, the line began moving at 11, but at a snail's pace. The pair in front of us, who were students at the University of Texas, were experienced diners and told us that the line moves slowly because they'll only serve as many people as they can seat in the restaurant. That way, you are guaranteed to find somewhere to sit and eat your food immediately. It made sense to us, but as the line eventually crawled up towards the side of the building, there looked like a few tables were always empty at any given time.
When we ultimately made our way up the ramp and inside the restaurant (a triumphant feeling, 4 hours after Josh first started waiting), we could finally see what was going on. There's still a decent wait from the time you get inside until you reach the counter to order, and the reason for that is the man himself – Aaron Franklin. Not only was he taking everyone's order and personally slicing every brisket, he was greeting and chatting with each person that came up. When it was finally our turn, he asked us where we were from, gave us permission to take pictures, and then made fun of us for not ordering enough food (I guess most people order a lot and take home leftovers, which wouldn't have been practical for us).
When we ordered a quarter pound of brisket, he asked if we wanted fatty or lean. We're no fools (or so we thought) – of course we wanted fatty! Then he asked if we were sure, and he sliced off a hunk of a lean burnt end for us to taste, which may have been the single greatest bite of barbecue I've ever eaten. Seriously.
The burnt end, which is the end point of a whole brisket, is probably the most flavorful part of the meat. It's usually fatty and has lots of bark on it, and even though this was a lean end, we literally had juices dripping down our arms when we bit into it. The end had a nice bit of char on it, was smoky but not overly so, and ridiculously rich in the best way possible. Those ends alone were worth the wait, and we were pretty lucky to have gotten to try them. We wound up changing our order to half lean and half fatty because of that.
The lean brisket was still nicely marbled throughout, though it had a meatier texture than the fatty brisket. The fatty brisket was so tender it practically melted in our mouths. I think it's just a personal preference – it you like to chew your meat, go for lean. Don't get me wrong, it's not tough or chewy at all, but it's definitely got more bite than the fatty. Some people might find the fatty end too fatty and soft, but for me, there's no such thing when the meat is prepared properly. The char on the outside of all the slices was just great, imparting lots of concentrated meat flavor.
The rest of the barbecue was no slouch either. Fortunately, they did not run out of ribs ahead of us, so we were able to get a quarter pound of those. The juicy ribs that were meaty and well seasoned. They weren't falling off the bone but yielded easily to our bites.
Cole slaw was the only side we ordered, which we used as a crunchy counterpoint to all the rich meat we were eating. It was perfectly fine – fresh, crisp, not overdressed – but nothing to write home about.
We also got a quarter pound of pulled pork, which wasn't the pulverized mash that we're used to seeing. This was roughly chopped meat, still in identifiable chunks, with a good mix of fatty and lean bits.
The pulled pork was the best vehicle for three barbecue sauces on the table – Texas-style, espresso, and sweet vinegar. Texas-style was the standard thicker, darker, sweet and smoky sauce. The vinegar sauce reminded us of Carolina barbecue, with its signature tang. The espresso sauce definitely had a strong hint of coffee flavor, but was a bit too out of the box for us to really enjoy the barbecue with; it seem to overpower the flavor of the meat. And we used the other sauces sparingly, as this barbecue was good simply on its own.
Instead of sausage, we decided to try the turkey, which people in line told us was really something special. The slices we got in our quarter pound order were surprisingly moist for breast meat, and packed a punch of smoky flavor. Josh declared it the best turkey he's ever eaten, and he desperately wants to try smoking a turkey for our next holiday meal. I'm generally not a turkey lover, except maybe on a club sandwich slathered with mayo, so I probably didn't appreciate the smoked turkey as much. Compared to the other meats we had, it was much drier in texture, and the smokiness was a bit too strong for my taste. We saved a few pieces of it for J to eat later, as she had fallen asleep while we were in line. She was a definite trooper during the wait – reading books, eating snacks, drinking milk, toddling around, and generally charming the people around her. Aside from a younger baby in a carrier, she was the only kid we saw in line.
Overall, I have to say, Franklin Barbecue definitely lived up to the hype. We haven't tasted better barbecue anywhere else, and for us, it was worth the wait. The line itself is an adventure – if you come prepared for it, time passes quickly. The people we met in line treated the wait like a party. They planned their whole day around this. For them, it was a time to drink, laugh, and hang out with friends before eating amazing food. And the barbecue is absolutely amazing. The flavors of the meat, the textures, were all outstanding. Aside from the turkey (which Josh loved), I thought nothing was too smoky but everything had a wonderful savoriness to it that was imparted by the smoker. We ate until we were stuffed, and then continued eating because it was just too good to stop. Besides, we had burned off plenty of calories standing in line for 4.5 hours. And you know what? We would do it again.
Franklin Barbecue
900 E. 11th St.
Austin, TX