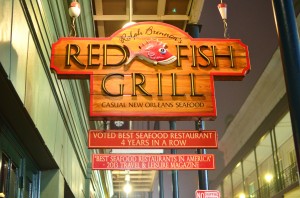 The Red Fish Grill, a Ralph Brennan restaurant, was recommended to us by a friend of a friend. After we gorged on five dozen oysters at Luke Restaurant during happy hour, we were feeling pretty full and unmotivated to do anything too wild. We walked around the French Quarter for a while, listened to some live music while standing around on Bourbon Street, and then tried to pop into the Red Fish Grill for a late dinner. It was still pretty hopping in there, but the vibe was still casual and low key, so we put our names down, took another loop around the Quarter, and then settled at the bar with some Abita beers to wait for our table.
Fortunately we weren't waiting there for too long before our number popped up, and after we settled our tab, we moved over to the main dining area. It's a tall, airy space with large Alexander Calder-esque fish mobiles hanging from the ceilings. After debating for a while on what to order (the menu choices are actually a bit limited), we tore into the crusty french bread that was cleverly served in a white paper bag. The bread was wonderful, with a crispy crust that shattered nicely and an airy, chewy interior.
Josh had his eye on the BBQ blue crab claws so we split an order for our appetizer. His inspiration was the crab claws Provencale that we had at Arnaud's during our last trip. While we were disappointed with our overall meal at Arnaud's, Josh loved those buttery, garlicky claws with a dash of Pernod that paired so well with the crab flavor. Sadly, these were nothing like those  claws. Part of the issue was that we misunderstood what New Orleans style barbecue means, which does not refer to grilled or smoked, but rather, cooked in a sauce comprised mostly of butter, Worcestershire sauce, and creole seasoning. We didn't know that at the time, and so we were a bit perplexed when we received breaded crab claws that had either been fried or baked, sitting in a bowl of  brownish sauce that tasted mostly of butter and unidentifiable seasonings. We didn't love the sauce, which didn't have a lot of discernible flavor, and the crab meat got a bit lost under the breading. My favorite part of the dish was cheddar scallion biscuit on the side, which hard and dense but softened up when soaked into the buttery sauce, and had a nice cheesy taste. I was not a fan of this appetizer in general, and although Josh didn't dislike it as much as I did, he conceded that it didn't compare to Arnaud's crab claws.
Our confusion regarding New Orleans style barbecue also translated into our entree order of BBQ shrimp and grits. While this time the shrimp did seem like it had been grilled, the dish was covered in the same brownish barbecue sauce as the crab claws. However, in this case, the sauce worked. The buttery sauce acted as a gravy and bound the shrimp with the cream cheese grits underneath. The shrimp were well seasoned, and I appreciated that they kept the heads on, which is my favorite part. On the downside, I was surprised to see that the fried green tomatoes had been cut up and were mixed in with the shrimp and sauce, as they got a bit lost in the mix.
For our other entree, we picked the black drum, a local fish. It was grilled and served with bacon braised brussels sprouts, roasted portobella mushrooms, and a charred tomato lobster beurre blanc. The drum was very meaty though mild tasting. The sauce prevented it from getting dry, but I didn't detect much lobster flavor. I was also surprised and disappointed to see only two and half brussels sprouts on the plate, and they didn't taste much like bacon. The mushrooms were a nice accompaniment though and added a bit of bulk to the dish.
Josh surprised me by ordering dessert at the start of our meal, since we weren't that hungry to begin with, and we're generally not dessert people. He got the double chocolate bread pudding, which needs to be ordered in advance rather than at the end of the meal because it takes 20 minutes to prepare. I think he was inspired to order bread pudding because we both had been dreaming about the creole bread pudding souffle with warm whiskey cream from Commander's Palace that we ate on our previous trip. We had hoped to make it back there this time around for their incredible lunch specials and 25 cent martinis but ultimately decided that it would probably be too upscale for J to enjoy. This bread pudding was very different in that it was chocolate based, not vanilla, but it was still pretty delicious in its own right. The middle of the bread pudding was soft and fluffy, similar to chocolate souffle, while the edges were crispier and chewier. Although we didn't ask for it with ice cream, it was brought to us a la mode with vanilla ice cream on top. We were a bit annoyed that they charged us more for that when we didn't order it, but the ice cream was a good addition and helped to cut through the richness of the chocolate. White and dark chocolate ganache was poured over the top table-side, making it a truly decadent and chocolatey experience.
Overall, I was slightly disappointed with our meal at the Red Fish Grill. I think I was just expecting a bit more, and the food was really sort of meh; not bad, not great. The restaurant has received a lot of accolades, and it was recommended to us by a local, so perhaps my expectations were set too high. Even though our appetizer and entrees were properly prepared and nicely presented, none of the dishes wowed us with flavor. There was just a slight chain restaurant vibe to everything, which made the prices a bit of a shock. There was only one seafood entree under $20 (catfish and shrimp creole at $18), with the rest ranging from $25-$33. Appetizers were a bit more reasonable at $7-$9 for soups and salads and $9-$10 for starters. A dozen raw oysters was $15. Portions were decent but not huge. I was also a bit surprised by how limited the menu was. There were only six seafood entree choices, plus one chicken and one steak entree. It's definitely a fish-centric restaurant, so if you're dining with people who are seafood-averse, they won't have much to choose from. I did like the atmosphere though, casual and bustling, and I might hang out at the bar once in a while if I lived in New Orleans. As a visitor, however, I didn't find the food very special, and it's not someplace that I would plan on going back to the next time we're in town. There are so many other places with better food at cheaper prices, and I just don't think it's worth it.
Red Fish Grill
115 Bourbon St.
New Orleans, LA