We spent our second night in Texas at our friends' home outside of Houston. James and Angie were wonderful hosts to us, and J had the time of her life playing side by side with their boys. After spending a relaxing evening making homemade pizza on the grill (a veggie pizza topped with fresh slices of jalapeno is a brilliant combination) and eating donuts and kolaches for breakfast, we got a late start on the next leg of our trip, San Antonio. James advised us to stop for some barbecue lunch at City Market in Luling, Texas, which was about 2.5 hours away. He also mentioned that about 20 minutes away from Luling was Lockhart, where there were multiple renowned barbecue joints. Since we were hitting the road a bit later than we expected, we figured it would just be more convenient to stop through Lockhart on our way from San Antonio to Austin, which would be the shortest drive on our trip anyway.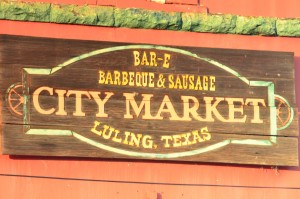 Luling was a small, quaint-looking town and City Market was located on a main street among other shops. Inside the tables were set up cafeteria-style, so I found a high chair and got J settled while Josh went to the back room where the pit is to order our food. It was a little after normal lunchtime so the restaurant wasn't too full, and we wound up having the table to ourselves. Josh came back with an assortment of meats served on butcher paper. He also got some pickles on onions on the side, and a package of saltines for J rather than the usual white bread.
The brisket was on the leaner side so not as tender or as marbled with fat as I usually prefer. The meaty flavor, however, was just delicious. It was smoky but not overwhelmingly so, and I loved dipping it into the slightly spicy/slightly vinegary barbecue sauce that was left out in glass bottles on all the tables.
The ribs were a bit tougher than I expected them to be, and also on the drier side. They needed a bit more seasoning to them, and that's where the barbecue sauce came in handy again. The sauce was the perfect combination of spicy and tangy flavor.
James had recommended we order the sausage, and while I am usually not a fan, this was something special. The meat was coarsely ground and reminded me a bit of merguez in texture. The casing had a good snap to it, and the flavor of the beef was smoky and well seasoned. I was surprised by just how much I liked it.
After enjoying the barbecue so much at City Market, we craved more. And so we made the split decision to continue on to Lockhart. We had nothing in particular planned for that evening in San Antonio, we were only 20 minutes away, and we were still hungry, so why not? We decided that we would order 1/4 pound each of the same meats – brisket, ribs, and sausage – at the three most popular barbecue places in the barbecue capital.
Our first stop in Lockhart was Smitty's Market. While the entrance was dark and kind of smoky from the barbecue pit down the hall, the separate dining room was brightly lit and bustling, reminding me of an old school diner or ice cream soda shop. There were long communal tables, many of which were filled with families enjoying an early dinner.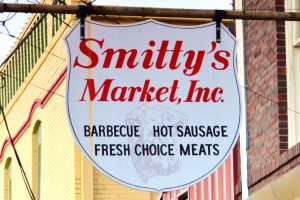 Josh went to get the food while I staked out some seats with J. He came back with the barbecue on butcher paper, more crackers for J, as well as a Big Red soda and Lone Star beer. Neither of us had ever tasted Big Red before, and to be perfectly honest, we both ended up hating it. It kind of tasted like cream soda, but not, and was just too sweet and cloying. The beer, however, was quite refreshing, and paired much better with the barbecue.
The brisket was fattier than the one at City Market, and I liked that better. It was more tender and the meat almost seemed to melt in your mouth. I just wish that it was slightly more seasoned though, because while there was a decent amount of smoke, it lacked the meaty flavor of the City Market brisket. Still, it was very good on its own.
The ribs at Smitty's were fabulous. They sort of reminded me of the Texas version of the barbecued ribs that you get at Chinese restaurants. They were smoky, slightly sweet, and had us licking off our fingers after eating them. The meat was juicy and falling off the bone tender. Delicious.
Smitty's sausage, on the other hand, was very disappointing. It tasted like regular breakfast sausage to me, which I didn't like. There was nothing about it that stood out, and I also found it to be quite greasy. I would definitely pass on it the next time if I came back.
Our next stop was just a few blocks away, Black's Barbecue. The inside looked like a barbecue joint to me, with wood paneled walls and lots of animal heads hanging up. The tables were covered with plastic red checked table cloths, and there was just a casual, homey atmosphere to it that I liked.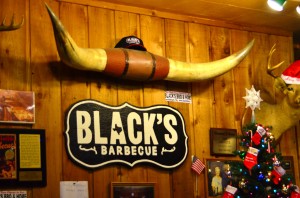 However, I found the barbecue at Black's to be pretty smoky in general, but the brisket was especially so, and not in a good way. All I tasted was smoke, not the flavor of the beef. It got to be pretty overwhelming, even though the meat itself was fine in texture and fattiness.
The ribs had a promising-looking dark crust on them, but they also fell flat. The meat was chewy and surprisingly tough. We wound up using a lot of barbecue sauce to help get them down.
The sausage at Black's was also disappointing. It seemed drier in texture than the other sausages we tasted, and again, we needed help from the sweet barbecue sauce on the table to counteract the overly salty smokiness. Part of the problem might have been that our palates had just been overwhelmed by that point with all the smoke. Maybe it's just an aspect of Texas barbecue that we're not used to, but we didn't really encounter that issue anywhere else.
We were definitely no longer hungry at this point, but we powered on to our next and last stop, Kreuz Market. In contrast to the other barbecue joints we visited, this place was massive, with high ceilings and endless seating options. Like Smitty's, there was no barbecue sauce offered, though there were bottles of a salt and pepper mixture on the table.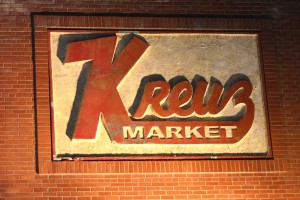 J's patience with our little food crawl had ended by this point, so we powered up some Sesame Street on the iPad and hunkered down to enjoy our last trio of meats for the day.
First we tried the brisket, which was astonishingly bland. It lacked both seasoning and smoke, and was much drier and tougher in texture than the other briskets we sampled. We tried using the salt and pepper mixture on it, but really, it just needed some sauce to add flavor and moisture.
The rib, on the other hand, was spectacular. It was unlike any rib we've tasted previously, and crusted with lots of crunchy bits of crushed black peppercorns. The meat wasn't falling off the bone, but it was tender and juicy. The seasoning was great, the meat had a lot of flavor, it wasn't overly smoky, and we happily devoured it.
The sausage at Kreuz's was another surprise winner. We had low expectations after the disappointing brisket, but the sausage was well seasoned and peppery, with a nice snappy texture.
So the final verdict?
Brisket:
1) City Market
2) Smitty's Market
3) Black's Barbecue
4) Kreuz Market
Ribs:
1) Kreuz Market
2) Smitty's Market
3) City Market
4) Black's Barbecue
Sausage:
1) City Market
2) Kreuz Market
3) Black's Barbecue
4) Smitty's Market
Based on our rankings, I guess City Market was our favorite barbecue of the day. In addition to great meat, that tangy barbecue sauce put it over the top. Both Kreuz's and Smitty's had highlights as well, particularly their ribs, while Black's just really didn't do much for us. Obviously we're Texas barbecue noobs, so take what we have to say with a grain of salt. There are probably other meats we should have ordered, but given our agenda and stomach capacity, we did the best we could.
We were beyond full by the time our barbecue binge was finished. Our "late lunch" had rolled into dinner time, and we couldn't even think about eating another bite. We stuffed ourselves back into the car and finished the drive to San Antonio. After taking a late evening stroll around the River Walk and checking out the Alamo, I finally started feeling a little peckish again around midnight so we nibbled on some leftover brisket and sausage while sharing a bottle of wine in our hotel room. It was a great day of indulgence, and we were thrilled with our last minute decision to go to Lockhart that day. This is what I love best about road trips – the ability to be spontaneous and just pick up and go to whatever interests us most at that particular moment.
City Market
633 E Davis St.
Luling, TX
Smitty's Market
208 S Commerce St.
Lockhart, TX
Black's Barbecue
215 N Main St.
Lockhart, TX
Kreuz Market
619 N Colorado St.
Lockhart, TX