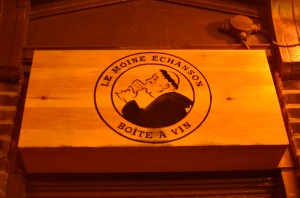 After having a few pre-dinner beers at Bar Le Sacrilege on Rue Saint-Jean (yes, we brought the baby to a bar), we walked down the street to our dinner destination, Le Moine Echanson. The restaurant looks small from the outside, and it being a Friday night, we were worried about not being able to get in. Fortunately, there was a table available right by the door with a nook on one side that allowed us to keep J's stroller pulled up next to us. The restaurant itself is broken up into smaller rooms, so there are actually more seats/tables than we originally thought.
There is no physical menu at Le Moine Echanson – what's available is written on a board posted in the restaurant, and it changes seasonally. The menu was entirely in French, however, which posed a bit of a problem for us. Luckily we had a really great waiter who explained every dish to us and answered any questions we had about the preparation.
The wine list is also written on a huge board on the wall. Josh and I were planning to split a bottle but our waiter recommended that we order by the glass, and that he could pair a wine with each of our dishes. All the wines were reasonably priced by the glass, ranging mostly from $9-$12 each, so that seemed like a great option. All of the wines at the restaurant are "natural", something that we don't have a lot of experience with. I'm not sure I could distinguish the difference between a natural or unnatural wine, but nevertheless, the wines our waiter paired for us were mostly pretty good.
Our meal got off to a good start with half a loaf of some rustic bread that had a crispy crust and a soft, fluffy interior. The butter on the side was rich and creamy, a perfect complement.
This was a rare meal where Josh and I did not go halfsies, although we did taste each other's dishes. I started off with creme brulee de foie gras, something right up my alley, if my Valentine's Day present is any indication. The base of the dish was a smooth foie gras custard that was thick and creamy. It had a subtle liver flavor and was very rich and savory. The brulee aspect of the dish was actually a maple caramel on top of the custard that had crunchy sugar crystals in it. There was a whipped cream on top, though I wasn't sure what it was flavored with; it mostly tasted like whipped butter and was a bit much on its own, but digging my spoon through all three layers yielded a fantastic mix of salty and sweet. I also liked all the different textures, and I found the dish to be incredibly creative, turning a dessert into a savory appetizer but still keeping some of the sweet elements. Our waiter paired the creme brulee with a sweet pinot gris that was like a dessert wine – very rich and sweet. I thought the pairing was great, as the sweetness of the wine was a good counterpart to the savoriness of the foie gras.
Josh ordered sausage on toasted bread, which was served with arugula, citrus marmalade, nuts, and a soft cheese. It was an interesting dish with lots of different textures, flavors, and hidden layers, although there wasn't a lot of sausage on the board. Each bite yielded something different. This dish was paired with a chardonnay that was pretty traditional in taste, buttery, but still light.
For my main course, I had even more foie gras. The dish was goose three ways – breast, confit, and foie gras. It was awesome, probably the best dish we had all weekend. The foie gras was out of this world. Perfectly seared, lightly seasoned, it was crispy on the outside and literally melted in my mouth. I don't know if goose foie gras is superior to duck foie gras, but whatever the case, this was some of the best foie gras I've ever eaten. The breast was also seared nicely with browned skin, a melty layer of fat, and juicy, tender meat. It was still slightly pink, which I prefer. The dark meat confit was mixed around underneath with the scalloped potatoes in a pool of glorious goose fat. There was an arugula salad on top that provided a shot of acidity to cut through all the fat. It was definitely a rich dish, but not greasy or too heavy, and I had no trouble finishing most of the dish. It was paired with a syrah that was full bodied enough to stand up to the richness of the goose, and had an interesting "funky" flavor to it. By funky, I don't mean bad. It was earthy, tasting almost unfiltered. Maybe that's what natural wines are supposed to be like?
Josh had pork shank for his entree. It was crusted with lots of different seasonings, and the meat was tender and juicy on the inside, falling apart easily with just the pull of his fork. The shank was served with a potato tart and some arugula on the side. It was paired with a gamay wine that was very different from the syrah, much lighter and fruitier in flavor.
We were pretty full after our appetizers and entrees so we passed on dessert. Josh got a glass of dessert wine that was actually chardonnay. It was really interesting, as neither of us ever knew chardonnay could be a dessert wine. It was sweet but not cloying, and had an intense raisin flavor to it. Josh liked it a lot and took a picture of the bottle with his phone; hopefully we can find it here in the US, or something similar.
Overall we really, really enjoyed our meal at Le Moine Echanson. In retrospect, it was the best meal of our trip, and we would go back there in a heartbeat. The food was fabulous, the vibe was casual and intimate, and service was great. Our waiter was extremely friendly and helpful, as was the rest of the staff. The waitress who took over at the end of the waiter's shift let Josh taste several dessert wines before he settled on the chardonnay. It's the type of place that lets you feel at home, letting you just sit back, relax, and enjoy the good food and wine. Prices were pretty reasonable for the quality of food that we received. It wasn't cheap, but not overly expensive either. Our meals plus five glasses of wine came out to about $155 after tax and tip, and it was definitely worth it. I highly recommend checking it out if you're in Quebec City.
Le Moine Echanson
585 Rue Saint-Jean
Quebec City, Canada