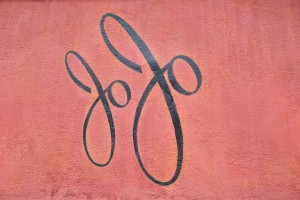 Whenever I have a rare weekday off from work and we happen to be in the city, Josh and I like to go for lunch somewhere a bit special, since it's a luxury to have more than an hour for lunch. There are lots of great prix fixe deals to be found, and some of the best ones are at Jean George restaurants. We've always been big fans of Nougatine but have gone there often enough that we've sampled most of the menu offerings. Some of the dishes do vary based on the season, but we were in the mood to try something different so we decided to head across town to another Jean George place, Jojo.
The restaurant itself is a huge departure from the massive and almost sterile atmosphere of Jean Georges and Nougatine. It's got a old school townhouse feel to it, with green and white striped walls, gold crown molding along the ceiling, big mirrors hanging all around, and little lamp light fixtures everywhere. It was cozy, though I think they need to rethink their chairs. I was seated on a soft bench that stretched the length of the wall and was perfectly fine but Josh was in a chair that was just way too low for the table. He looked pretty silly, like a little kid sitting at the adult table, and it was probably a bit uncomfortable for him to maneuver his utensils and eat from that low angle.
Nevertheless, the food is always what's most important to us. The menu is set up in a similar structure to Nougatine, with a choice of appetizer, entree, and dessert for $26. The menu did say choice of two plates again, with no real distinction between appetizers and entrees, but there were several appetizers that we wanted to try so it didn't bother us too much this time. I do wish they would be more clear though on the menu because it can be confusing. After we placed our order, they brought us a tall cup containing long pieces of a thin baguette. The bread was absolutely fantastic – some of the best bread that I've eaten at any restaurant. It was warm right out of the oven with a nice crispy crust and a soft, chewy interior. I slathered it with butter and sprinkled on some coarse salt from the little bowl that was on our table.
Per usual, Josh and I went halfsies on everything. We would each start on one dish and then switch plates halfway through. For the first course, we selected the tuna tartare and the peekytoe crabmeat. The tartare arrived looking like a small plate of potato chips:
The tuna was obviously hidden underneath the chips. There wasn't a huge amount of fish, just two small rounds, though it made it easy to share the portion, but I didn't like that it was chopped super finely. It had the consistency of ground tuna, which threw me off slightly, but at least the fish tasted fresh and it was properly seasoned. The chive oil surrounding the dish added a lot of flavor, and I liked the crunchiness of the gaufrette potatoes with the soft tuna.
The peekytoe crabmeat appetizer was also pretty tasty, and a bit more sophisticated, I thought, than the tartare. There were lots of peppery pieces of crabmeat that we were told to spread on the accompanying cumin crackers with a smear of whole grain mustard, and then top with the cubes of mango. It was a great combination of crunchy, sweet, and peppery. The crabmeat was really fresh and flavorful, and we could really taste the cumin flavor in the crackers.
For our entrees, we split the salmon and the hanger steak. Usually I shy away from ordering salmon, having eaten one too many fishy portions, but I must say that Jean Georges usually does salmon right. This particular version was slowly baked and served with truffled mashed potatoes, brussels sprouts, and truffle vinaigrette. I know that we're both truffle nuts but even this dish shocked me with its complexity of flavors. While the truffled potatoes were exactly what you would expect (delicious, of course), the truffle vinaigrette was tangy and bright, not the smooth earthiness that we expected. The truffle flavor was there but the acidity cut through the richness nicely, and paired well with the soft, fatty salmon. The brussels sprouts on top added a little bitterness, and the dish was really well composed and perfectly seasoned.
Our second entree, the hanger steak, was completely covered in gingered mushrooms and served on a bed of broccoli rabe. The hanger steak was soft and tender, and the gingered mushrooms added an interesting Asian twist to the dish. There was also a soy caramel sauce that was more salty than sweet but helped tie everything together.
The hanger steak came with a side of french fries that were warm and nicely seasoned, though they weren't as crisp as I had hoped. They were pretty limped and tasted like they had soaked in a lot of the frying oil. Too bad, because they looked so good.
For dessert, we had a choice between JG's signature molten chocolate cake and an apple tart, so we got one of each. The molten chocolate is the same one that is served at Nougatine, just with a different shape. It's chocolately and rich, with a lovely runny center. Served with vanilla ice cream, it's a classic combination.
The apple tart was also served with ice cream, cinnamon I think. The tart itself had a flaky puff pastry crust and a layer of what tasted like crumbly almond cake. There wasn't a ton of apples inside, but it was nicely balanced in flavor and not too sweet. I actually preferred this dessert to the chocolate cake.
Overall we were both pretty impressed with the prix fixe lunch at JoJo. There were lots of different options to choose from, which made it kind of hard for us to decide, but everything we had was delicious. You can order lunch items a la carte, but the three course prix fixe for $26 is definitely a bargain, given the quality of the food. The hanger steak did have a $3 supplement charge, though even that is totally reasonable. Service was fine up until the end of our meal, when we had to wait a long time for our check, so it was good that we weren't under a time crunch. I preferred the townhouse atmosphere to the modern one at Nougatine, though I'd be happy to return to either restaurant.
JoJo
160 East 64th St. at Lexington Ave.
New York, NY