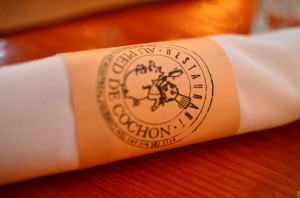 When Josh and I first discussed going to Montreal and Quebec City, I immediately said that we would have to eat at Au Pied de Cochon, a restaurant famous for its decadent stuffed pig's foot and foie gras poutine. Fortunately, we were able to get a somewhat last minute reservation on Saturday night, our only night in Montreal. The downside was that the only reservation we could get was at 5 pm, when the restaurant first opens. Nevertheless, we prepared for our meal by eating a lighter lunch and taking a long walk from our hotel near Crescent Street to the Old City, and then up through the Latin Quarter to the Plateau Mont-Royal neighborhood where the restaurant is located.
We weren't quite sure how long the walk would take in total, as we wanted to take a few pics around the Old City first, plus we knew we would have to push J's stroller up quite a long hill to get to restaurant. We actually timed it pretty well and arrived at about 4:45. By this point, however, J was hungry, slightly chilly (it was a windy day), and just wanted to be out of her stroller. We attempted to enter the restaurant but were immediately rebuffed. The hostess told us they didn't open until 5, and then shut and locked the door. I guess they are sticklers for punctuality, but we were  hoping they would take pity on a 6 month old baby and let us wait in the narrow entry way so that we wouldn't have to stand out in the cold for 15 minutes. No such luck.
Instead, we walked to the street corner where there was a little patch of sun and a place where Josh could sort of sit on a giant planter while he held J on his lap. She was definitely happy to be out of her stroller, and I fed her some banana while we waited, which appeased her even more. Finally the 15 minutes were up, the door was unlocked, and we headed back inside. Our initial irritation at the hostess' seemingly lack of sympathy for our situation soon dissipated, as she was very accommodating in helping us store J's stroller behind her stand (there really isn't much room to maneuver in the restaurant, as the tables are packed tightly together), and then helping us carry J's car seat to our table (Josh was still holding J while I was laden down with the diaper bag and other assorted baby-related items that I pulled from the stroller). They had given us a four top near the bar, so we had plenty of room for J's car seat and to spread out our stuff.
I had studied the menu extensively and read lots of reviews prior to our trip, so I knew which entrees I wanted us to try – the namesake stuffed pied de cochon with foie gras, and the duck in a can. Based on my research, I knew this would already be way more food than either of us could eat, so I was wary of ordering any appetizers or sides (so no foie gras poutine, sadly), but we ended up getting an order of bison temaki to share. Josh ordered a bottle of red wine, and we sipped on that while snacking on the fabulous baguette they brought us, which had a crispy, crackly crust and a chewy interior. It was the best baguette we had on our trip.
The bison temaki is a pretty ingenious dish – it's bison tartare served in a sushi hand roll style. The raw bison meat is chopped up and rolled in nori (seaweed) with some rice, lettuce, and fried root vegetable strips. The roll is topped with a quail egg sauce that you pour over the meat. It was fresh, well seasoned, and a great mix of interesting flavors and textures. The bison was not super gamey, and quail egg added a lovely richness to the meat. Two hand rolls came in our order, and while one was beautifully presented, the other was falling apart. The nori had snapped in that one, and it was a bit sloppily assembled. I was kind of surprised by the haphazard presentation but nevertheless, the bison temaki was a great dish, and definitely whetted our appetites for the rest of the meal.
Of the dishes I read about, the duck in a can definitely was one of the more debated entrees. Some loved it, others hated it. I couldn't help but want to find out for myself. It's basically half a duck breast, foie gras, balsamic sauce, cabbage, roasted garlic, and thyme, all cooked together inside an actual sealed can. The waiter brings the can to the table, opens it with a can opener, and pours out the contents onto a plate for you.
The duck itself was perfectly pink on the inside, but I found the meat to be tough. The skin also doesn't have an opportunity to render, so it's thick with fat, which some people love. I'm not averse to eating fat, especially when it melts in my mouth, but I thought this fat was unpleasantly tough and congealed. The foie gras was a bit lost in the dish, which was also disappointing. The cabbage and sauce were ok, but nothing spectacular, in my opinion. Overall I was on the side that thinks this dish is more of a gimmick, while Josh said it wasn't that bad.
The stuffed pied de cochon was a HUGE platter of food. I knew the portion would be large, but I was surprised by just how big it was. As we're still New Yorkers at heart, we had to compare it to the size of a Metrocard.
I mistakenly thought the pig's foot was stuffed with foie gras, but that wasn't the case. There was a big piece of seared foie gras on top though, which I was happy to see. The pig's foot was really more of a pig's leg, as there was more shank meat than gelatinous cartilage under the fried outer layer. Those of you who are averse to eating foot would be happy to know that!  However, I absolutely adore pig's foot, so I was pretty sad to only find bits of cartilage here and there. The pied de cochon was served on top of a mountain of mashed potatoes and tons of mushrooms and veggies. I barely made a dent in the dish, though I did manage to finish off all the foie gras (of course). It was a hearty, homey dish, but not refined or composed. Still, it was pretty delicious, especially if I got a piece of foie gras, some crispy skin, and both shank and foot meat all in one bite.
After we were finished eating, I asked for the rest of my dish to be packed up. The waiter seemed a bit surprised but he still complied with my request. The round foil container was packed to the brim and must have weighed about three pounds! Since we were eating so early, I knew I would want a snack later that evening, especially after we had a few drinks. I was definitely happy with my decision to take the rest back to our hotel, and it tasted even better later after all of the ingredients had time to meld together (even though it was cold, as there was no microwave in our room).
When Josh made the reservation, they told him that each seating is for two hours. At this point, it was almost 7 pm, meaning our time was up. The hostess had already walked by our table several times to check up on our status. I was sort of interested in ordering sugar pie for dessert, having never tasted it before, but I was pretty full and also didn't want to go over our allotted time as I knew people would be waiting. The restaurant was packed (it filled up almost immediately after they opened), and there were lots of people standing in the entryway. Plus J had already taken a nap during our meal and was starting to get fussy. So we quickly got our check, gathered our belongings, and headed out. One of the people waiting for our table actually helped us carry our stuff out, as there really wasn't much room to walk. J's hat got lost in the shuffle, and the hostess helped us track it down under our table while we waited.
Overall I thought Au Pied de Cochon was an interesting experience. There is a lot of hype surrounding the restaurant, and maybe I expected more from it because of that. The food wasn't bad, but it didn't knock my socks off. The bison temaki was definitely a high point – it was a well composed, interesting dish, despite the sloppy plating. The stuffed pied de cochon was tasty, but in a rustic way. I was not impressed with the duck in a can, but Josh thinks I'm overreacting. The restaurant is also pretty expensive, though dishes are big enough to share. However, we weren't able to take advantage of that with just the two of us. I would have liked to try more items, but the cost was prohibitive and I didn't want to waste food by ordering more than we could conceivably eat. Dinner for the two of us, with just one appetizer, two entrees, and a bottle of wine, was about $265. To be fair, our entrees were some of the most expensive items ($40+) on the menu, and there are plenty of things in the $25 range. Josh also picked an expensive bottle of wine, but beer and cheaper wines are available.
In terms of service, we were pretty annoyed initially when they wouldn't let us into the restaurant 15 minutes early to wait with the baby. However, the hostess did seem much nicer after the doors opened at 5 pm, and she was very helpful when it came to managing all of our belongings. Our waiter took a pretty casual approach when dealing with us, but he wasn't rude or unfriendly. Our water and wine glasses were always filled, and someone promptly brought us hot water to heat up J's bottle when we asked. The atmosphere of the restaurant is pretty bustling. It's loud and chaotic, but everyone seems to be having a great time while eating and drinking. I was worried that it wouldn't be appropriate for us to bring a baby, but most people didn't notice when J cried due to the inherent noisiness of the restaurant.
So what's my final verdict? I'm not sure. I was a bit disappointed when we left, especially since we had some great food the previous night at Le Moine Echanson in Quebec City (and the seared foie gras there was much better), but I also wished that we had been able to taste more of the menu. I'd like to go back with a big group so that we could share lots of dishes, and maybe I'll have a different impression of the restaurant. I'll have to hold off on whether or not I'd recommend the restaurant until then.
Au Pied de Cochon
536 Avenue Duluth Est
Montreal, Canada