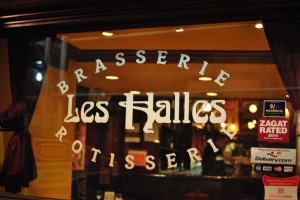 Back when Josh and I lived downtown, Les Halles was one of our favorite restaurants in the neighborhood. The food was consistently good and it was pretty reasonably priced, so we could go whenever we wanted a little treat beyond our usual takeout. Though the area around Les Halles is always a huge mess with all the construction going on, the restaurant itself is warm and inviting, with tall ceilings, dark wood, and the feel of a brasserie, only larger.
We actually hadn't been a few years, sadly, but our friends recently moved downtown and we suggested meeting them at Les Halles for dinner. The menu was the same as I remembered, just a few dollars higher in price, but still reasonable. We decided to share an order of steak tartare to start, plus an appetizer portion of mussels. I was a bit disappointed that the tartare was not prepared tableside, as stated in the menu, but it was really delicious. The meat is pretty finely ground, which I don't normally like, but it was nicely flavored with chopped raw onion, capers, mustard, worcestershire sauce, and parsley, though you could still taste the freshness of the beef. Since the tartare is actually an entree, it also came with a side of crisp french fries and a small salad.
The mussels come prepared in your choice of broth. The choices include the classic mariniere, which is white wine/shallot/garlic, but we decided to try something a little bit different. We opted for mouclade, which is curry, white wine, and cream. The mussels were plump and fresh tasting, not the least bit gritty. The sauce was not as curry flavored as we hoped it would be, but it was tangy and creamy at the same time, and pretty freakin' tasty. We liberally dipped bread into the broth, soaking up as much as possible. We probably would have drank it like soup had it been appropriate…
For my entree, I ordered my usual, the classic steak frites. I don't know what kind of steak it is exactly, but it's flavorful and tender. My steak was cooked to a perfect rare, and all it needed was a little shake of salt to put it over the top. The accompanying fries are always wonderful – freshly fried, crisp on the outside and light and fluffy on the inside. I'm also a big fan of the salad, which is tossed in a delicious vinaigrette that I really need to find the recipe for. I would totally eat salad more often if I had that dressing all the time.
Josh usually gets the steak frites as well, but he ended up ordering the steak au poivre, thinking that it would be the regular steak frites plus sauce. The steak turned out to be a different cut, much thicker and, unfortunately, also much tougher. Josh ordered his steak rare and while the center was pink, it was unevenly cooked so the outside was well done and chewy. The au poivre sauce was also thinner than most other au poivre sauces we've tried. He was pretty disappointed with the steak. The fries and salad, however, were still top notch.
I polished off my entire plate so I was way too full for dessert. Overall I was happy to see that the food at Les Halles is still solid. The steak frites was just as good as I remembered, and the mussels and steak tartare were absolutely delicious. Josh's steak left much to  be desired, but the lesson learned is that he should have stuck with the steak frites. With regard to service, we were seated at a pretty bad table location-wise, right at the front of the room in the middle so that everyone who walked past brushed up against us. We were eventually asked to move our table closer to the bar, away from the main aisle, which was fine by us, but they made it seem like we chose to sit in that position and that we were inconveniencing everyone else. We probably should have requested a different table to start but it was late, the restaurant was packed, and we were hungry. Luckily the food is good enough that I'm willing to overlook that, and we never had service issues during our previous visits. I definitely plan on going back, though maybe next time we'll try the Park Avenue location, which is closer to home. I'm already craving more steak frites!
Brasserie Les Halles (multiple locations)
15 John St. between Broadway and Nassau St.
New York, NY
Tags: Financial District, Fries, Mussels, Steak, Steak Tartare