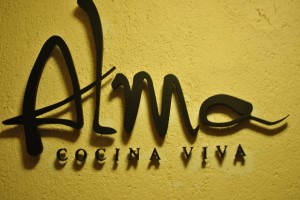 Because our hotel, the Casa Andina Private Collection, was so far out of the main area in Puno, we ended up eating dinner at the hotel restaurant, Alma, both nights we stayed there. We stayed at many different Casa Andina PCs during our time in Peru and the hotel restaurant was always named Alma but we didn't know how similar the menu was from place to place. Based on the menus on their website, it looks like each restaurant serves local specialties as well as some standard Peruvian dishes that overlap at each location.
Our meal on both nights started off with a basket of bread. There were some soft dinner rolls as well as seeded breadsticks. The rolls were a bit stale but tasted good when dipped into a garlicky spread topped with sweet balsamic vinegar.
On the first night, neither of us were really hungry so we just ordered entrees and no appetizers. We chose a dish that was described as being a traditional Puno dish, called saqta de gallina. Gallina is hen, but we didn't know what saqta meant. When the dish arrived and I saw it was in a yellow sauce, I was terrified that it would be the ocopa sauce that I disliked so much. My fears intensified when I saw a bright green herb sprinkled on top of the dish, which I thought would be the dreaded Andean mint. Fortunately, it wasn't. The yellow sauce had a mild sweet flavor and reminded me of korma sauce, which I love. The pieces of chicken were tender, and it was mixed with onions and potatoes. There was Andean cheese on top of the dish but they were easily moved aside. Josh and I both ended up really enjoying the dish, and we were pleasantly surprised.
Our other entree was lomo saltado, a standard Peruvian dish. It's stir fried beef with onions, tomatoes, and peppers, served with french fries and rice. The beef was a little salty but it was tender and flavorful. The french fries were pretty good as well, I just wish they had given us more because there were only about a dozen fries altogether. I do love my french fries!
On our second night eating at Alma, Josh got a yellow potato cream soup to start. Peruvian potatoes are a bit more starchy than the ones we're used to, but the soup was rich and creamy with lots of potato flavor. There was a chili oil on top but it wasn't spicy, and once it was stirred into the soup we didn't notice it at all.
For my entree, I selected the alpaca steak frites because I loved the alpaca we had at Zig Zag, and I love french fries, of course. Unfortunately, the menu did not say that the alpaca would be crusted in cumin seeds. The pieces of meat were absolutely covered, and while I like the flavor of cumin, crunching into whole seeds with every bite was really not pleasant. I tried to scrape of the seeds as best as I could but it kind of ruined the dish for me. The alpaca was also a bit tough and chewy, and I was disappointed with the dish overall. To add insult to injury, the portion of fries was once again pretty paltry.
Josh ordered a dish that was recommended, which was glazed kingfish in a sesame honey sauce served with mashed potatoes and garlic tempura vegetables. The kingfish came from the lake, which meant that it was fresh. However, I took one bite and almost spit it out. The fish had been crusted in sesame seeds, which I found overpoweringly bitter, and the honey sauce was so cloyingly sweet. I wanted to try another bite, thinking that maybe I just got a bad piece, but I couldn't bring myself to do it. The first bite had taken me a lot of willpower to swallow and not throw up. It was such a strong reaction that even Josh was a little shocked. Josh liked the dish though, so I guess our palates just reacted very differently to the flavors.
Overall I wasn't so thrilled with the food at Alma, but it was certainly convenient for us since it was right in the hotel. I did like the saqta de gallina dish from the first night, and the lomo saltado was decent, but nothing was really super impressive. Prices were on the higher side for Peru, though not very expensive by NYC standards. Entrees mostly ranged from 30-40 soles, or about US$11-14. Service was fine, and they actually brought a phone to us one night when our tour guide was trying to reach us. Still, I kind of regret not eating in the city, especially since we generally don't like to repeat restaurants when we're away. Oh well. While I can't really recommend Alma unless you're in a bind, I do think that Casa Andina PC is a great hotel chain.
Alma Cocina Viva
Av.Sesqui Centenario 1970
Puno, Peru