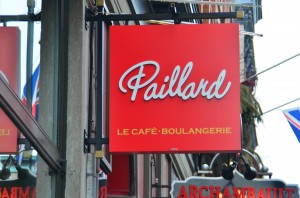 We had one full day to explore Quebec City so we made sure to get a somewhat early start. We entered the Old City on Rue Saint-Jean, passing through a gate and out onto a busy street lined with restaurants and shops. There was definitely more of a European feel in the Old City, and I liked it immediately.
It was drizzling a bit so we quickly walked to our breakfast destination, Paillard, a cafe-boulangerie. It was a huge space with tall ceilings and lots of seating. The were little round tables in the front, as well as several long communal tables in the main area next to the bakery cases and coffee station. Josh went to the bakery line to order some food while I settled at the end of a communal table with J's stroller, where there was more room for us to maneuver. Since it was mid-morning on a weekday, the cafe wasn't too full and it didn't take Josh too long to pick up our food.
We decided to share a few pastries and half a baguette. First was the croissant, which was flaky on the outside and soft and fluffy on the inside. One bite and the crust shattered delightfully in our mouths. Flavor-wise, it was buttery without being greasy, and had just the slightest hint of sweetness.
Next was the pain au chocolat, which was not as flaky on the outside as the croissant, but who can resist any kind of chocolate-stuffed pastry? Perhaps it was just not as freshly made, as the edges were a bit tough. Nevertheless, it was still devoured.
The baguette was a bit of a disappointment, as it had been sliced in half lengthwise and toasted. I would have preferred to try a freshly baked baguette in its natural state, and the toasting left the bread soggy rather than crunchy. Texture-wise it seemed a bit dense and flat, and the crust lacked any crispness, but that was due to the toasting. It must have sat in some sort of warming tray afterward and steamed itself. As a result, I don't think I could fairly judge the qualities of the baguette, but it had good flavor and was a nice vehicle for butter and a pear-vanilla jam they gave us on the side.
I also got a regular coffee while Josh had a cappuccino. The coffee was good – not too burnt-tasting or bitter. The cappuccino was a lot stronger, and I saw people with giant bowls of it, but Josh settled for just a cup and seemed pretty content.
Overall we thought Paillard was a good breakfast option for some quick coffee and pastries. We weren't in the mood for something heavy or overly complicated, and this fit the bill. The croissant was top notch, and there were some beautiful-looking desserts in the bakery case, though we didn't have a chance to try any. While the baguette that came with our breakfast was disappointing, the assortment of breads seemed pretty impressive, and I would have liked to try a regular baguette since this boulangerie is so highly rated. I've also read rave reviews about their sandwiches, so it might be a good lunch destination if you're looking for something fast and casual. Prices are cheap, especially compared to a nice bakery in NYC. Croissants are under $2 and most of the dessert items were less than $4. Breakfast for the two of us cost under $15 in total, and it provided us with enough energy to walk the entire Old City while pushing J's stroller up and down many steep hills. I would recommend Paillard for its simple breakfast options and central location in the Old City.
Paillard
1097 Rue Saint-Jean
Quebec City, Canada