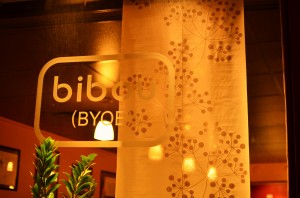 After spending the morning and early afternoon in Washington DC, Josh and I head back north to Philadelphia, the second and last stop of our food-oriented weekend getaway. While Josh drove, I used his phone to find a nice restaurant for dinner. We settled on Bibou, which had gotten rave reviews from multiple sources. We called up hoping to score a last minute reservation on a Saturday night (which I had read was pretty difficult), and while the woman who answered the phone was a little hesitant, we were able to snag a two-top for a late dinner, which worked out well for us.
After checking into our hotel, Le Meridien on Arch Street (cute boutique-like hotel right across from City Hall), we set off in search of a liquor store, as Bibou is a BYOB. Because it was late, most of the stores nearby were closed, but Josh was able to find one with a limited wine selection. We wound up arriving at the restaurant a little early for our reservation, but it turned out not to be a problem and were seated quickly.
I was starving and dove right into the bread, which was a fantastic baguette served with real French butter. The baguette had a nice crust and good chew while the butter was thick, rich, and way more flavorful than most butters that I've tasted.
For our appetizer course, the waiter recommended that we get the bone marrow, but because we had just indulged in bone marrow at the Blue Duck Tavern the previous night, we thought it would probably be better to try something different. I picked escargots and Josh opted for risotto with summer truffles, and we swapped plates midway through. The escargots were beautifully presented in a spiral shaped dish reminiscent of a snail shell. The snails themselves were plump and meaty, some of the best specimens I've eaten. The sauce was unusual to me – I'm used to eating escargot in garlic butter, but this was a deep and rich beefy-tasting sauce. I thought it was a bit heavy, but I did like the fresh fava beans mixed in with the snails, which helped brighten up the dish a little.
The risotto was covered in shaved summer truffle, and we were really excited to taste this dish. However, despite all the truffle shavings, there was very little truffle flavor. I guess summer truffles are less potent than the winter variety, but I was really surprised by the lack of earthy aroma in the dish. If I closed my eyes, I don't think I would even have known that I was eating truffle. I was a bit sad, since I love truffles, but the risotto itself was fine. It was creamy but still a bit al dente. All it needed was a touch more salt.
For the main course, I chose the braised pig foot stuffed with foie gras, while Josh opted for a whole dorade. The pig foot was very tender, but I had a hard time finding the foie gras inside. There was a good mix of shank meat and cartilage, which I appreciated, and the crust was well seasoned. It was served with a heaping pile of lentils that were savory and delicious, but very heavy. We weren't able to finish the portion of lentils, and I think the waiter was a bit insulted by that, as he made a comment about it when he cleared our plates.
The dorade, on the other hand, was a better dish for a hot summer's day. The whole fish was beautifully prepared, with crispy, golden skin and moist, tender flesh on the inside. It was served with a lime sauce that was bright, complex, and positively delicious. It was our favorite dish of the evening.
We were both pretty full and passed on dessert. They brought us each a coconut macaroon and vanilla meringue to finish off our meal – a sweet touch.
Overall Josh and I both had mixed feelings about Bibou. We really wanted to like the restaurant but the dishes were ordered were mostly just ok. There were flashes of brilliance, like the dorade, but the escargot and stuffed pig foot, which I think are signature dishes, were unremarkable (except for the plating of the escargot, which was definitely memorable). Service was odd. It was hard to gauge our waiter, whether he was unfriendly or just had a dry sense of humor. Either way, it made us slightly uncomfortable, and we were worried that we were offending him. The chef, on the other hand, was incredibly welcoming and humble, coming out to check on our meal and chat with us for a little bit. At the end of the meal, the hostess (who I think is the chef's wife), came around with a laptop and asked us if we wanted to make our next reservation. We thought that was slightly odd, but reading other reviews, I guess it's standard, as reservations at Bibou are in high demand and hard to come by. If we were regulars, I would appreciate it, but as an out-of-towner/first-timer at the restaurant, it was unexpected and came off as slightly presumptuous. I would like to give Bibou another shot if we had the opportunity though. I wasn't impressed this time, but perhaps we just ordered the wrong dishes. My selections were more suited for winter than for summer. Prices are pretty high (about $10-$20 for appetizers and $27-$35 for entrees), but it's offset by the fact that it's a BYOB.
Bibou
1009 S 8th St.
Philadelphia, PA