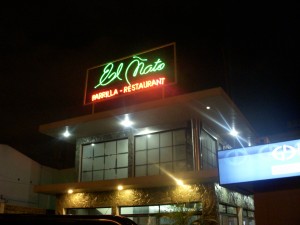 The guide who picked us up from the airport gave us a few recommendations for dinner in the city. Her first was Lo Nuestro, the seafood restaurant we went to our first night in Guayaquil. Her second recommendation was El Ñato, a traditional barbeque restaurant that was conveniently located across the street from our hotel. That was perfect, as I had been craving barbequed meat after eating so much seafood on the ship.
After we returned from our long walk down the Malecon and the hike up Santa Ana hill, we made our way across the street to the restaurant. The first thing I noticed was that we were the only tourists in the joint, which was great sign. There were lots of families having dinner and huge groups of friends chatting over pitchers of sangria. We probably looked a bit out of place but that didn't matter, I was happy to eat somewhere that seemed authentically Ecuadorian.
The restaurant had a large menu but we had a hard time navigating through it, even though Josh's spanish is really good and mine is somewhat passable. Getting grilled meat was obviously the way to go, but the choices were vague. There were several "mixed grill" options but they didn't specify exactly what was included. We tried asking the waiter but he couldn't really explain the differences. We ended getting the one that said "mixed grill with beef and chicken," as that seemed like the safest bet. They didn't have much in the way of side dishes so we got a plate of French fries. No salchipapas on the menu, sadly.
We ordered a pitcher of sangria with fruit, and it had chunks of watermelon in it that I thought was a nice touch. I also liked that there was no ice in the sangria pitcher; they gave you ice in your glass so that the sangria didn't get watered down. It was very tasty and refreshing.
They brought us a basket of garlic bread to start. It was warm and toasty and covered in fresh herbs and garlic.
They also gave us a few sauces to go with our meat, which turned out to be a sort of garlicky pesto sauce and a spicy red salsa.
The meat was served on top of a small lit grill, which kept it sizzling hot but also overcooked some of the meat on the bottom. Our mixed grill ended up having steak, chicken, pork, sausage, blood sausage, intestines, and kidney. It was a ton of food, way more than we could finish.
The chicken was pounded thin and a bit overcooked but still pretty tender. The steak was flavorful but tough. The pork chop was the best of the bunch, thick, tender, and well seasoned, with delicious crispy bits of fat on the ends.
The regular sausage was fine, but I'm not the hugest fan to begin with. The blood sausage wasn't as gross as you would think. It had a rich iron taste to it but it wasn't like it was oozing blood or anything.
The intestines were a bit funkier in the flavor, and a bit tough in texture. They were topped with chopped garlic and herbs but those didn't hide the weird flavor of the meat.
The kidneys however, were surprisingly delicious. We had a hard time figuring out exactly what they were at first. They were clearly pieces of organ meat, but we didn't know which one. There were lobes, so we thought maybe it was brains, but the texture was too firm. Then we thought sweetbreads, but the pieces were too large and the texture still didn't match. It didn't look like a heart either. It was Josh who decided they were kidneys, and I was surprised because after the funky-tasting intestines, these pieces were sweet, flavorful and not weird tasting at all. The waiter confirmed that they were in fact kidneys, and I was totally blown away. Josh only sampled a tiny bite but I ate an entire piece and it was my second favorite cut of meat after the pork chop. Yum!
Our lone side dish, the French fries, were fresh, hot, and crispy, just the way I like them. Even with all the meat, we managed to polish off the whole plate.
Overall I thought the meal we had at El Ñato was great. The presentation was not elaborate or fussy, and the restaurant is quite casual. The food is similar in that it is hearty but straightforward. The grilled meats are simply prepared and seasoned with just salt, pepper, and garlic. The waiters were attentive and efficient. Portions are ample and prices are cheap. It's definitely a great place for large groups and a good way to sample traditional Ecuadorian barbeque.
El Ñato
Guayaquil, Ecuador