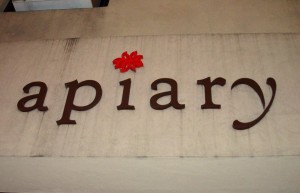 Just wanted to take a break in between the Louisiana and Texas trip to talk about a semi-recent meal we had at Aviary in NYC in February to celebrate our 16th anniversary as a couple. It was a notable anniversary for us because we were both 16 years old when we started dating, so sometime in between this anniversary and the next, we'll have been together for more than half our lives. I think that's a pretty cool milestone.
Since J came into the picture, it's rare for us to have a dinner on our own. We either bring her along with us, or if we can get someone to watch her, we're usually meeting friends for dinner or going to a party. So when Josh's parents graciously agreed to watch her for our anniversary, we knew we wanted to have a nice meal out in the city, which is a rare luxury for us these days. After doing a bit of research, we settled on Apiary, a fairly under the radar restaurant with a chef we were both curious about – Scott Bryan.
We had both read about Scott Bryan in Kitchen Confidential, where author/chef Anthony Bourdain sings his praises. After leaving Veritas in 2007, however, we hadn't really heard much about Chef Bryan since then. He seems like such a talented, passionate cook who is really just focused on the food, not all the PR and other hype surrounding chefs these days, and so we were eager to sample his offerings.
As a side bonus, we went on a Monday, when the restaurant offers no corkage fees. We stopped at Astor Wines nearby and picked up a bottle of white from Tuscany and a bottle of red Chateauneuf du Pape to go with our meal. I had researched the menu online beforehand so I had a good idea of what I wanted to order, but of course I needed Josh to agree with me. Our waiter also came up with a long list of recommendations when asked what dishes he preferred. Rather than going for the 5 course tasting menu, we decided to come up with our own tasting with four appetizers and two entrees, so that we could try more dishes.
While we waited for our food to come out, we noshed on the bread, slices of sourdough with a hearty yet crispy crust. It was delicious with the fruity olive oil that came on the side for dipping.
We told our waiter that we planned to share all the dishes, so the kitchen thoughtfully split some of them into two plates for us. For the first course, we were each presented with our own plates of hamachi crudo, and our order of grilled quail was placed in the middle of the table. The hamachi, which is yellowtail fish, was sliced thin and served raw with slices of avocado, hearts of palm, chopped chives, finely diced jalapenos, and a microgreen salad on top. The dish was dressed with a yuzu vinaigrette, and while I loved the pop of the acid and the freshness of the fish and vegetables, Josh thought there was a bit too much citrus on the fish that overwhelmed its delicate flavors. Overall though, we both thought it was a bright dish that woke up our taste buds and was a great start to the meal.
We were more mixed about the grilled quail dish, as we thought that was a bit odd for them to have presented us with individual crudos while the quail just sort of sat on the table and got cold while we ate our fish. Maybe they expected us to finish our crudo quickly, and then move on to the quail immediately? Logistically, it was also kind of hard to eat the quail while reaching over our crudo plates. I think our waiter saw us struggling a bit and quickly removed the empty plates and provided us with clean small plates to transfer the quail onto, which was a slightly  messy affair. The quail itself was well seasoned, but the meat was pretty chewy. Josh picked up his half with his hands and ate the meat off the bone, while I tried a more delicate approach with my knife and fork, which wasn't very successful. It came with lentils on the side, curried spiced yogurt, and drizzle of paprika oil that added a bit more smoke to the dish. The flavors were intense and exotic, which we enjoyed, but it was hard to get past the chewiness of the quail.
For our second course, the kitchen split our order of swiss chard and ricotta ravioli. There were two plump raviolis in each bowl that were topped with a piece of fried sage, brown butter, and poppy seeds. The pasta itself was perfectly cooked and gorgeously delicate, both in texture and flavor. The brown butter was a tad greasy but otherwise appropriately rich, and worked well with the sage. The surprise element of the dish was the poppy seeds sprinkled on top, which added a nice dainty crunch to each bite.
The last of our appetizer courses was the grilled octopus, which they also split for us. Each portion of tentacle came with romesco sauce, chorizo oil, and arugula dressed with lemon. I took a bite and commented to Josh about how it was probably the most tender octopus I've ever eaten, and he looked back at me in surprise and said the texture was only ok. We traded bites and indeed, his octopus was much chewier, with a sort of bounciness to it, while I could have cut my portion with just the side of my fork. Coincidentally, this has happened to us before, where we each had two completely different tentacle textures from the same serving. I thoroughly enjoyed this particular preparation, especially the smokiness from the grill and from the chorizo oil. The arugula salad lightened up the dish and prevented it from feeling too heavy.
For our entree course, the kitchen did that thing again where they split one of our dishes (the duck breast) and served the other one (the pork chop) whole at the same time, where it also sat in the middle of the table until we were ready for it. Nevertheless, the duck was simply fabulous – medium rare, beautifully pink, rendered skin, and perfectly seasoned. There were whole green peppercorns in the jus drizzled on top, which had gave each bite a little peppery pop and a slight floral hint. I wasn't a big fan of the glazed turnips on the side (I found them to be slightly too bitter and acidic, although Josh didn't mind them), but I enjoyed the pureed parsnips and chewy farro underneath. The duck was the real star of the plate though, and it was our favorite dish of the night.
Josh finished his duck first and dug into the pork chop, still having to reach awkwardly across his duck plate. The pork chop was massive, probably the thickest pork chop we've ever gotten at a restaurant, and was cooked through to medium as the chef recommended. It was served on top of a bed of black bean tinga, which is a Mexican style sauce made with chipotles. I thought the beans were just slightly too al dente for my taste, but Josh disagreed and liked that they had texture to them. There was a spiced avocado mash on top of the pork, but I didn't taste any of the orange ginger glaze that was mentioned on the menu. I thought the pork was seasoned well and the dish had a lot of flavor to it, but it didn't really wow us. We felt like it was something we can make at home, and Josh's mom has a similar dish in her repertoire that involves simmering pork chops and black beans in a combination of salsa and tomato sauce. Obviously this was a much more refined dish than the one she makes, and the quality of the pork was vastly superior, but the flavors were almost identical.
I was stuffed to the gills by this point and didn't even finish my half of the gigantic pork chop, so we were prepared to pass on dessert. Plus we heard from Josh's mom that J was getting a little fussy and was probably going to be ready for bed soon, and we wanted to see her before she went down for the night since we had left for work before she had gotten up for the day. The waiter surprised us by bringing a vanilla panna cotta with our check, in honor of our anniversary. It was an incredibly nice gesture, and helped to cap off a lovely evening. The panna cotta was smooth and creamy, and we could see real vanilla bean seeds on top. It was served with raspberry coulis that was just slightly tart, which helped cut through the richness of the cream.
Overall, we really enjoyed our anniversary meal at Apiary. The meal hit some really high highs (the duck, the raviolis), and didn't really have any misses. While the quail and the pork chop weren't our favorites of the evening, they still had great flavor and would probably appeal to a lot of other people. I loved the hamachi and the octopus courses, but the kitchen showed a bit of inconsistency in those dishes as Josh's octopus was far from the tender specimen I received, and his crudo had too much acid on the plate. As a side note, Josh later confessed that he's actually not a big fan of octopus in general, because he feels it has no flavor, while I vehemently disagreed. See, even after 16 years together, there are still surprises in our relationship! But in general, we had a great dinner, and service was fabulous. Our waiter was knowledgeable, enthusiastic about the food, and came by to check on us often. With BYO Mondays, Apiary is a great place to go out for a nice, upscale meal without blowing your budget. They also offer a three course prix fixe menu on Sundays, Tuesdays, Wednesdays, and Thursdays for $38, with items from the regular menu. It's definitely worth checking out.
Apiary
60 Third Ave.
New York, NY